CLIR today announced the appointment of Stacey Patton as communications manager.
Patton is an award-winning journalist and author who teaches digital journalism in the Cathy Hughes School of Communications at Howard University. Her writings have appeared in numerous publications, including the New York Times, Washington Post, Al Jazeera, and the Chronicle of Higher Education, where she served as a senior enterprise reporter covering graduate education, faculty research, adjunct labor, and diversity issues. She has appeared on MSNBC, CNN, ABC News, and other major media outlets.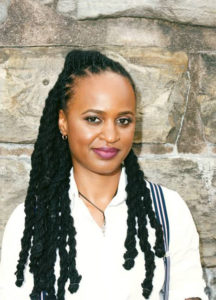 Patton has also worked with the NAACP Legal Defense and Educational Fund, a nonprofit civil rights law firm founded by Thurgood Marshall. A child advocate and historian, she is the author of That Mean Old Yesterday—A Memoir; Spare the Kids: Why Whupping Children Won't Save Black America, and the forthcoming Strung Up: The Lynching of Black Children in Jim Crow America. Patton is also the author of Not My Cat, a children's book scheduled for publication in 2024 by Simon & Schuster.
She was the keynote speaker for the 2021 DLF Forum, and opened the 2022 DLF Forum in a conversation with Nikole Hannah-Jones that explored what it means to be Black women journalists doing the archival work of reclaiming artifacts and stories on American race relations.
"Stacey Patton's writings and commentaries evidence a rigor of research, an unwavering respect for accuracy and the truth, a deep empathy with her subjects, and a compassion framed by social justice and equality," said CLIR president Charles Henry. "Her work, interests, and achievements are exemplary of a life dedicated to a better world. She is, at heart, a rare and compelling storyteller. We are honored by her choice to work with us."
"I've been cultivating a relationship with CLIR for the past two years through the DLF annual forums and various projects focused on responding to the urgency of cultural preservation needs. I am excited to continue this relationship in a more direct way," said Patton. "Climate change, displacement, gentrification, war, political attacks on educators and their research requires a broad effort to strengthen cultural heritage resilience and expand support for GLAM professionals. I look forward to assisting CLIR in meeting these challenges."
Patton will join the CLIR staff on January 25; she succeeds Kathlin Smith, who will retire January 31.
The Council on Library and Information Resources is an independent, nonprofit organization that forges strategies to enhance research, teaching, and learning environments in collaboration with libraries, cultural institutions, and communities of higher learning.