Washington, D.C., August 22, 2013-The Council on Library and Information Resources (CLIR) has appointed Bethany Nowviskie as CLIR Distinguished Presidential Fellow.
Ms. Nowviskie is a major scholar and practitioner of digital humanities. She directs the Scholars' Lab and department of Digital Research & Scholarship at the University of Virginia Library. She is also the president of the Association for Computers and the Humanities and a member of the steering committee for the Alliance of Digital Humanities Organizations.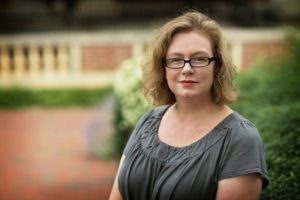 "Ms. Nowviskie is at the leading edge of developments in the digital humanities," said CLIR President Chuck Henry. "From illuminating issues pertaining to alternative academic career opportunities to providing leadership in many other areas of scholarly endeavor, her intellectual engagement has enriched many key aspects of CLIR's mission. We are delighted to be working with her."
During the two-year appointment, Nowviskie will contribute to CLIR programs by consulting with CLIR leadership and constituents; exploring issues of generational succession and shared governance as they relate to changing career paths for scholars, librarians, archivists, and IT staff; and contributing blogs and articles for CLIR publication.
Since 2009, Nowviskie has served as associate director of the Mellon-funded Scholarly Communication Institute. She also chairs the Committee on Information Technology at the Modern Language Association. At the University of Virginia, she chairs the General Faculty Council and has been newly appointed to the position of Special Advisor to the Provost in support of digital humanities initiatives.
Her scholarly background is in textual studies and humanities computing but, more recently, she has published on and created tools for geotemporal interpretation of archival collections. She is the editor of #Alt-Academy, a MediaCommons project on alternative academic careers, and creator of the UVa Library Praxis Program and international Praxis Network, which offer new models for methodological training in the humanities.
During her tenure as fellow, she will continue to work from the University of Virginia. Nowviskie holds a Ph.D. in English from the University of Virginia and a master's degree in Education from Wake Forest University.
"I welcome the opportunity to work more closely with CLIR in the coming months and years," said Nowviskie. "It is a great privilege for me to be connected to an organization that I have admired for so long, and that has such a knack for making positive interventions in the fields I care about most."
CLIR is an independent, nonprofit organization that forges strategies to enhance research, teaching, and learning environments in collaboration with libraries, cultural institutions, and communities of higher learning. It aims to promote forward-looking collaborative solutions that transcend disciplinary, institutional, professional, and geographic boundaries in support of the public good.