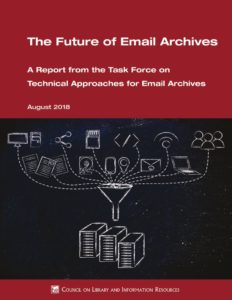 CLIR publishes blogs, newsletters, reports, and other occasional items, driven by our research agenda and community interest. Thanks in part to the support of our sponsors, the full text of most of our publications is available to download, for free, on this website.
Blogs cover myriad topics of interest and stories from our communities:
COVID (Re)Collections, responses to the COVID-19 pandemic by the library, cultural heritage, and information community
Re: Thinking, broad and encompassing posts encouraging deeper thinking and exploration
Year of CLIR, highlighting key activity from each year since its founding in 1956
Reports are published throughout the year on topics relating to digital libraries, the economics of information, long-term access to information, and the future of the library and its leadership.
CLIR Issues, published bimonthly in a newsletter format, covers topics relevant to CLIR's agenda.
An Annual Report, summarizing CLIR's activities and financial status for the previous fiscal year, is published each fall.
Archives provide information about films, articles and presentations, a preservation tutorial, and discontinued publications.
Suggestions for topics and requests for reproduction of material on this site should be submitted to the Senior Director of Communications. Unless otherwise noted, publications are copyrighted by CLIR.