Download the 2021-2022 Annual Report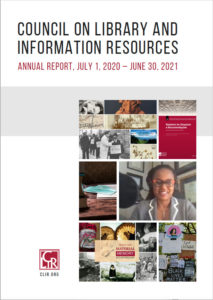 A Turbulent Year, and a Tribute to CLIR's Staff
President's Message for the 2020-21 Annual Report
In looking ahead, institutions and organizations often choose a guiding metaphor to characterize recent accomplishments and infer more of the same advancement in the years to come. "A beacon for change," "a new road taken," "a compass for the next decade" are typical descriptions of the symbolic navigational tools, highways, and methods of enlightenment we use to characterize our efforts. This rhetorical strategy requires a working environment over time that has a predictive continuity and familiarity to sustain such comparisons.
In this respect, the past two years confound expository practice. We are just beginning to grasp the immediate and longer-term effects and the adjustments needed to manage the likely sweeping changes ahead. But the effects will be deeply transformative on a global scale, requiring a more exacting accounting of what is under way and a more explicit reassurance of how our achievements can be carried forward into an opaque future.
CLIR, like other organizations, has sought meaningful responses to the COVID-19 pandemic and the inspiration of voices committed to social justice, broadly defined as a core tenet of the Black Lives Matter movement.
In so doing, the flexibility, dedication, and insight of CLIR's staff have been indispensable. 
As the pandemic surged and confounded our national and international working environment, the exuberant professional colleagues who administer and manage our programs took early responsibility to keep them functional in a world where physical conferences and face-to-face social networking vanished overnight. In solidarity with Black Lives Matter and the systemic inequities confronting our colleagues who are Black, Indigenous, and people of color (BIPOC), CLIR's staff were similarly constitutive in accelerating our efforts to identify and reveal historically marginalized resources, archives, records, and stories, striving to integrate those voices into the larger national narrative, and providing nuance and complexity for a more accurate understanding of our historical context. Acknowledging their roles, it is to the Council's staff that this annual letter is dedicated.
As the COVID-19 virus surged, it was understood that CLIR's meetings and events had to become exclusively virtual. These included the review panels of Recordings at Risk and Digitizing Hidden Collections.
The panelists for these programs have always met in person: Building trust among the reviewers is critical, and social contact has been an expedient way to promote a sharing of ideas and perspectives. With thoughtful adjustments to the schedule and additional time allocated for topical challenges, the online formats proved efficient and well received. The largest, most complex undertaking has been to move the entire DLF Fall Forum online. 
Black Lives Matter
As protests grew and drew broader attention to the pervasive, entrenched racism in American life and culture, from the blatant murder of people of color by white law enforcement agents to the more subtle codes of class hierarchies and the terms used to perpetuate them, a nation—or an encouraging cross-section of our nation—stirred. At CLIR, work begun in previous years to build programs that reveal and sustain historically marginalized voices that can then be heard and studied became especially timely. 
Earlier internal conversations exploring the possibility of formalizing Digitizing Hidden Collections to focus on marginalized cultural expression were invigorated. In February 2021, a new iteration of the program, called "Amplifying Unheard Voices," was announced. Similarly, our partnership with the HBCU Library Alliance was created in part to seek support for projects that would expose a wealth of rare archives and collections sequestered in selected HBCU libraries.
These collections, traditionally inaccessible, are pertinent to the African-American communities and to a more nuanced historical narrative. We are in a planning phase to prototype a hidden-collections-structured approach for neglected and suppressed resources intrinsic to our national identity, with HBCU library resources as the cynosure.
In May 2021, CLIR began a vigorous review of our mission, purpose, vision, and values. We expect this effort, involving CLIR's staff, board of directors, and many supporters and alumni of CLIR's programs, to span much of the next year. We will assess our current circumstances and consider the more tumultuous landscape we are likely to tend in the next 5 to 10 years. The discussions will shape our evolving response in ways that exemplify our commitment to an ethical, just, and equitable commonwealth of shared knowledge. Such a review is requisite for any organization's health and sustainability while acknowledging that our reflections and final recommendations are today particularly urgent and consequential.
Mission and Values
While no organization can claim to plot a predictive course in this era of uncertainty, we can affirm that CLIR's dedicated, empathetic personnel uniquely position us to continue to thoughtfully assess and manage the range of challenges, complexities, and opportunities we confront. We will continue to adapt, adjust, pivot when necessary, and anneal on behalf of our global community to arrive together, strengthened and wiser, in what will inevitably be a new place of different metaphors and signposts we will learn to follow.
This entailed transposing a quarter-century tradition of in-person collaboration to a virtual space. With help from dozens of working group members and volunteers, the 2020 DLF Forum was fully accessible in its premier virtual instantiation, as was the adjacent NDSA Digital Preservation conference and 5 for 5: Conversations on Five Years of Digitizing Hidden Collections, which were also originally designed as physical gatherings. More threatening personal circumstances emerged as the pandemic closed borders and airports. Many CLIR fellows are working on dissertations in remote countries with limited connections. Staff worked diligently with funders to redirect grant resources that could safely extend each scholar's stay and assist them in traveling home once the borders reopened.
Charles J. Henry, President