Message from the President: From Diversity, Convergence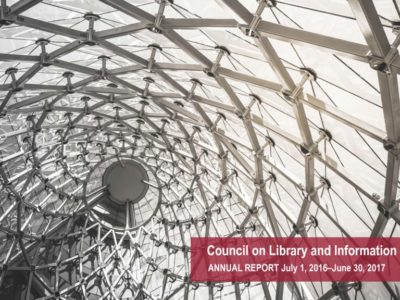 Early in the 21st century a new, interdisciplinary field of study was inaugurated, called sustainability science. This field incorporates the knowledge and research gained through traditionally scientific disciplines (e.g., paleoanthropology, climate studies, geology, environmental sciences, biology) with that gained from the social sciences and humanities (behavioral studies, political science, philosophy, and ethics) to more deeply and coherently inform our policies and help model our behaviors to become better stewards of a planet that already is succumbing to potentially catastrophic climate shifts: loss of arable land, increasingly violent storms, wild temperature swings, and rising seas. Some applications of sustainability science encompass economic stability, articulated as the elimination of poverty and redressing the currently staggering inequality of wealth distribution.
In reading the research and background, it struck me that CLIR has adopted over the last decade an approach to our projects and programs that correlates closely with the tenets and goals of this fresh field of inquiry. Think of academic information as a virtual ecosystem. Our endeavors are guided by principles and desired results that map comfortably upon sustainability science—principles that include diversity, convergence, and equality.
We have expanded significantly into interdisciplinary research. Our data curation postdoctoral fellows program, for example, now spans more than 25 disciplines in the sciences, social sciences, and humanities as our fellows manage, secure, preserve, and make accessible hundreds of instances of big data. The Cataloging Hidden Collections program and its successor, Digitizing Hidden Collections, has brought to CLIR a far more diverse institutional constituency, now including libraries, archives, museums, religious centers, historical societies, film societies, and a spectrum of media: books, manuscripts, audiovisual collections, and photographs. The Digital Library of the Middle East (DLME) provides services to the academic leaders and institutions in the Middle East and North Africa, initially, and represents an exciting geographic expansion to our traditional portfolio.
Such diversity of perspectives, interests, cultural legacy, and subject matter is not an end in itself, but a means to broaden the scope of CLIR's services in order to strengthen convergence, in this case the process of coming together and working interdependently, using shared resources, extensible applications, interoperable digital platforms, and easily migrated and reusable data. Trusted confluence at a global scale frames all of our current work.
And from diversity and convergence: equality. Our fundamental aspiration is to provide a wealth of information and services that are open, accessible to all, and maintained through community involvement. This knowledge is organized and continually enriched to invigorate our capacity to understand this complex world, to become better stewards of its invaluable virtual resources, and to assure, as best we can, that this knowledge is both integral to and informs the essential responsibility of any generation: a sustainable future.
—Charles Henry, April 2018