Contact: Kathlin Smith
202-939-4754
Washington, DC, August 31, 2015-The Council on Library and Information Resources (CLIR) has appointed Michael F. Suarez, S.J., CLIR Distinguished Presidential Fellow.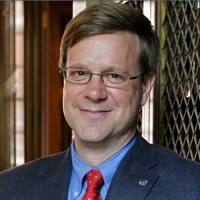 Suarez is university professor of English and director of the Rare Book School at the University of Virginia, where he leads the Andrew W. Mellon Fellowship of Scholars in Critical Bibliography and is also honorary curator of the University of Virginia's special collections. He has held research fellowships from the American Council of Learned Societies, the National Endowment for the Humanities, and the Radcliffe Institute for Advanced Study at Harvard University. In July, President Obama nominated him to the National Council on the Humanities, the advisory board for the National Endowment for the Humanities.
As a presidential fellow, Suarez will provide expert counsel and strategic advice for CLIR's Digitizing Hidden Special Collections and Archives program and its Postdoctoral Fellowship program. "These programs represent a pivotal translation of traditional print and analog resources of our cultural heritage to digital versions and instances," notes CLIR President Chuck Henry. "Michael's insight and acumen will be an essential contribution to this translation, a contribution that assists in developing sophisticated correlations between the original material and its virtual surrogate."
"In practical terms, there is no access to data without metadata," Suarez observed. "Over many years, CLIR's Cataloging Hidden Collections project has made an enormous contribution to the community by ensuring that our cultural heritage in libraries, archives, and museums is more discoverable than ever. Now, the Digitizing Hidden Special Collections and Archives program will make rare materials available to the public in innovative and exciting ways that will not only contribute to our understandings of the objects themselves, but also foster advances in digital capture, curation, delivery, and preservation. I am delighted to be working with Chuck Henry, his remarkable team, and the CLIR postdoctoral fellows, especially at this liminal moment in the creation of libraries and archives for the twenty-first century."
Suarez is co-editor of The Oxford Companion to the Book (2010), a million-word reference work on the history of manuscripts, books, and born-digital materials from the invention of writing to the present day. He co-edited two books published in 2014: The Book: A Global History, with H. R. Woudhuysen, and a scholarly edition of The Dublin Notebook of Gerard Manley Hopkins, with L. J. Higgins. A Jesuit priest, Suarez is currently co-general editor of The Collected Works of Gerard Manley Hopkins and editor-in-chief of Oxford Scholarly Editions Online.
CLIR awards distinguished presidential fellowships to individuals who have achieved a high level of professional distinction in their fields and are working in areas of interest to CLIR and the Digital Library Federation. Fellows may be appointed for one or two years.
CLIR is an independent, nonprofit organization that forges strategies to enhance research, teaching, and learning environments in collaboration with libraries, cultural institutions, and communities of higher learning. It aims to promote forward-looking collaborative solutions that transcend disciplinary, institutional, professional, and geographic boundaries in support of the public good.