Authors visit top digital scholarship organizations in eight countries to identify
workforce-related factors important to the success of digital scholarship

Washington, DC, October 15, 2015-What skills, competencies, knowledge, and mindsets should digital scholars possess? How are such attributes cultivated, and how does such expertise vary around the world? These are among the questions addressed in a new CLIR report, Building Expertise to Support Digital Scholarship: A Global Perspective.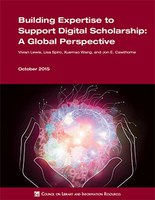 Authors Vivian Lewis, of McMaster University; Lisa Spiro, of Rice University; Xuemao Wang, of University of Cincinnati; and Jon E. Cawthorne, of West Virginia University visited digital scholarship organizations in eight countries to identify the workforce-related factors important to the success of digital scholarship and gain a more nuanced understanding of expertise in different cultural and national contexts. They focused on "best in class" digital scholarship organizations, highlighting the human dimensions behind their success in areas such as research output, grant funding, international reputation, and innovative teaching or training programs.
The team conducted site visits and interviews of practicing digital scholars at 16 organizations in Canada, China, Germany, India, Mexico, Taiwan, and the United Kingdom, as well as the United States. While most of the interviews focused on digital humanities, the team also included several organizations that emphasize digital social science research to identify both commonalities and differences.
"As we visited DSOs around the world, we noted a pattern," note the authors. "What sets apart leading organizations is the leader's vision; the curiosity, expertise, and collegiality of faculty, students, and staff; and the vibrancy of the community . . . the key is people."
The report includes sections on skills, competencies, and mindsets important to digital scholarship; how these qualities are developed; characteristics of organizations that enable continuous learning; digital scholarship expertise in a global context; and challenges facing digital scholarship organizations.
The authors conclude with a series of recommendations aimed at digital scholars, leaders of digital scholarship organizations, universities and host organizations, funders, and the broader digital scholarship community.
The report is available as a PDF download free of charge at https://www.clir.org/pubs/reports/pub168.
CLIR is an independent, nonprofit organization that forges strategies to enhance research, teaching, and learning environments in collaboration with libraries, cultural institutions, and communities of higher learning. It aims to promote forward-looking collaborative solutions that transcend disciplinary, institutional, professional, and geographic boundaries in support of the public good.