First in the new Sidebar series
—Charles Henry
Editor's update: This week, Kerala was hit with the worst flooding in more than a century, leaving hundreds dead and hundreds of thousands homeless. We have contacted P. Sainath, who believes that Chinnathambi's village would have escaped the worst of the floods because it is at a high elevation. It will likely be some time before we hear news from Edamalakudi panchayat, but when we do, we'll post an update here.
This blog is the first in a new series of communications from CLIR, called Sidebar. The concept is straightforward: throughout our careers we attend conferences, sometimes with a demanding frequency; these meetings tend to be structured and theme based, with presentations rather formal. Almost inevitably, however, during breaks and side conversations, something interesting is revealed: introductions to people, events, and circumstances that enrich our understanding of the world in unexpected and often profound ways. "Sidebar" is an effort to capture and archive some of those conversations, with the hope that they can broaden our spirit and more deeply connect us to what would otherwise be hidden in the general churn of our professional rounds. The narratives that are recounted in Sidebar at times reflect the themes of the conference venue, at times are more associative or may seem tangential to the focus of the meeting. In most cases, though, the new stories infer an unexpected correlation to the more deliberate presentations that might otherwise go unspoken.
This blog focuses on one of the most remote and intriguing libraries in the world. It was revealed to me by P. Sainath, a chronicler of life in rural India. The setting of our conversations was noteworthy. In March 2018, the MIT libraries convened an invitational summit focused on Grand Challenges, which were defined as the set of pivotal social, legal, technical, and organizational research problems, potentially solvable in the next decade, whose solutions will have dramatic implications for the dissemination, discovery, reuse, communication, and preservation of scholarly information.
The overarching theme that threaded each topical section was the imperative to establish knowledge structures and norms that entail inclusion of disparate communities and a much wider spectrum of types of knowledge; equitable access; and sustainable models for duration, migration, and scaling of this information over time. This summit was necessarily global in its purview, and the commitment to include an array of different constituencies and efforts allowed us to contemplate reaching out to programs of a small scale but that are nonetheless significant, emblematic of the aspiration to embrace the myriad cultural instances, some transient and ephemeral, that constitute our cultural legacy. The attendees noted on several occasions that to achieve the conference goals we will need to work with senior administrators, faculty, foundations, and of course librarians. Sainath leaned toward me and said that the most remarkable librarian in the world he knows works in a hut in a wild forest.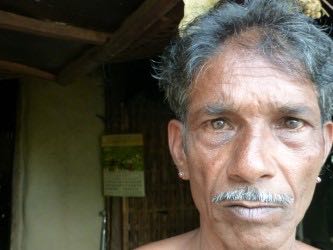 So over coffee Sainath described the library run by P. V. Chinnathambi, a 73 year-old entrepreneur in one of the most remote places in India, the Edamalakudi panchayat (an ancient regional form of governance) in Kerala. A land of few roads within a dense forest in the far south of the country, one has to walk more than 10 miles from the nearest village to reach the library, a small shelter that Chinnathambi uses to sell biscuits and tea, and to circulate books. The trek to the library is at times made more circuitous because of the need to avoid wild elephants that can block the narrow paths. The library holds only 160 volumes, but these are routinely checked in and out, with some readers returning multiple times. The books are not placed on shelves, but rather secured in two jute bags in the shed. All of the books are classics—no light reading here—and business is brisk.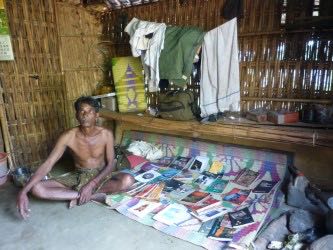 Chinnathambi is a member of the adwasi (a general term for indigenous peoples), more specifically a Muthavan, a very small and isolated tribal community. Most of his readers are Muthavans trekking through the region as they go about their livlihood. His library explicitly aspires to increase literacy and wider understanding of the world both local and beyond his panchayat. In this respect his is a great success story. The loneliest library in the world? Not by a long shot, given the continual traffic and eager readership.
As the conference was winding down, one attendee reported that India has embarked on one of the largest educational projects in the world, the National Digital Library of India. The NDLI intends to make an unprecedented array of cultural resources available for free to its citizenry to enhance their capacity to learn, discover, and intellectually mature. In a remote green corner, from a lean-to library, Chinnathambi is similarly engaged.
For P. Sainath's report on Chinnathambi and his library, see
https://ruralindiaonline.org/articles/the-wilderness-library