Arlington, VA, April 30, 2019–The Council on Library and Information Resources (CLIR) today announced that the following 20 institutions have been awarded Recordings at Risk grants:
Institution: Alaska Library Network
Project: Preserving At-Risk Audio, Video, and Film Related to Public Health in Alaska and the Circumpolar North
Amount: $19,002
Institution: Arizona State University Foundation
Project: Arizona State University, Cross-Cultural Dance Resources Collections Media Digitization Project: Preserving and Providing Access to the Audiovisual Materials of an "American Treasure" of Dance Ethnology Scholarship and World Cultural Heritage
Amount: $49,190
Institution: Berea College, Hutchins Library Department of Special Collections and Archives
Project: Preserving Appalachian Voices in the Michael and Carrie Kline Collection
Amount: $30,285
Institution: Computer History Museum
Project: Digital Equipment Corporation Audiovisual Records Digitization (DECARD)
Amount: $50,000
Institution: Holyoke Public Library
Project: Claiming Place: Preserving the History of Puerto Rican and Latino Culture and Politics in Western Massachusetts Through Digitization of the Vecinos/Neighbors and La Familia Hispana, Inc. Video Collections
Amount: $14,644
Institution: Institute of American Indian Arts
Project: American Indian Activism on the Radio: Preservation of "Seeing Red"
Amount: $19,808
Institution: Kent State University
Project: Converting Disparate A/V Formats from the May 4 Collection into High Fidelity
Amount: $30,561
Institution: KUT Radio at University of Texas at Austin
Project: In Black America: Preserving African-American Culture and Achievement in American Society
Amount: $29,997
Institution: NC State University
Project: Preservation and Access for a Foundational Study on the Social Stratification of American English
Amount: $28,001
Institution: Smith County Historical Society
Project: Historical Magnetic Tape Preservation Project
Amount: $25,258
Institution: Southern California Library
Project: Getting out the Message: Digitizing 10 Years of Public Access TV Programming from Michael Zinzun and the Coalition Against Police Abuse, 1988–1998
Amount: $27,020
Institution: Squeaky Wheel Film & Media Art Center
Project: Axlegrease, the U-Matic Years (1987-1999): Digitizing the Tapes of Western New York's Artist and Activist-led Alternative Media Movement
Amount: $27,905
Institution: State University of New York (SUNY) Geneseo
Project: New York State Square Dance Tradition: Digitizing the Recordings of James W. Kimball Collection
Amount: $45,091
Institution: University of Alabama in Huntsville
Project: Shooting for the Moon: Digitizing Audiovisual Materials Related to the Apollo Program
Amount: $18,775
Institution: University of California San Diego Library
Project: Singsings and Storytelling: Sounds of Oceania Audio Reformatting Project
Amount: $34,960
Institution: University of California, Santa Cruz
Project: Digitizing the Cabrillo Festival of Contemporary Music: Putting Experimental Music in Conversation with Classical Tradition
Amount: $32,867
Institution: University of North Carolina at Greensboro
Project: Women Who Answered the Call: Digitizing the Oral Histories of Women Who Served in the U.S. Military and the American Red Cross
Amount: $10,908
Institution: University of Washington
Project: Pacific Northwest Native American Cylinder and Disc Digitization Project
Amount: $35,830
Institution: University of Wisconsin-Madison Libraries
Project: Preserving Rural and Women's Programming on Wisconsin Public Radio (WHA), 1920-1950
Amount: $19,664
Institution: William Way LGBT Community Center
Project: Reformatting of the Gay and Lesbian Coffeehouse of Philadelphia Cassette Tapes and Continued Reformatting of the Tommi Avicolli Mecca Cassette Tapes on LGBTQ History
Amount: $23,650
More detail on this year's funded projects can be found at: https://www.clir.org/recordings-at-risk/funded-projects/.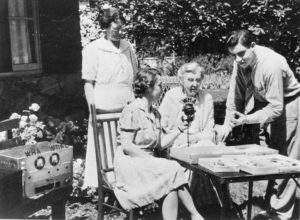 This is the fifth group of projects supported by the Recordings at Risk awards program, a national regranting program administered by CLIR to support the preservation of rare and unique audio and audiovisual content of high scholarly value. Generously funded by The Andrew W. Mellon Foundation, the program will run four competitions between May 2019 and April 2021, awarding a total of $2.2 million.
CLIR will begin accepting applications for a new Recordings at Risk grant cycle beginning May 1, 2019 http://bit.ly/CLIRRaRApp.
The Council on Library and Information Resources (www.clir.org) is an independent, nonprofit organization that forges strategies to enhance research, teaching, and learning environments in collaboration with libraries, cultural institution, and communities of higher learning.