CLIR and Software Preservation Network Publish
Supporting Software Preservation Services in Research and Memory Organizations
White paper offers recommendations for broadening representation, defining the field, investing in community building, nurturing continuous learning, and cultivating multifaceted infrastructures
A new white paper from the Council on Library and Information Resources (CLIR) and the Software Preservation Network (SPN) presents findings from a survey- and interview-based study of software preservation service providers, including archivists, librarians, preservation specialists, technologists, and other information professionals.
"The need for greater attention to software preservation has only grown more acute as research and memory organizations amass vast and rapidly growing collections of software," notes the report. "Many of these organizations struggle to manage these holdings alongside other digital and physical materials, even when keeping software is essential for continuing to provide access to other digital artifacts."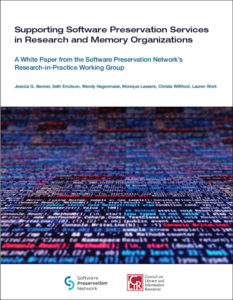 Supporting Software Preservation Services in Research and Memory Organizations identifies concepts, skill sets, barriers, and future directions related to software preservation work. Although definitions of "software" can vary across preservation contexts, the study found that there appears to be wide support for inter-organizational collaboration in software preservation. The report includes 13 recommendations for broadening representation in the field, defining the field, networking and community building, informal and formal learning, and implementing shared infrastructures and model practices.
The report is the result of research launched in 2019 by SPN's Research-in-Practice Working Group. The authors are Jessica G. Benner, of Carnegie Mellon University; Seth Erickson of the University of California, Santa Barbara; Wendy Hagenmaier, of Georgia Tech; Monique Lassere, of Harvard University while conducting research on this report; Christa Williford, of CLIR; and Lauren Work, of the University of Virginia.
A pdf of the report and all products of this study are shared in Zenodo under open licenses that permit adaptation and reuse, at https://doi.org/10.5281/zenodo.7086618.
About the Council on Library and Information Resources:
The Council on Library and Information Resources (CLIR) is an independent, nonprofit organization that forges strategies to enhance research, teaching, and learning environments in collaboration with libraries, cultural institutions, and communities of higher learning.
About the Software Preservation Network:
The Software Preservation Network (SPN) is an independent, community-led membership association focused on ensuring long-term access to software through community engagement, infrastructure support, and knowledge generation. Guided by the belief that software is critical information infrastructure, SPN works to create a space in which organizations and individuals from industry, academia, government, cultural heritage, and the public sphere can contribute their myriad skills and capabilities toward collaborative solutions that will provide persistent access to software and software-dependent data.