Preserving Our Cultural Heritage: CLIR Awards $644,147 to 17 Recordings at Risk Projects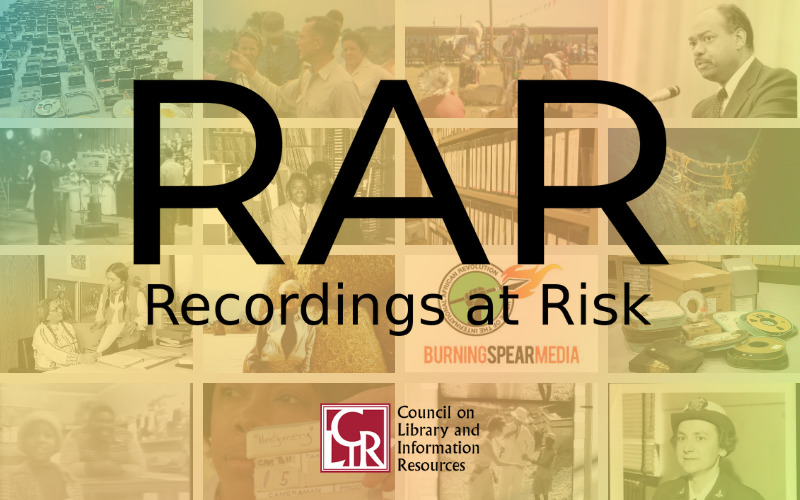 August 1, 2023—In a significant effort to safeguard and celebrate our cultural heritage, the Council on Library and Information Resources (CLIR) announces the allocation of $644,147 to support 17 pioneering projects under the Recordings at Risk program. Building upon the success of the 147 previously funded projects, which have already digitally preserved over 55,000 vulnerable audio and/or visual recordings, this tenth cohort of recipients marks a crucial milestone in cultural preservation. 
The cultural significance of these endangered analog audiovisual materials cannot be overstated. The ravages of time, coupled with the scarcity of compatible playback equipment and looming and environmental hazards, threaten their very existence. The grant recipients will employ state-of-the-art technologies and partner with highly skilled digitization service providers to rescue these invaluable records from the brink of extinction.
Among the diverse array of recordings to be digitized, the projects will illuminate the rich tapestry of twentieth-century Native life in America, showcase the evolution of music history, capture the impact of labor and social justice activism, provide unique insights into the wonders of animal life, preserve the multifaceted perspectives and creativity of people from the heart of Appalachia, and illuminate the vibrant lights of Las Vegas.
Cycle 10 Awarded Projects:
Organization: Appalshop, Inc.
Project: Rescuing a Flood-Damaged Appalachian Film and Video Collection
Amount: $50,000
Organization: Chicago Academy of Sciences
Project: Preserving History, Conserving Nature: The Value of Digitizing the Chicago Academy of Sciences' Audiovisual Collection
Amount: $42,269
Organization:Eastern Shoshone Tribe
Project: Digitizing Important Eastern Shoshone Tribal Government Proceedings, Sacred Ceremonies and Rare Language Recordings, 1978-2018
Amount:$13,386
Organization: Florida State University Research Foundation
Project: On With the Debate: Digitizing Legacy Media in the William R. Jones Papers
Amount: $17,490
Organization: Handel & Haydn Society
Project: Rescuing a Half-Century of Music: Digitizing the Audio Recordings of the Handel and Haydn Society
Amount: $44,765
Organization: Indiana Historical Society
Project: WTLC's Like It Is: Digitizing the Award-Winning News Program of Indiana's First 24-Hour Black Radio Station
Amount: $37,451
Organization: LaMaMa Experimental Theatre Club, Inc.
Project: Preserving Performance: Digitizing the Production Footage Collection at La MaMa Experimental Theatre Club
Amount: $24,244
Organization: Ocean Exploration Trust
Project: Digitizing three decades of deepwater ocean exploration: the marine archaeological and scientific recordings of Dr. Robert Ballard
Amount: $49,576
Organization: San Diego Society of Natural History.
Project: San Diego Natural History Recordings at Risk
Amount: $46,474
Organization: The Evergreen State College
Project: Native Voices of Self-Determination: Preserving the Mary Ellen Hillaire Audio Collection
Amount: $44,640
Organization: The Isamu Noguchi Foundation and Garden Museum
Project: A Sense of Place: Digitizing Film and Audio from an Unfinished Documentary on Artist Isamu Noguchi and his Public Works
Amount: $49,887
Organization: University of Florida 
Project: Preserving the Journalistic Recordings of Burning Spear Media, 1971-1999
Amount: $49,751
Organization: University of Nevada Las Vegas
Project: Doubling Down: Preserving the Stories of the Workers and Dreamers Behind the Las Vegas Casino Industry
Amount: $48,910
Organization: University of South Carolina
Project: Preserving the Charleston Communication Centre Video Tapes: Digitizing and making accessible the Lowcountry folk arts of the 1970s
Amount: $29,988
Organization: Washington University in St.Louis
Project: Preserving a Lost History of the Civil Rights Movement
Amount: $36,276
Organization: Wildlife Conservation Society
Project: Preserving Conservation Science and History: Digitizing the Films of the Department of Tropical Research
Amount: $32,225
Organization: Women in Military Service for America Memorial Foundation, Inc.
Project: Sharing HERstory – Digitizing Oral Histories of Women's Military Service to America, World War I to the Present
Amount: $26,815
Through the support of the Mellon Foundation and administered by CLIR, the Recordings at Risk program continues to empower diverse organizations in their mission to preserve rare and unique audio and/or visual recordings of high scholarly value. Since its inception in 2017, the program has awarded grants of between $10,000 and $50,000 to diverse organizations, providing vital resources necessary to save cultural memory that would otherwise be lost to time. 
As we race against time to salvage these delicate and fading pieces of our history, each successfully digitized recording becomes a vital testament to the past.  This extraordinary endeavor underscores CLIR's unwavering commitment to cultural preservation, recognizing the urgent need to protect our collective heritage and ensure that the voices and experiences of diverse communities resonate across generations.  
Visit the program's Funded Projects page for more information about individual projects and the independent review panel, which plays a pivotal role in shaping the program's funding  recommendations. CLIR extends its gratitude to all applicants to and reviewers for their unwavering dedication and passion, especially during times of ongoing social duress.
CLIR is in the process of finalizing the next call for proposals for Recordings at Risk. Details on future cycles will be posted to the program's landing page in the next several months. Those interested are encouraged to sign up for CLIR's Grants & Programs Newsletter for updates.

About CLIR
The Council on Library and Information Resources is an independent, nonprofit organization that forges strategies to enhance research, teaching, and learning environments in collaboration with libraries, cultural institutions, and communities of higher learning.
About the Mellon Foundation
The Mellon Foundation is the nation's largest supporter of the arts and humanities. Since 1969, the Foundation has been guided by its core belief that the humanities and arts are essential to human understanding. The Foundation believes that the arts and humanities are where we express our complex humanity, and that everyone deserves the beauty, transcendence, and freedom that can be found there. Through our grants, we seek to build just communities enriched by meaning and empowered by critical thinking, where ideas and imagination can thrive. Learn more at mellon.org.
For media inquiries, please contact: Stacey Patton, Director of Communications, spatton@clir.org.