Alexandria, VA, August 2023—The Council on Library and Information Resources (CLIR) proudly announces Remotely Useful: Practical Lessons for Northern Community Archiving, co-authored by esteemed professionals Morgen Mills and Mark David Turner. Mills and Turner are co-founders and co-owners of Brack and Brine, a consultancy, digitization service, and emerging publisher known for its work with several Northern records repositories. This groundbreaking addition to the 2023 Pocket Burgundy series is published by CLIR.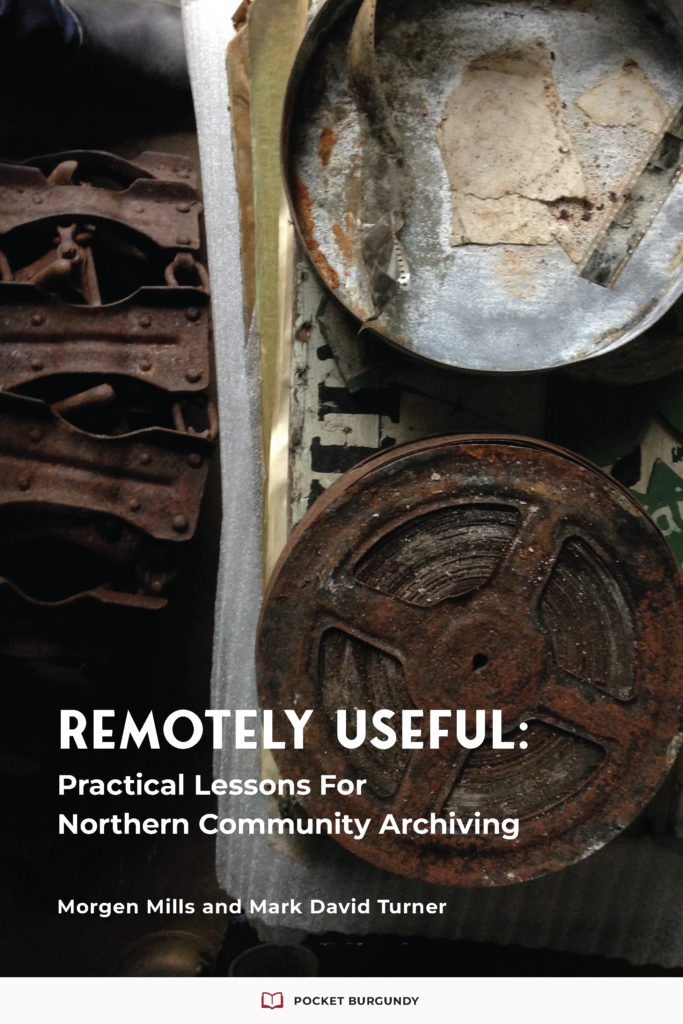 Remotely Useful pioneers a first-of-its-kind guide, bridging the gap between the archival field and the day-to-day concerns of preserving cultural and community records in the North–encompassing the upper latitudes of Canada and the United States. These Arctic and Subarctic regions are on the front lines of the climate crisis, making the urgent documentation and preservation of their histories, traditions, and ecological knowledge vital before they are lost or altered forever.
Remotely Useful addresses the unique challenges faced by Northern communities in safeguarding their documentary heritage. As these records are intricately tied to their identity, history, and traditions, their preservation becomes crucial for maintaining continuity and promoting a sense of pride and belonging among community members.
The guide highlights critical points, including the challenges faced by Northern archives in navigating relationships with governments, working with parent organizations, navigating funding agencies, and collaborating with partners. It also underscores the colonial legacy inherent in archival systems and the difficulties faced by diverse communities, whose recordkeeping approaches that institutional archives may struggle to support or anticipate. Remotely Useful aims to empower Northern communities to manage their records on their terms and integrate historically marginalized Indigenous perspectives into the archival process.
The primary objective of Remotely Useful is to be a practical resource, catering to the specific needs and usage patterns of Northern individuals, communities, and groups. It offers guidance in managing community records in ways that work for their use and needs, such as refining repository operations, integrating records with larger systems, and fostering better understanding and mutual collaboration among institutional archives and professionals.
Mills and Turner's insights in Remotely Useful are enriched by the invaluable contributions of "workshoppers," reviewers, sources, and interlocutors. While the publication initially focuses on areas in northeastern Canada, the authors envision its applicability across the Canadian and American Norths, intending to continually revise and expand the guide as an ongoing conversation unfolds.
Remotely Useful: Practical Lessons for Northern Community Archiving is part of the CLIR Pocket Burgundy series, which features concise publications on various topics within the information and cultural heritage community. To access this free publication and others from CLIR, visit clir.org/pubs/reports.
About the Authors:
Morgen Mills has resided in Happy Valley-Goose Bay, Labrador, Canada, for 15 years. During her nine-year tenure as program coordinator at the Labrador Campus, she established the Labrador Campus Archive and successfully managed the Labrador Campus Library.
Mark David Turner is a cultural historian and facilitator from St. John's, Newfoundland and Labrador. He is an adjunct professor at Memorial University's School of Music and works as the manager of Audio-Visual Archives and Media Literacy for the OKâlaKatiget Society and Nunatsiavut Government.
About the Council on Library and Information Resources:
The Council on Library and Information Resources (CLIR) is an independent, nonprofit organization that forges strategies to enhance research, teaching, and learning environments in collaboration with libraries, cultural institutions, and communities of higher learning.
For media inquiries, please contact:
Stacey Patton
Director of Communications
spatton@clir.org