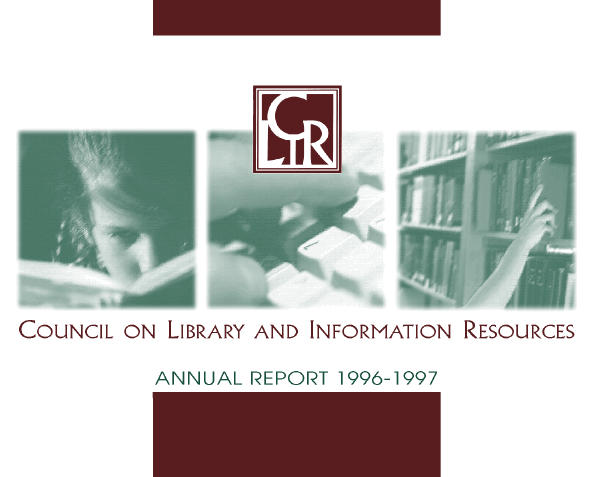 CONTENTS
Funders and Sponsors
Message From the President
The Programs
Commission on Preservation and Access
Digital Libraries
The Economics of Information
Leadership
Publications
Grants and Contracts
ACKNOWLEDGMENT
The following foundations and sponsors provide crucial support for the activities and programs of the Council on Library and Information Resources:
FOUNDATIONS
The William and Flora Hewlett Foundation

The Henry Luce Foundation

IBM Corporation

W.K. Kellogg Foundation

The Mario Morino Institute

The Andrew W. Mellon Foundation

The William Penn Foundation
CLIR also thanks the National Endowment for the Humanities, the Alfred P. Sloan Foundation, and the Xerox Corporation, which funded the American Council of Learned Societies and the Commission on Preservation and Access to develop a documentary on the preservation of digital information.
SPONSORS: THE COMMISSION ON PRESERVATION AND ACCESS (As of July 1, 1997)
Agnes Scott College

Albion College

Amherst College

Association of American Publishers

Bates College

Berea College

Boston College

Boston Public Library

Bowdoin College

Brown University

Bryn Mawr College

Bucknell University

Claremont Colleges

Coalition for Networked Information

Colby College

Colgate University

College of Charleston

College of Wooster

Colorado College

Columbia University

Connecticut College

Cornell University

Dartmouth College

Davidson College

Denison University

Dickinson College

Duke University

Earlham College

Emory University

Franklin & Marshall College

Gettysburg College

Grinnell College

Gustavus Adolphus College

Hamilton College

Harvard University

Haverford College

Hope College

Indiana University

Johns Hopkins University

Kalamazoo College

Kenyon College

Lake Forest College

Lehigh University

Library of Congress

Macalester College

Massachusetts Institute of Technology

Miami University

Middlebury College

Mills College

Mount Holyoke College

National Agricultural Library

National Library of Medicine

New York Public Library

New York University

North Carolina Central University

North Carolina State University

Northeastern University

Northwestern University

Oberlin College

Occidental College

Ohio State University

Pennsylvania State University

Princeton University

The Reader's Digest Association, Inc.

Reed College

Rollins College

Saint John's University

Saint Lawrence University

Saint Olaf College

Simmons College

Skidmore College

Smith College

Southeastern Library Network, Inc.

Southern Methodist University

Stanford University

State University of New York at Albany

Swarthmore College

Syracuse University

Trinity College

Union College

University of Alberta

University of California, Berkeley

University of California, Los Angeles

University of California, San Diego

University of Chicago

University of Colorado

University of Connecticut

University of Kansas

University of Maryland at College Park

University of Michigan-Ann Arbor

University of Minnesota

University of North Carolina, Chapel Hill

University of Oregon

University of Pennsylvania

University of Pittsburgh

University of Southern California

University of Tennessee

University of Texas at Austin

University of Toronto

University of Washington

University of Wisconsin-Madison

Vassar College

Washington and Lee University

Washington University

Wellesley College

Wesleyan University

Wheaton College

Williams College

Yale University


he merger of the Commission on Preservation and Access and the Council on Library Resources became official on May 30, 1997, when the Board ratified the articles of incorporation and the bylaws of the new enterprise, the Council on Library and Information Resources (CLIR). CLIR exists because thoughtful, responsible, and dedicated Board members guided the transition. The merger marked the end of a two-and-a-half year process of examining the missions, programs, and aspirations of the two organizations. The separate Boards of the Commission and the Council acted from the highest levels of good will and statesmanship. Although members of the two Boards had every reason to take pride in past accomplishments, they dropped their respective claims on programs and projects and found substantial common ground. With high regard for one another's history and achievements, they seized the opportunity to create an organization appropriate to the future needs of libraries, archives, and their many constituencies.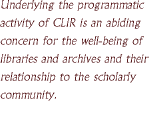 The period of analysis and reflection that led to the merger was a valuable exercise in assessing the established programs of the Commission and the Council. The Boards considered the appropriate roles of a non-profit agency that helps libraries, archives, and related information organizations meet their professional and societal obligations. There were long discussions about the challenges faced by libraries and archives as they acquire, store, preserve, and provide access to information resources. The demands on these repositories have increased dramatically, even as their institutional missions have stayed fundamentally the same–and the dollars to support them have remained largely constant.
With a small staff and finite resources, CLIR has set its sights on a few targeted programs. Our statement of mission calls on the organization to identify the critical issues that affect the welfare and prospects of libraries and archives and the constituencies they serve, to convene individuals and organizations in the best position to engage these issues and respond to them, and to encourage institutions to work collaboratively to achieve and manage change. CLIR pursues its mission out of the conviction that information is a public good and of great social, intellectual, and cultural utility, and it is committed to building support for this operating premise.
A WORD OF THANKS
Each Board member contributed in substantial ways to the creation of CLIR, but a few individuals must be acknowledged for their special efforts. Dr. Martin Cummings, who chaired the Council on Library Resources (CLR) Board and served for many years as a staff consultant, retired in May 1997. His love of libraries, his belief in the value of research, and his insistence on quality and accuracy motivated all of us who worked with him to aspire to more than we might otherwise have attempted. Dr. Cummings stayed on to see the merger to completion, and for his persistent and tireless efforts, we are forever grateful.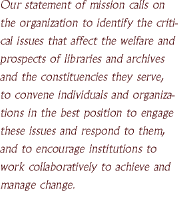 Dr. Billy Frye, chairman of the Board of the Commission on Preservation and Access (CPA) since its inception, reached the end of his third and final term of office. Dr. Frye, more than anyone else, defined the aspirations and ideals of the Commission. In a selfless, highly principled way, Bill Frye led the Commission through its campaign to bring the problem of acidic paper to the attention of a broader public and to incorporate concerns about preserving digital information into the overall preservation agenda. Dr. Frye moved preservation from being a librarians' concern to being a subject of vital importance to all institutions of higher education. We thank him for his leadership of the Commission, and we are delighted that he will remain on the Board of CLIR.
Other individuals who worked hard to assist with the agenda of one or the other organization and who reached the end of their terms of service were William O. Baker and Basil Stuart-Stubbs, of the Council on Library Resources, and Nicholas Veliotes, of the Commission on Preservation and Access. For their years of dedicated service and for their rich store of stimulating ideas and general wisdom, we are deeply grateful.
Finally, we want to thank the many foundations and institutions that have demonstrated confidence in our work by contributing financial resources. Like the predecessor organizations, CLIR has no endowment or means of self-support. Each year's agenda is dependent upon others' finding value in our programs and agreeing to finance them. We trust that the accomplishments of this past year will justify the investment our funders and sponsors have made in us.
STAFF CHANGES
The Council on Library and Information Resources has only a small staff to achieve the aims of the programs, and there were important changes on that staff this past year. Mary Agnes Thompson, who had been with the Council on Library Resources for 17 years, resigned to become a reference librarian at The Catholic University of America in March 1997, and Vanessa Lee, administrative assistant for some 13 years, left in June 1997 to take a position as database manager for a law firm. James M. Morris joined the staff as vice president in January 1997, and Kathlin Smith was named program officer in February 1997.


lthough we have acted as a single organization for the past year, the formal legal status of CLIR, as noted earlier, is a recent development. Consequently, the audited statements in this report are presented separately for the two predecessor organizations. The merger has been an important administrative concern, and we believe that it will have many benefits for the library, archival, and higher education communities. But the real story of CLIR will be told through the results of the projects that have been commissioned in each of the program areas. The staff take pride in what has been achieved, but we recognize that our contribution has been–as it will be–to bring the right people together and to provide a structure that allows them to do work that genuinely advances the cause of libraries, archives, and other information agencies.
During the year, we have issued 10 newsletters, three technical reports, and a volume of case studies on public libraries and their use of technology. We have organized and hosted dozens of program-based meetings on preservation, digital libraries, the economics of information, and leadership. Staff and members of our task forces and committees have spoken about the programs at scores of professional and scholarly meetings. In all these activities, we have sought to raise the level of awareness about important issues, solicit help from appropriate groups, and coordinate efforts toward a constructive purpose.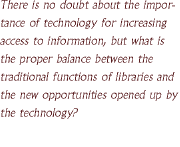 Underlying all the programmatic activity of CLIR is an abiding concern for the well-being of libraries and archives and their relationship to the scholarly community. Many articles in the popular press this year have called into question the nature of the library. On the one hand, technology enthusiasts use the media to tell the upbeat story of what digital information can mean for new and underserved audiences. On the other, many who love libraries, their collections, and their tradition of services question the emphasis on technology. There is no doubt about the importance of technology for increasing access to information, but what is the proper balance between the traditional functions of libraries and the new opportunities opened up by the technology?
Bill Gates has invested millions of dollars in providing computers and software to public libraries around the country. He believes that access to digital information will inspire individuals and revitalize neighborhoods, and many of the nation's political leaders voice similar beliefs. They extol technology as a tool of empowerment and of democracy.
But technology alone will not serve the needs of scholars and students. In a recent essay on digital libraries, Carla Hesse, a historian at the University of California, Berkeley, writes as follows of the relationship between the research library and humanities scholarship:
The future of humanities scholarship in the twenty-first century A. D. will be intimately linked with the fate of our research libraries. This is so because from the very beginnings of human history libraries have been the principal repositories of the record of human knowledge and experience. They are our laboratories. And it is now clear that the modern research library is at a critical crossroad. The conjuncture is at once economic and technological. How our libraries emerge from this conjuncture will be as crucial as decisions about classroom curricula in shaping both the content and the form of humanities scholarship in the future.
(Carla Hesse, "Humanities and the Library in the Digital Age," in What's Happened to the Humanities?, ed. Alvin B. Kernan [Princeton University Press, 1997], p. 107.)
Hesse's essay is pointedly about the effects of technology on humanistic scholarship, but her cautionary sentiments about the coming transformation of research libraries clearly apply as well to the larger record of human achievement that libraries compile and preserve. It is to the support of that comprehensive record, of which the humanities are so rich a part, that the Council on Library and Information Resources is committed. We believe that the new organization will serve us well in our work with many different associations, scholarly societies, networks, and institutions of higher education, both national and international. We want it to be a forum for discussing candidly the changes–welcome and not, anticipated or unforeseen–that will inevitably accompany the efforts of libraries, archives, and information organizations to integrate digital resources and services into their well-established print-based environments.
We welcome comments about our agenda as we develop the four programs described in the following section of this report. And we encourage readers to bring to our attention both their local challenges and those more encompassing problems that may benefit from cooperative solutions.
Deanna Marcum
September 30, 1997


nitially, CLIR will maintain four major programs: the Commission on Preservation and Access, Digital Libraries, the Economics of Information, and Leadership, and, in each of these programs, we want to consider libraries not as isolated organizations but as components of a larger information structure that also includes archives, colleges and universities, computer centers, and publishers.
The agenda for work is extensive indeed, and we can address only a portion of it. To be effective, we will have to choose carefully the projects in which we invest. This will necessitate a fundamental change in what had been the practice of the Council on Library Resources as an operating foundation. CLIR will not maintain the kinds of grant programs that were a feature of the CLR, or be open to unsolicited requests for project support. We shall adopt instead what has been the mode of operation of the Commission on Preservation and Access: after consultation with knowledgeable advisors, we shall identify the individuals and organizations best suited to undertake particular components of the overall agenda in each program area and seek their participation. It is possible that, from time to time, we shall issue a broad invitation for research proposals on specific topics, but that procedure will be exceptional.


n the past, the Commission on Preservation and Access has been a force–on occasion, a solitary force–working to assure that knowledge produced by the scholarly communities of the world is saved and kept accessible. CLIR will continue, and strengthen, that role for the Commission.
As a fundamental principle of all its programs, CLIR will encourage institutions to achieve and manage change through collaboration. Nowhere is collaborative action more possible than within the preservation community, where librarians and archivists routinely cooperate, among themselves and with others. The most striking evidence of this is the success of the ongoing effort to rescue large portions of the deteriorating print-based collections in libraries here and abroad.
With advice from its standing committees and task forces, the Commission will develop new strategies to sharpen the professional skills of individuals with preservation responsibilities, publish materials that inform and instruct the preservation community, document the economic implications of establishing sound preservation environments for collections, and frame the next set of issues to be considered within the changing definition of "preservation and access."
THE INTERNATIONAL PROGRAM
Because few of the critical issues of preservation and access today can be addressed outside an international context, the Commission maintains an International Program to promote preservation awareness throughout the world. The Program has helped to establish many collaborative projects, and, through training seminars, workshops, fellowships, translation projects, publications, and a policy of generous response to requests for counsel and advice from colleagues abroad, it continues to work for the long-term preservation and accessibility of information.
The International Program has focused its efforts to date on Eastern and Western Europe, the former Soviet Union, Latin America, and China. Thanks to new support from The Andrew W. Mellon Foundation, the work in Latin America will be extended, and we will initiate new activity in Southern Europe and South Africa. The Program also hopes to expand its work in Asia and is seeking funds to develop new projects there.
The following illustrate current and prospective projects of the International Program:
International Register of Microform Masters. An international register of microform masters is essential if scholars and librarians are to know what has been filmed at locations throughout the world. The Program encourages national libraries to contribute records to regional nodes for the collection, organization, and distribution of information about reformatted collections. It will support efforts to link these records to an emerging international register and to reach international consensus on the elements and the record structure for listings of digitized materials.
Preservation and Access. Examples of activities that will be undertaken in the next several years include the provision of U.S. expertise for preservation-needs assessments at libraries abroad; the development of cooperative filming and digitizing projects for specific collections; and the design of strategies to increase the production and use of permanent paper.
Translations. Most preservation literature is written in English, and there is little state-of-the art information available to non-English speakers. The Program supports the translation and broad dissemination of key works on preservation. In the coming year, it will coordinate the distribution of translated preservation literature in countries where Spanish and Portuguese are widely spoken, and it will organize translation projects for other languages and other areas.
PRESERVATION SCIENCE COUNCIL
Because the cost of environmental systems for storing all types of library collections–paper, magnetic media, and film–is substantial, establishing a sound preservation environment has become a major economic issue for academic institutions. Additionally, the storage environment for collections affects human comfort, and changes may disrupt established ways of working with materials. The Commission's 20-member Preservation Science Council (PSC), composed of 16 preservation administrators and four scientists, has recommended an investigation of the extent to which scientifically regulated environmental conditions can increase the life expectancy of materials, even as operating costs remain the same or decrease.
PRESERVATION MANAGERS COUNCIL
The Preservation Managers Council (PMC), a longstanding committee of preservation administrators from research libraries, will develop ideas for projects that support essential traditional preservation activities, explore preservation issues around "non-book" materials (audio, video, film), and integrate preservation concerns into the design of digital library projects.
CLIR aims to help libraries of all types and sizes understand the far-reaching implications of digitization. To that end, CLIR supports pilot projects and experiments whose purpose is to build confidence in the digital component that libraries are now adding to their traditional print holdings.


he National Digital Library Federation (NDLF),* which was begun by a group of 15 research libraries in 1996, has become an official project of CLIR. The primary mission of the NDLF is to establish the necessary conditions for creating, maintaining, expanding, preserving, and archiving a distributed collection of digital materials that will be permanently accessible to scholars and the public. NDLF has underwritten or endorsed four testbed projects: The Making of America, Part II (MOAII); The Advanced Papyrological Information System (APIS); The Social Sciences Digital Library Consortium (SSDLC); and The Berkeley/Columbia Digital Scriptorium. As with NDLF itself, these testbed projects are works-in-progress, and they vary in scope and intent. The purpose of MOAII is instructional and informational; its audience will be university and college students, secondary-school students, and the public. APIS and the Digital Scriptorium, on the other hand, are intended primarily for use by researchers. What links all the endeavors is their objective of developing a common architecture of discovery and retrieval for information contained in databases that are distributed among many institutions.
Additional libraries are welcome to become sponsors of the NDLF under the same terms as its original sponsors. Each new sponsor must be actively engaged in a substantive digital library project and, in addition to making the requisite financial contribution, be willing to contribute staff resources to joint projects.
* On September 19, 1997, the name of the NDLF was officially changed to the Digital Library Federation.
DIGITAL ARCHIVING
New electronic systems of scholarly communication will work only when there is a thoroughly dependable process for archiving digital information. Without such a process, libraries will continue to meet their preservation responsibilities by buying and storing paper versions. CLIR will work with relevant groups of scholars, university administrators, librarians, and computer-center personnel to develop a plan for digital archiving that builds confidence in new modes of scholarly communication and peer evaluation. The plan will consider the economics of digital archiving and set the systems and governance requirements for assured preservation and access and the safe migration of data.


lthough we have discontinued a series of small grants for research on the economics of information, in part because the projects did not focus sharply enough on developments within CLIR's four major programs, we shall continue to undertake research activity that puts questions about the economics of information within large institutional frameworks. It is no longer appropriate, or even possible, to regard library budgets as the sole investment by universities in providing the information that serves as a basis for research and scholarship. We want to think broadly about how universities–and other institutions–should invest in information resources to meet the needs of the scholarly community. We shall start by studying the process of allocation on one or two campuses and use these findings to frame the critical questions and design appropriate responses.


he much-talked-about transformation of both public and academic libraries will be accomplished only if talented and creative individuals are available to manage libraries and define library services in the twenty-first century. CLIR's Leadership Program will sponsor projects that promise to build a new cadre of skilled leaders. Although a few schools of information studies now offer curricula that prepare individuals to work effectively in the hybrid environment of print and digital media, the nation's libraries are largely staffed by individuals who have not had an opportunity for formal training in the contemporary demands of the profession. CLIR will help librarians–and others engaged in the management of information resources–to acquire the requisite new skills.
DIGITAL LEADERSHIP INSTITUTE
CLIR hopes to establish a university-based Institute, with a formal curriculum of several weeks' duration and a subsequent practicum experience, the purpose of which will be to effect fundamental change in the way universities manage their information resources in the digital era. Over the course of the next decade, the Institute will train a substantial cadre of professionals drawn from library staffs, academic administrators, computer-center personnel, and faculties. They will preside over this transformation on the nation's campuses, which will have far-reaching consequences for the way universities allocate their financial resources and fulfill their educational mission.
INNOVATIVE USES OF TECHNOLOGY BY COLLEGES
Developments in digital technology and the growth of electronic information are changing the way information is provided on college campuses. Yet the reasons for making information available remain much the same as ever: to support the research efforts of faculty members and to give students the tools for discovery and understanding. Through case studies of 12 colleges, CLIR will explore how campuses are responding to the challenges of offering information services in a changing environment. We shall publish a volume of case studies that give examples of how libraries have used technology to strengthen their role on college campuses, enhance their services, and improve instruction and research.
THE W. K. KELLOGG FOUNDATION PROJECT
In 1996, the Council on Library Resources published case studies of 12 public libraries that have made innovative use of technology to improve and increase library services. The studies, which were supported by the W.K. Kellogg Foundation, have been well received by the library community. As a result, the Foundation has asked CLIR to work with participants in the Kellogg Human Resources in Information Systems Management (HRISM) program to develop educational and training resources that can be used by many public libraries. CLIR will assess materials that have been developed within the HRISM program and build a coherent package that can be shared widely. At the same time, we will adapt the public-library case studies for distribution to city managers and other local government officials and to information-policy experts.


LIR will issue a series of publications that reflect the activities and products of all four programs. These will include reports on technical, scientific, and policy issues; a bimonthly newsletter that conveys information of interest to sponsors, funders, and professionals; a series of "research briefs" that summarize the results of CLIR projects in a concise format; a Website containing current information about programs and products; and timely, hard-copy press releases. In addition, CLIR will collaborate with the Research Libraries Group and Cornell University in producing DigiNews, a bimonthly Web publication about digitization and digital preservation issues.
Among the reports that will be issued in the coming year are the following: an overview of reformatting and its role in preserving and making accessible the print record in America that exists on brittle paper; a position paper on both the advantages and limitations of digitizing library materials; and the first in a series on preservation and management factors that influence or guide the selection for digitization of existing collections (this report will provide a manager's perspective on digital conversion of historical pictorial collections). Among the topics being considered for future CLIR reports are the cost-effective preservation management of existing collections, both paper and non-print, through environmental planning; and materials-science findings that affect the preservation of large research collections.
The Commission on Preservation and Access has concluded a joint publication and distribution agreement with the European Commission on Preservation and Access (ECPA). ECPA's offer to act as the Commission's distribution agent in Europe will save considerable time and expense in disseminating reports to that region. And the joint development of selected reports will provide the CPA with broader perspectives and a larger talent pool from which to draw authors and reviewers.
The Commission will complete a joint publication project with the International Federation of Library Associations and Institutions' Core Programme for Preservation and Conservation (IFLA PAC) that will result in a revised and expanded version of IFLA PAC's "Preservation

Principles for Library Materials." The Commission will help distribute the report and mount it on the World Wide Web. Commission on Preservation and Access. Newsletter: nos. 91-100 (July 1996-June 1997).
Commission on Preservation and Access and the Council on Library Resources. Annual Report, 1995-1996.
Ester, Michael, Digital Image Collections: Issues and Practice (December 1996).
Public Libraries, Communities, and Technology: Twelve Case Studies (November 1996).
Porck, Henk, Mass Deacidification: An Update on Possibilities and Limitations (October 1996).
Kislovskaya, Galina, Preservation Challenges in a Changing Political Climate: A Report from Russia (September 1996).
Commission on Preservation and Access Newsletter Inserts: "Task Force on Hispanic Resources Issues Recommendations" (March 1997).
"On the Fiscal Year 1998 Appropriations for the National Endowment for the Humanities." Written Statement from The Association of Research Libraries, Commission on Preservation and Access, and National Humanities Alliance (April 1997).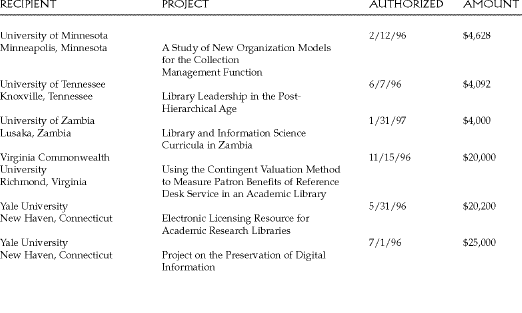 COUNCIL ON LIBRARY AND INFORMATION RESOURCES
1755 MASSACHUSETTS AVENUE, N.W., SUITE 500, WASHINGTON, D.C. 20036-2188
Telephone: 202.939-4750 * Fax: 202.939.4765 * E-mail: info@clir.org * Web: http:/clir.stanford.edu
DIRECTORS
Stanley A. Chodorow, Chair, University of Pennsylvania

Betty G. Bengtson, University of Washington

Christine L. Borgman, University of California at Los Angeles

Harvey Brooks

Jerry D. Campbell, University of Southern California

Samuel DuBois Cook, Dillard University

Billy E. Frye, Emory University

David B. Gracy, II, The University of Texas at Austin

William N. Hubbard, Jr.

Carole Huxley, New York State Education Department

Paul LeClerc, New York Public Library

Klaus-Dieter Lehmann, Die Deutsche Bibliothek

Herman Liebaers

Peter Lyman, University of California at Berkeley

Deanna B. Marcum, Council on Library and Information Resources

Marilyn Gell Mason, Cleveland Public Library

Cornelius J. Pings, Association of American Universities

Elaine Sloan, Columbia University Libraries

Winston Tabb, Library of Congress

Dan Tonkery, Dawson Subscription Group

Sidney Verba, Harvard University Library
COUNCIL ON LIBRARY AND INFORMATION RESOURCES
The Council on Library and Information Resources (CLIR) grew out of the 1996 merger of the Commission on Preservation and Access (CPA) and the Council on Library Resources (CLR). Over the years, CPA and CLR, in partnership with libraries, archives, and other information providers, advocated collaborative approaches to preserving the nation's intellectual heritage and strengthening the many components of its information system. CLIR was founded to continue this tradition of support for a national information system and a seamless web of information resources, of which all libraries and archives are a part.
The convening role is central to CLIR's mission. CLIR brings together experts from around the country and around the world and asks them to turn their intelligence to the problems that libraries, archives, and information organizations are facing as they integrate digital resources and services into their well-established print-based environments.
CLIR urges individuals to look beyond the immediate problems and imagine the most desirable outcomes for the users of library and archives–to be rigorously practical and to dream.