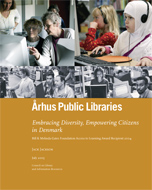 ISBN 978-1-932326-20-8
CLIR pub131
The online PDF version of this report is available FREE and can be obtained by clicking on the PDF link below.
The Århus Public Libraries in Denmark received the 2004 Bill & Melinda Gates Access to Learning Award. This report focuses on the progress the Libraries have made in reaching out to immigrant and refugee communities with library services based on the latest in information technology.