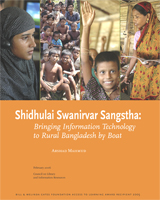 by Arshad Mahmud
February 2006. 22 pp.
ISBN 1-932326-24-3
ISBN 978-1-932326-24-6
CLIR pub136
The online PDF version of this report is available FREE and can be obtained by clicking on the PDF link below.
The 2005 recipient of the Bill & Melinda Gates Foundation Access to Learning Award overcame the challenge that the ecosystem of Bangladesh poses and found a way to deliver information technology to residents of some of that country's flood-prone areas.
With specially designed, indigenous boats, Shidhulai Swanirvar Sangstha is using cellular technology and solar power to provide Internet access and online training to thousands of rural residents. Shidhulai is the name of a village in the Natore district
of Bangladesh, and the term swanirvar sangstha means "self-reliant organization." This report is a case study of of how Shidhulai Swanirvar Sangstha approached formidable obstacles and documents the overall success of the project.