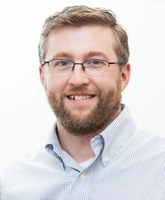 Washington, DC, November 11, 2015-CLIR is pleased to announce the appointment of Wayne Graham as technical director, effective December 1. Graham has been head of research and development at the Scholars' Lab at the University of Virginia Library since 2009.
The newly created position was established to help CLIR develop, integrate, and oversee a cohesive, dynamic, and growing set of information systems supporting the mission of CLIR and its various initiatives, including the Digital Library Federation, Digitizing Hidden Special Collections and Archives, the Postdoctoral Fellowship Program, and more.
Graham has collaborated on a number of open source projects, including Project Mosul, which reconstructs destroyed cultural heritage through photogrammetry; The Falmouth Project, which documents the architectural development of Falmouth, Jamaica; and the Salem Witch Trials, an archival project of primary source documents. He has served as an advisor for many projects including Mapping the Fourth, Harvard World Map, and Omeka.  Before joining the Scholars' Lab, he was emerging technology coordinator at the Earl Gregg Swem Library, College of William and Mary. He holds an M.A. in history from the College of William and Mary, and a B.A. in history from the Virginia Military Institute.
"It is rare when an individual brings to an organization a suite of accomplishments that align so well with its mission and vision," said CLIR President Chuck Henry. "Wayne Graham has provided leadership for historical projects of national import; developed and promoted open source software and tools; directed complex digital projects; and is a respected mentor of young scholars working in the digital humanities. We are delighted he will bring his skills and interests to advance DLF and CLIR."
"I am honored to be joining CLIR and DLF as its technical director," said Graham. "These organizations are dedicated to the advancement of research, teaching, and learning, and I look forward to working and learning from the talented CLIR/DLF team, as well as librarians, scholars, and cultural heritage stewards from around the world."
CLIR is an independent, nonprofit organization that forges strategies to enhance research, teaching, and learning environments in collaboration with libraries, cultural institutions, and communities of higher learning. It aims to promote forward-looking collaborative solutions that transcend disciplinary, institutional, professional, and geographic boundaries in support of the public good.