Contact: Kathlin Smith
202-939-4754
Washington, DC, February 23, 2016-The Council on Library and Information Resources (CLIR) has appointed Fenella France CLIR Distinguished Presidential Fellow.
France is chief of the Preservation Research and Testing Division at the Library of Congress (LC), where she explores non-destructive imaging techniques and prevention of environmental degradation to collections. Her current focus is advancing the field of spectral imaging and image processing techniques, and increasing links and access between scientific and scholarly data, including developing and providing training workshops for preservation professionals. She has led the creation of an international web accessible research database infrastructure to make unique collection information accessible through a visualization of the linked scholarly and scientific data.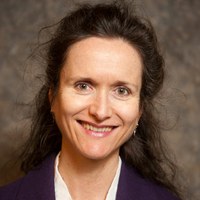 As a presidential fellow, France will help augment CLIR's Mellon Fellowships in Dissertation Research in Original Sources, strengthen connections within scientific and international communities for the CLIR/DLF Postdoctoral Fellowships, and advise on new opportunities for developing programs that intersect with scientific inquiry and humanistic discourse. "Fenella's work in preservation and conservation embodies the rare combination of an astute scientist and a benevolent humanist, exploring the artifact as a physical composition as well as a vessel of often profoundly rich and meaningful content," said CLIR President Chuck Henry.
"I am honored and delighted to have the opportunity to work more closely with CLIR staff and their excellent programs and research, which align closely with my goal of integrating scientific and scholarly investigations, especially with the changing way people interact with large volumes of data. CLIR and LC are at the frontier of bringing the sciences and humanities back together," said France.
In 2010, France made a major discovery concerning LC's draft copy of the Declaration of Independence, in Thomas Jefferson's handwriting with edits by John Adams and Benjamin Franklin. Using hyperspectral imaging equipment to distinguish discrete layers of ink using various spectra of light, France revealed that Jefferson in the draft declaration initially wrote the word "subjects," then carefully wrote over it to make that word "citizens."
Before joining the Library of Congress in 2007, France was the project and scientific manager for Art Preservation Services in New York, where she developed strategic plans and conducted scientific research for the American Museum of Natural History, the Historic House Trust and Peebles Island, as well as Ellis Island's Treasures Gallery rehabilitation and the New York Port Authority's World Trade Center 9/11 Project. She also worked during that time as research manager for the National Park Service's web-accessible Fiber Reference Imaging Library and served as a textile scientist for the Smithsonian Institution's Star-Spangled Banner Project, which restored the original United States flag that had flown over Fort McHenry in Baltimore during the War of 1812. France holds a Ph.D from Otago University, New Zealand.
CLIR awards distinguished presidential fellowships to individuals who have achieved a high level of professional distinction in their fields and are working in areas of interest to CLIR and the Digital Library Federation. Fellows may be appointed for one or two years.
CLIR is an independent, nonprofit organization that forges strategies to enhance research, teaching, and learning environments in collaboration with libraries, cultural institutions, and communities of higher learning. It aims to promote forward-looking collaborative solutions that transcend disciplinary, institutional, professional, and geographic boundaries in support of the public good.