Contact: Kathlin Smith
202-939-4754
Washington, March 28, 2017—The Council on Library and Information Resources (CLIR) has appointed Jacqueline Goldsby CLIR Distinguished Presidential Fellow.
Goldsby is professor of English and African American Studies at Yale University and chair of the African American Studies Department. Her research and teaching focus on African American and American literatures. She is especially interested in the ways that authors and texts articulate un-archived, "secret" and thus unspeakable, developments that shaped American life during the century of Jim Crow's segregation's reign, from 1865 to 1965.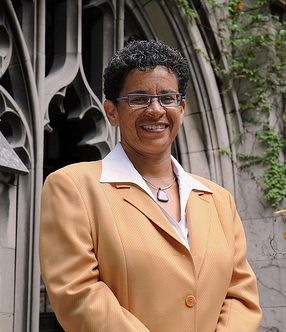 She is the author of the award-winning A Spectacular Secret: Lynching in American Life and Literature (2006), and editor of a Norton Critical Edition of The Autobiography of an Ex-Colored Man (2015). Goldsby is currently writing Birth of the Cool: African American Literary Culture of the 1940s and 1950s, using previously hidden source archives documenting Black Chicago's literary, cultural, and visual histories during the 1930s to 1960s.
Goldsby has been active as an advisor and reviewer for CLIR's Cataloging Hidden Special Collections and Archives program. "Jackie's exemplary work in systematically revealing hidden scholarly resources in Chicago libraries was the model for our Cataloging Hidden Collections program, and serves also as the basis for our current digitization effort," said CLIR President Chuck Henry. "She will help guide us as we strive to inculcate national-scale standards and best practices to preserve and make accessible our collective cultural heritage. Our effort to evolve the postdoctoral data curation fellowship cohort into a vibrant program focused on teaching and training will also benefit from Jackie's insight, gleaned from her distinguished academic career. We are privileged to welcome Jackie Goldsby as a CLIR Distinguished Fellow."
"I'm deeply honored—and thrilled—by this opportunity," said Goldsby. "Conducting archival research has always been foundational to my scholarship and teaching as a literary critic. Working with primary source materials is my passion and joy. But directing Mapping the Stacks led me into conversations and collaborations with librarians, archivists, and curators to build practices and systems that connect the world of research to the public. I hope to use this fellowship as a chance to foster more of those conversations across the communities CLIR aims to serve."
CLIR awards distinguished presidential fellowships to individuals who have achieved a high level of professional distinction in their fields and are working in areas of interest to CLIR and the Digital Library Federation. Fellows may be appointed for one or two years.
CLIR is an independent, nonprofit organization that forges strategies to enhance research, teaching, and learning environments in collaboration with libraries, cultural institutions, and communities of higher learning. It aims to promote forward-looking collaborative solutions that transcend disciplinary, institutional, professional, and geographic boundaries in support of the public good.
Photo by David Christopher