Washington, DC, September 12, 2018—The Council on Library and Information Resources (CLIR) is pleased to announce the appointment of David Gift as Distinguished Presidential Fellow for Commonwealth Practice and Investment. Gift is associate vice president for community engagement at Internet2 and former CLIR Board chairman.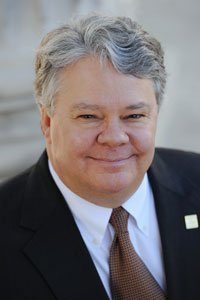 Gift's fellowship research will focus on developing new communities of practice that promote thinking and action that will lead to a more coherent, interdependent system of academic knowledge organization across higher education as a counter to the contemporary model of competing, expensive, and inefficient institutional silos.
The two-year fellowship will build on Gift's considerable experience working with digital technologies to develop new capabilities that accelerate and enrich intellectual productivity—and, in turn, amplify the capacities of human life. Such efforts are often facilitated by promoting common practices and commonwealth investment in core infrastructural technologies.
"David's research topic is timely, critically important, and of great practical value to CLIR and our constituencies," said CLIR President Charles Henry. "We have begun to develop models to bring greater coherence and long-term sustainability to CLIR's rich array of programs and projects in part by structuring and using the expertise of our alumni to help build human capacity across the globe. David Gift's leadership and acumen will significantly enhance these efforts."
Gift has extensive background in collaborative programs in medical practice and education; research university libraries and scholarly practice; archives and IT services; and currently the academic, government, and industry collaborations manifested through Internet2. This experience, combined with his broad understanding of the needs of individual scholars and institutions, and the potentially transformative context of communities provide a practical grounding for his fellowship research.
"CLIR has played a vital role for decades in advancing the state of practice, and collaborative practice, in information/knowledge and source asset management for scholarship. This work only grows more important and more complex over time," said Gift. "It is a privilege and pleasure to have this opportunity to continue working with CLIR leadership and staff, and their many constituents, to explore and develop a variety of new opportunities in these domains."
The Council on Library and Information Resources (CLIR) is an independent, nonprofit organization that forges strategies to enhance research, teaching, and learning environments in collaboration with libraries, cultural institutions, and communities of higher learning. CLIR promotes forward-looking collaborative solutions that transcend disciplinary, institutional, professional, and geographic boundaries in support of the public good.