By Christa Williford
When the editors first applied to CLIR for support for the project that resulted in 3D/VR in the Academic Library: Emerging Practices and Trends, I was delighted. As a program officer charged with facilitating brighter futures for access and preservation in libraries and archives, I appreciate the need to focus more attention on the products of scientific and humanistic inquiry that contemporary memory organizations too often neglect. My own connection to the work described in these essays—and my conviction that it is important for collecting professionals to read them—is more personal than that.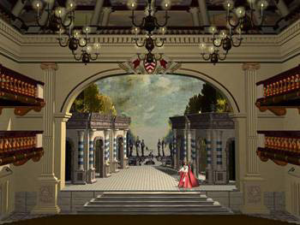 I was first introduced to computer-aided modeling and design as a graduate student in the Indiana University Department of Theatre and Drama in the late 1990s. Under the guidance of theater historian Roger Herzel and lighting designer and computer visualization expert Robert Shakespeare, my fellow students and I experimented with the application of then cutting-edge computer visualization tools to the problem of reconstructing a long-vanished performance space—the private theater that Molière's company adapted for the original Paris productions of some of the playwright's best-known works. Thanks to fortunate coincidence and to the vision and support of historians Richard Beacham and David Thomas, then at the University of Warwick, these experiments led me to the United Kingdom for several years' work devoted to computer reconstructions of other vanished stages.
I think back to that time with tremendous gratitude. Not only did I have the thrill of doing a kind of work that feels like play, but also those years taught me some of the most valuable lessons I have learned about the nature of history. There is nothing quite like the painstaking exercise of grappling with a complex technology to bring scattered traces of historical evidence together into three-dimensional, believable wholes. The pieces never quite fit, and the resulting gaps prove at once enlightening and humbling. More people should have such experiences.
While the lessons remain indelible, my personal collection of 3D digital artifacts has not aged so well. Like many other researchers who have experimented with 3D visualization and virtual reality (VR), I neglected to devote the time to carefully consider which data might be worth preserving and how I might go about preserving it. As a result, much of what I saved has become inaccessible.
This situation is not terribly unusual. Today, more and more individuals both within and outside higher education are creating and using 3D, VR, and augmented reality (AR) tools and systems for research and learning. Applications span the full breadth of the disciplinary spectrum: 3D models of vanished historical spaces allow archaeologists and historians to test theories about their arrangement and use; VR environments allow students of anatomy to explore simulations of the human body; AR ties digitized archives and artifacts to physical locations, merging the past with the present; and 3D printing enables student artists and engineers to share prototypes of their designs.
As this report's editors and authors show, 3D, and VR bring both challenges and opportunities for collecting organizations. The potential for undertaking groundbreaking research and for facilitating rich, active learning experiences across the disciplinary spectrum is great, and this potential will continue to grow. Increasing numbers of academic library leaders have already recognized that academic libraries are in many ways natural homes for experimentation with these technologies and that the expertise of specialist librarians and archivists will be requisite for the data, software, or byproducts of this experimentation to be preserved and made accessible for future study and reuse.