Number 133  January/February 2020
ISSN 1944-7639 (online version)
Contents
Three Questions with Sohair Wastawy
Material Memory Season One Focuses on Indigenous Languages
Hidden Collections Symposium Planned for November
Get the Latest on DLF Working Group Activities
Follow CLIR on Throwback Thursday
CLIR Issues is produced in electronic format only. To receive the newsletter, please sign up at https://www.clir.org/pubs/issues/signup. Content is not copyrighted and can be freely distributed.
Follow us on Twitter @CLIRNews, @CLIRHC, @CLIRRaR @CLIRDLF
Like us on Facebook @CLIRNews
Three Questions with Sohair Wastawy
In December 2019, CLIR Board member and Qatar National Library Director Sohair Wastawy retired from her position at QNL, capping a distinguished career that spanned four decades and included leadership positions in the US and abroad, in academic and national libraries. We invited her to reflect on her work, the role of libraries in communities, and library leadership. 
1.  You have overseen the opening of two large libraries, first the Bibliotheca Alexandrina in Egypt, and then, 15 years later, the Qatar National Library. What lessons did you learn from the first experience that were especially helpful in the second?
Bibliotheca Alexandrina, a quasi-national library, was a new and radical experiment in libraries the likes of which never existed before. As most library directors begin their professional lives in established organizations, the idea of building a new library can be an overwhelming responsibility and one fraught with self-doubt.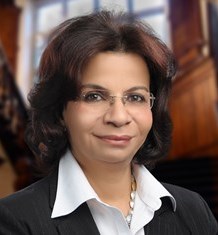 Every action is driven by the understanding that everything you do must fulfill and serve the new library paradigm, be meaningful, bold, free from old norms and embody the change you yearn for in the profession. This was the new state of mind that I developed in Alexandria and have carried with me ever since, and it guided me as we opened Qatar National Library.
I learned that you never need permission or association guidelines to innovate; that new, purposeful ideas will always find their way to those we serve; that being resolute is much more than a good intention; that it takes guts, more than strategic planning, risk and perseverance, to make a difference; that you can break norms and create better ones; and that you can never stop learning.
2. You have said that one of the great successes of Qatar National Library is that it brings the community together in a way that no other institution does. Could you talk about how the library achieves that, and why this is important to you personally? 
Qatar has a very diverse population of 2.6 million people that come from every corner of the world. As is often the case with such diversity, people have sorted themselves along national, socioeconomic, and cultural lines, so bringing people together can be difficult. As a librarian grounded in the value of libraries as a public good and a platform for equality, I had to carefully resist the many calls that came early on for the segmentation of access. As a citizen of the world, I have witnessed how social polarization has torn the fabric of many communities and created distrust, distress, and even crime. As such, it was exceptionally important to build the Library as a place for the entire community, the new social center to bring people together.
We used socially minded design to shape the way people interact, to strengthen communal bonds, and create a sense of ownership and belonging. From the beginning, we used different channels and messages to reach out to everyone and make it clear that we welcome all, positioning the Library as a foundation of civic life. We programmed our space, services, and activities without barriers or exceptions, and we continue to design activities that engage everyone, from lifelong library users to those taking the first steps on their educational journeys. Through all of our activities, we are appealing to the better nature of ourselves to allow people to share their experiences and help each other become the people they want to be.
One of the activities that I vividly recall was the building of a 650,000-piece London Bridge made out of Lego bricks. People of all ages and walks of life worked together to build the bridge, and it was quite beautiful and gratifying to observe the many small celebrations that came when they completed a portion of the bridge. Our monthly Philharmonic at the Library concert series, featuring free performances by the Qatar Philharmonic Orchestra, has become quite a popular event that brings 600 to 800 people to hear music from around the world. Our Knitting and Crochet Circle, which started as a small group, has become its own community, with weekly two-hour sessions often running twice as long as people teach one another, share food and stories, and form friendships that extend beyond the Library. All of our activities—book clubs, storytelling sessions, school competitions, lectures, exhibitions, cultural events—have made the Library a gathering place for all of Qatar. It is this commitment to the community, as well as our traditional and digital library services, that have brought more than one million people through our doors in our second year.
3. The world has changed considerably since you began your work in libraries. Have libraries kept up with these changes adequately? What are new areas of leadership that libraries might provide our cultures and societies in the years to come?
It's true that the world has changed, but I am not sure if the library world has fundamentally changed or if it just went back to its early roots and mission with new tools! After studying the libraries of antiquities and learning that they were not only repositories of material but also academies and learning spaces, I see them as mirrors to today's libraries. I often think of T. S. Eliot's immortal words: "We shall not cease from exploration, and the end of all our exploring will be to arrive where we started and know the place for the first time."
I think the growth in literacy and increase in library-building in the 20th century were primarily driven by competitive pride and the wealth of nations, rather than the mission of early learning. I don't deny the benevolent intent of building such institutions, but having begun my career in the 1970s, I often remember with regret how much time we in academic institutions spent focusing on issues that dealt less with service and innovation and more with the number of holdings and limitations to access.
I am grateful for the technology that gives us the freedom to access and process information. We've never had better tools in the profession, although we struggle with the mistaken idea that these tools are a replacement for libraries themselves. Technology allows us to examine what we do and how libraries are evolving in unprecedented ways that we don't yet fully comprehend.
If we go back to basics, library leadership and librarians are always responsible for creating cognitive spaces in our institutions, whether it's a public, national, or digital library. We need to make sure that these are rich spaces where our users are able to gather, interact, and become more than themselves. Library leaders need to excel in understanding the way a community learns so that we can offer all avenues of learning and culture.
Material Memory Season One Focuses on Indigenous Languages
Need a break from the news headlines or diversion on your commute? Tune in to Season One of CLIR's podcast, Material Memory. Launched in December, Season One features conversations with people involved in the work of restoring audio and audiovisual recordings of indigenous languages and their extraordinary efforts to make these recordings accessible to the communities they represent.
Three of the season's six episodes, hosted by CLIR Program Officer Joy Banks, are now available:
Episode 1 features conversations with experts about the ethical considerations and complexities of providing broad access to recordings that may be culturally sensitive and why it's important to reconnect people with their own content.
In episode 2, we hear from experts at the Amistad Research Center who are working to digitize the audio field recordings of African-American academic and linguist Lorenzo Dow Turner, whose work established a connection between the languages of West Africa and African Americans living in the low countries and sea islands of South Carolina and Georgia. The conversation includes clips from some of Turner's recordings.
In episode 3, two archivists at Duke University talk about their work to recover and preserve a large collection of broadcast tapes from Radio Haiti, Haiti's first independent radio station, after government forces destroyed the station and its documents.
Find Material Memory wherever you get your podcasts, or visit our website https://material-memory.clir.org/ for show notes, transcripts, related resources, and interviewee bios.
Watch for episodes 4–6 in the coming weeks, and please let us know what you think. Your feedback is important as we develop our next season! Comments can be directed to Kathlin Smith (ksmith@clir.org).
What is the current state and future potential of digitization practice in collecting institutions? How can the digital cultural record better reflect the diversity of human thought and experience? How do law and ethics affect strategies for access, and how do technologies and standards improve discovery and learning? These are just some of the questions that recipients of CLIR's Digitizing Hidden Special Collections and Archives awards will address as they share lessons from their project work at a two-day symposium in Baltimore Nov. 11–12, directly following the 2020 DLF Forum.
More information on the symposium is available at https://www.clir.org/hiddencollections/2020-symposium/. A call for proposals will be issued in early March. Sign up for the CLIR grants mailing list to receive email updates about the symposium before and after the event!
Get the Latest on DLF Working Group Activities
There's a lot of great work going on in DLF's 12 Working Groups. Check out recent activity in the just-released DLF Groups Newsletter. Published quarterly, the newsletter is the best way to stay current on the groups' news and projects, calls for participation, and a calendar of upcoming meetings and events. Subscribe here!
Follow CLIR on Throwback Thursday
Each Thursday in 2020, we're reaching into the archives to highlight a significant milestone from each  year in the history of CLIR and its predecessor Council on Library Resources (CLR). We invite you to follow along on Twitter and Facebook, #TBT and #YearofCLIR.
In our fifth week of posting, we highlight one of eight awards made in 1961 for research and development on microcopying. Although microfilming had been in use for some time because it could be easily and faithfully duplicated, saved wear-and-tear on original sources, and required less storage space than its paper counterparts, the 1958 CLR annual report noted that it had "created perhaps fully as many problems as it has solved." The Council thus sought to identify areas "where it might profitably intervene."
During CLR's first five years of grant-making (1957-1961), it awarded $3,922,097 to a stunning range of projects, including the development of a working model of a "catalogers camera"; a study in word correlation and automatic indexing; creation of a National Union Catalog of Manuscript Collections; a pilot project for encapsulated tape-recorded books for the blind; experimental publication of a scientific journal, Wildlife Disease, in microform; and support for the 1961 IFLA International Conference on the Principles of Cataloging, where the Paris Principles were approved.
The Council on Library Resources was established in 1956 with funding from the Ford Foundation "to aid in the solution of library problems; to conduct research in, develop and demonstrate new techniques and methods and to disseminate through any means the results thereof." An engaging and insightful history of CLR's founding is provided by former CLIR President Deanna Marcum in "Reclaiming the Research Library: The Founding of the Council on Library Resources."
Where You'll Find Us
CLIR staff will attend these conferences in March; if you'll be there, too, and would like to connect, we encourage you to be in touch by email!
March 8–11, Code4Lib, Pittsburgh, PA, Joy Banks (jbanks@clir.org)
March 11–13, The Library Collective, Knoxville, TN, Joy Banks
March 30–31, CNI Spring Membership Meeting, San Diego, Jodi Reeves Eyre (jreeveseyre@clir.org) and Christa Williford (cwilliford@clir.org)
Briefly Noted
Call for Proposals, 2020 DLF Forum, will be issued in early March
Digitizing Hidden Special Collections and Archives grant deadline March 31