CLIR President Charles Henry has been elected to the American Academy of Arts & Sciences, among the world's preeminent learned societies of scholars, scientists, and artists.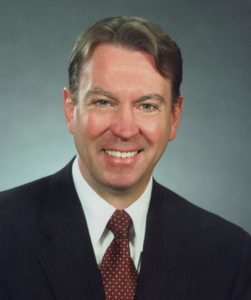 The academy was founded in 1780 by John Adams, John Hancock, and others who believed that the new republic should honor exceptionally accomplished individuals and engage them in advancing the public good.
Henry has served as CLIR president since 2007, after having served for a decade as university librarian at Rice University. His work has focused on a variety of topics in higher education, including the evolution of humanities in a digital era, the organization of information and its support of teaching and research, the concept of the library, and the idea of coherence at scale for higher education in the United States. Most recently, he has been working with partners internationally to instantiate a truly global digital library.
Charles Henry received a B.A. in philosophy and humanities from Northwest Missouri State University and earned his master's and Ph.D. degrees from Columbia University. He was a recipient of a Fulbright Scholarship to Vienna, Austria, and received Fulbright Senior Scholar grants to New Zealand and China.
"Current Academy members represent today's innovative thinkers in every field and profession, including more than two hundred and fifty Nobel and Pulitzer Prize winners," notes the American Academy announcement. "The new members join the company of Academy members elected before them, including Benjamin Franklin and Alexander Hamilton in the eighteenth century; Ralph Waldo Emerson and Maria Mitchell in the nineteenth; Robert Frost, Martha Graham, Margaret Mead, Milton Friedman, and Martin Luther King, Jr. in the twentieth; and—in the past two decades—Antonin Scalia, Michael Bloomberg, John Lithgow, Judy Woodruff, and Bryan Stevenson."