Lindsay Cronk is head of collection strategies and scholarly communication at the University of Rochester, River Campus Libraries.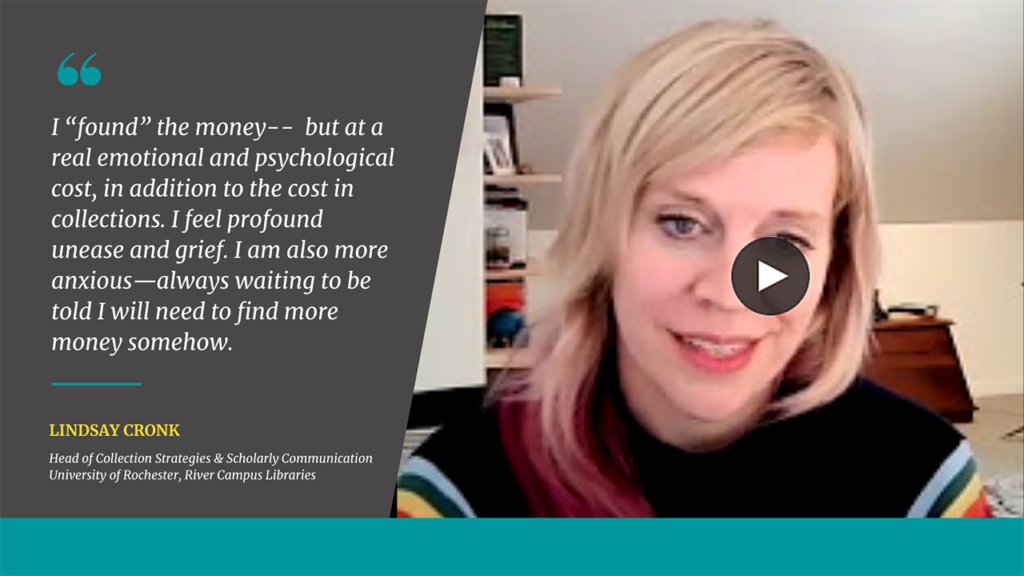 I'm Lindsay Cronk, a collection strategies librarian and this is my recollection of the effort I led to reduce my library's materials budget as a cost savings measure during COVID-19. 
Here's the thing—great collections are built over decades with intentionality, care, and collective effort—they are beautiful and curated. A collection is cultural infrastructure. In the midst of the COVID-19 pandemic, where speed was requisite to save staffs and institutions, the collections budget was a straightforward target for attention. For myself, my colleagues, and the collection we steward it was just one of many upheavals. Crises and immediate needs hit us over and over again in waves—and the respite to regroup and re-evaluate has not arrived, here in early 2021. 
My mind can't stop seeing the numbers—reductions of hundreds of thousands of dollars. I spent days in systems and spreadsheets, calculating my way out of the red. At the time, I simply knew it was necessary. I "found" the money–  but at a real emotional and psychological cost, in addition to the cost in collections. I feel profound unease and grief. I am also more anxious—always waiting to be told I will need to find more money somehow. 
It's hard to disentangle the pride I feel in having done what was necessary, and I am confident, saving jobs/ensuring paychecks, with the pain of this experience. 
There's a French verb I love—boulverser. It can mean drastic change, upheaval, and the chaotic emotions experienced, because at its heart it's an expression of deep upset. I find myself fretting now about my own resources and attention to correct what damage was done in the rapid effort to shave money. I feel boulversed on so many fronts that it is challenging to return to the sensibility of a methodical collection. I am trying to give myself some time to re-center collecting rather than reducing in my heart and my practice. It is an effort that I believe will take months if not years. 
In the scope of the collective trauma we've all experienced, this is small. And it is certainly privileged to experience economic insecurity as a collection professional at a well-funded research university. I share my experience because it is, I assume, characteristic of many other experiences in this time. It is also a trauma and a violence generations of library workers and communities will encounter in the collections that they inherit from us. 
Thank you.
CLIR's COVID (Re)Collections series explores responses to the COVID-19 pandemic by library, cultural heritage, and information professionals. Stories are proposed by the authors/contributors and reflect their personal experiences and perspectives at the time of submission. Learn more about the series and share your own story here.