In March 2020 CLIR started the COVID (Re)Collections blog series to help people in the information field process COVID-19 and share their responses as the situation evolved. As we approach the one-year anniversary of the World Health Organization declaring COVID-19 a global pandemic, CLIR would like to offer a platform where practitioners can reflect on how the field has changed over the past year, grieve for all we've lost, and look ahead.
Contributors can respond to any of the following questions or suggest their own topic: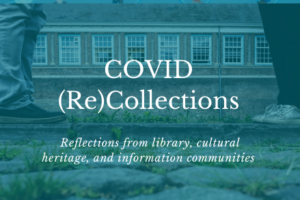 In what ways has COVID-19 changed the way you work? How has it changed how you think about information? What changes to the field or your practice are likely to endure beyond the pandemic? 
What is the relationship between your professional and personal experience? How did other events in 2020 and early 2021 affect how you approached and experienced the first year of COVID-19?

What are some ways people in the information field have cared for their colleagues, their communities, and themselves? Where was more care needed? 

What should the field be doing moving forward to build resilience and support our communities?
Fill out this form to propose a COVID (Re)Collections piece. You can either contribute a piece or volunteer to be interviewed by someone on CLIR's communications team for publication. For more information and to read earlier posts from the series, visit clir.org/covid-recollections/.