CLIR's "Material Memory: HBCU Library Alliance Tour" Podcast Wins 2023 AASLH Award of Excellence
Nashville, TN – The Council on Library and Information Resources (CLIR) has been honored with the prestigious 2023 AASLH Award of Excellence for its groundbreaking podcast, Material Memory Season 3: HBCU Library Alliance Tour. Presented by the American Association for State and Local History (AASLH), this accolade recognizes outstanding contributions in preserving state and local history.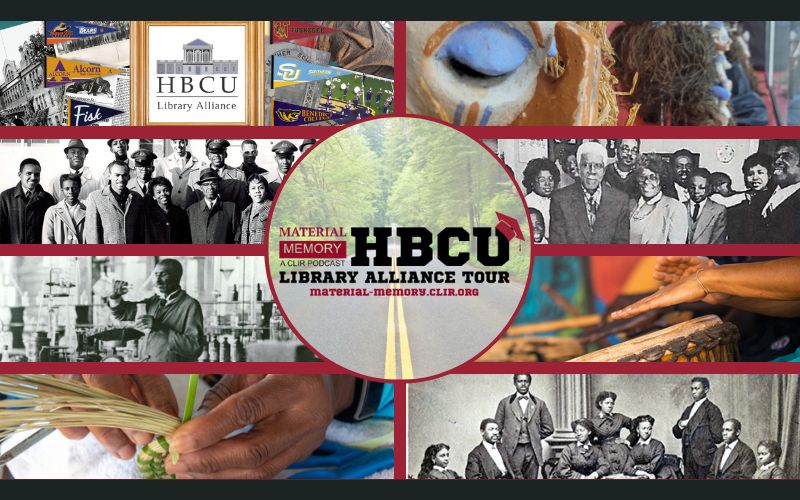 In its third season, Material Memory, hosted by Sharon M. Burney, explores libraries at Historically Black Colleges and Universities (HBCUs). The podcast highlights the significance of their collections and 
their impact on communities. Over eight compelling episodes, thought-provoking conversations delve into questions of history, identity, and the challenges faced by these institutions. The discussions also address the role of cultural heritage institutions in preserving Black culture.
HBCUs represent the richness of Black intellectual tradition and resilience in education. Material Memory takes listeners on a captivating tour of six HBCU libraries, spotlighting the individuals behind the collections and showcasing the crucial role of these institutions in their communities.  The journey spans from Baltimore, Maryland, to Charlotte, North Carolina; from Columbia, South Carolina, to Lorman, Mississippi; and from New Orleans, Louisiana, to Nashville, Tennessee. The podcast examines the impact of HBCU library collections on both local and global society.
"Receiving this prestigious award holds profound significance for me. It has been both an honor and a privilege to actively foster engaging dialogues about these remarkable collections and esteemed institutions of higher education, all of which contribute profoundly to the historical fabric of our nation," says Burney.
Sharon Burney, the host of Material Memory, is a program officer at CLIR, where she contributes to grant programs for preserving recordings and digitizing hidden special collections. With her expertise and community support, Burney skillfully navigates administrative policies while fostering a sense of community. She is also a respected poet and community organizer, blending historical contributions with contemporary issues in her poetry.
The AASLH has been recognizing excellence in state and local history for over seventy-five years. The Leadership in History Awards program celebrates exceptional achievements and raises awareness of impactful work in the field.
For more information about the Leadership in History Awards, contact AASLH at 615-320-3203 or visit www.aaslh.org