Mellon Foundation Funds CLIR's
Digitizing Hidden Collections and Archives: Amplifying Unheard Voices
Strengthening Public Understanding of Marginalized Histories with $5 Million Award
Contact: Hidden Collections Team
July 25, 2023—The Council on Library and Information Resources (CLIR) has been granted a $5,000,000 award from the Mellon Foundation to bolster the Digitizing Hidden Special Collections and Archives: Amplifying Unheard Voices regranting program and related operations.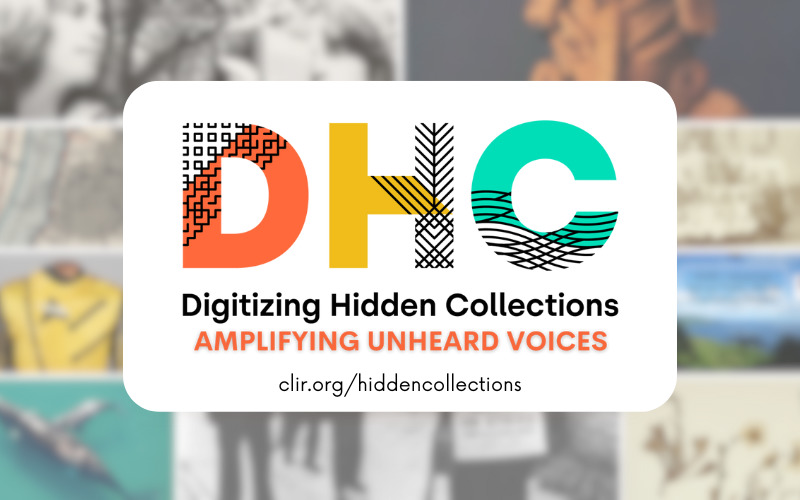 This highly anticipated renewal continues the decisive shift in thematic focus, with a strong emphasis on collections of historically marginalized individuals, and aims to amplify voices, work, experiences, and perspectives that have been insufficiently recognized or unattended. Since its establishment in 2015, Digitizing Hidden Collections has made a significant impact by distributing over $28 million to digitally capture and share rare and unique content in cultural memory institutions.
The forthcoming call, Digitizing Hidden Special Collections and Archives: Amplifying Unheard Voices, is set to create a groundbreaking opportunity for eligible nonprofit organizations in the US and Canada to digitize materials in any format. By providing essential funding to a diverse cohort of academic, independent, and community-based organizations, CLIR seeks to unlock access to previously unavailable or underutilized collections. This move is expected to foster broader recognition of the immense value in preserving resources that document the history of marginalized people to the advancement of social justice.
A rigorous evaluation process awaits the proposal submissions, with a distinguished review panel comprising esteemed U.S. and Canadian scholars and practitioners representing a wide spectrum of disciplines. The selected award recipients will be determined during a thorough two-part review process, ensuring that the most deserving projects receive the necessary support to bring these unheard voices to the forefront of public understanding.
This milestone funding from the Mellon Foundation reaffirms the significance of creating equitable access to historical narratives and represents a remarkable step toward acknowledging and amplifying the voices that have remained unheard for generations.
To stay updated about the program, including when the call for proposals opens in August 2023, the schedule, applicant webinars, and more, visit the website and sign up for the Grants and Programs mailing list.
About CLIR
The Council on Library and Information Resources is an independent, nonprofit organization that forges strategies to enhance research, teaching, and learning environments in collaboration with libraries, cultural institutions, and communities of higher learning.
About the Andrew W. Mellon Foundation
The Andrew W. Mellon Foundation is the nation's largest supporter of the arts and humanities. Since 1969, the Foundation has been guided by its core belief that the humanities and arts are essential to human understanding. The Foundation believes that the arts and humanities are where we express our complex humanity, and that everyone deserves the beauty, transcendence, and freedom that can be found there. Through our grants, we seek to build just communities enriched by meaning and empowered by critical thinking, where ideas and imagination can thrive. Learn more at mellon.org.