Summary
"The Chinese Archive: A Pocket Guide" by co-authors Yasser Ali Nasser and Matthew Wong Foreman sheds light on the current archival crisis in China and offers invaluable, pragmatic advice to budding scholars.
Alexandria, VA, September 2023—Breaking new ground, the Council on Library and Information Resources (CLIR) proudly announces the release of The Chinese Archive: A Pocket Manual by co-authors, Yasser Ali Nasser and Matthew Wong Foreman. This pioneering guide serves as a beacon, illuminating the current archival crisis in the People's Republic of China (PRC) while offering invaluable, pragmatic advice to budding scholars navigating a tumultuous era of global academic transformation. The Chinese Archive: A Pocket Manual is a key addition to the 2023 Pocket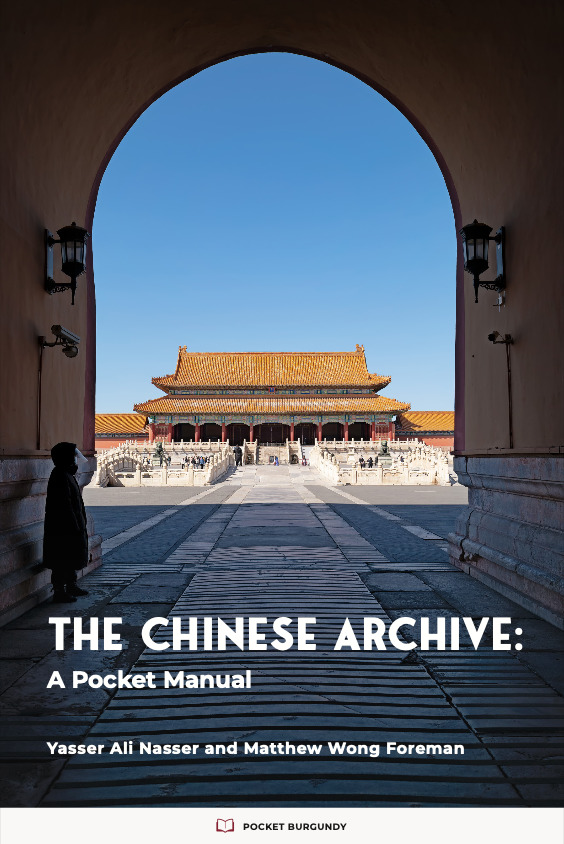 Burgundy series published by CLIR.
In the late 2010s, visionary authors Nasser and Wong Foreman, Ph.D. candidates and authorities in modern Chinese history, recognized the tightening grip of archival restrictions imposed by the Chinese government, cloaked under the pretext of national security. These restrictions, encompassing the withholding of archival material, digital collection redactions, and severe limitations on access and duplication, sent shockwaves across the archival community.  It starkly underscored extensive state censorship and a concerning trend of sanitizing historical records. 
"We both entered grad school to study modern Chinese history. We didn't quite realize it at the time, but access to archives in mainland China had already begun to profoundly change, just as we were starting serious research for our respective projects," recounted Yasser. "Many of those changes began to accelerate by the end of the 2010s, and, with word of more changes happening during COVID, we thought that it would be worth exploring what those changes have meant for scholars just starting out their careers."
Unable to revisit mainland China due to restrictive visa and research policies, Nasser and Wong Foreman drew on their experiences from 2016-2019 in the country.  They also conducted insightful interviews with researchers, scholars, and historians in both the US and China, encompassing varying degrees of familiarity with the Chinese archival system. The Chinese Archive meticulously examines China's information evolution, scrutinizes the rapidly evolving access protocols on researchers, and culminates in a comprehensive 17-page guide for new scholars on navigating research in the PRC.
"We wrote The Chinese Archive with graduate students in mind. Many of our senior colleagues will be very familiar with most of the strategies, preparations, and institutions we describe here, though some of the particulars have changed over the last few years," said Wong Foreman. "But for students just beginning their careers – particularly students at institutions without access to some of the same resources that we have been fortunate to use – we think that having a single, beginner's guide that collates and builds on advice from various sources across the field will be of value."
The Chinese Archive: A Pocket Manual stands as a pivotal component of the CLIR Pocket Burgundy series, showcasing succinct publications addressing a spectrum of subjects within the information and cultural heritage community. To access this free publication and others from CLIR, visit clir.org/pubs/reports.
About the Authors:
Matthew Wong Foreman is a PhD candidate at Northwestern University. His research focuses on the historical conditions that birthed the racialized category "mixed-race" within the Chinese imagination over the nineteenth and twentieth centuries. A CLIR-Mellon Dissertation Fellow (2019–2020), Foreman spent extensive time in the PRC from 2016 to 2020 conducting fieldwork in municipal, provincial, and village archives across six cities in four provinces. 
Yasser Ali Nasser is a PhD candidate at the University of Chicago. His work examines the emergence of discourses of Sino-Indian friendship in the 1950s and its spread and adoption in both countries along with associated ideations of an "Asia" that could withstand the trials of the early Cold War and decolonization. Before the COVID-19 pandemic, he spent six months conducting research in Shanghai and Beijing, and as a recipient of the China-US Scholars Program Fellowship, he has continued research with Chinese materials.. Nasser will be joining the University of Tennessee at Knoxville as an assistant professor of Modern Chinese History in fall 2024.
About the Council on Library and Information Resources:
The Council on Library and Information Resources (CLIR) is an independent, nonprofit organization that forges strategies to enhance research, teaching, and learning environments in collaboration with libraries, cultural institutions, and communities of higher learning.
For media inquiries, please contact:
Stacey Patton
Director of Communications
spatton@clir.org