>See 2008 Projects |  2009 Projects | 2010 Projects | 2011 Projects | 2012 Projects | 2013 Projects | 2014 Projects
The following seventeen projects were selected from among 92 proposals submitted in 2010. Award recipients will create web-accessible records according to standards that will enable the federation of their local cataloging entries into larger groups of related records, enabling the broadest possible exposure to the scholarly community.
---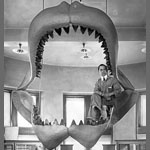 American Museum of Natural History Library
For the People, for Education, for Science: Web Access to the American Museum of Natural History Archives
$117,600
This project will make accessible the Archives of the American Museum of Natural History (AMNH), which hold a wealth of historical resources that document scientific research in anthropology, astronomy, earth sciences, paleontology and zoology, as well the Museum's 141–year history as a research and educational institution. The manuscripts, photographic print and slide collections and department records include professional papers of individuals whose work revolutionized science and public understanding, including Franz Boas, Margaret Mead, Henry Fairfield Osborn, and Ernst Mayr. The collections also detail the evolving role of museum exhibitions and how they impart knowledge, from Carl Akeley's dioramas to today's interactive multimedia. At left: Fossil shark jaw, AMNH. See also: Project Blog.
---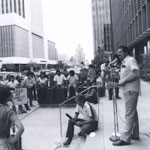 Arizona State University Libraries
Labor Rights are Civil Rights/Los Derechos de Trabajo Son Derechos Civiles
$155,600
This project will make available to scholars six bilingual collections relating to the history of Mexican Americans in the Southwest. These collections reflect how labor, race, and civil rights have shaped the experiences of Mexican and Mexican Americans in the region. Materials include : membership records and correspondence of the Alianza Hispano Americana, founded in Tucson in 1894 to benefit Mexicans in the Arizona territory; correspondence, subject files and ephemera from the League of United Latin American Citizens, the oldest active organization of Hispanics in the United States; documentation of the Maricopa County Organizing Project, including information about strike strategies and union positions on matters such as health care, wage differentials, working conditions and negotiated labor contracts and agreements; case files documenting job training and skill measurement activities of the Service, Employment and Redevelopment Project; and correspondence, journals, and other business transaction records of the United Steel Workers of America, Local 616 in Clifton, Arizona, and the Arizona AFL-CIO. At left: A Demonstration for Mexican immigrant rights in downtown Phoenix, Arizona, 1977. Credit: Maricopa County Organizing Project Records. Chicana/o Research Collection.
---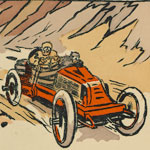 Eleutherian Mill-Hagley Foundation, Inc. on behalf of the Hagley Museum and Library
Z. Taylor Vinson Transportation Collection Processing Project
$246,100
This project will make available to scholars a wealth of materials related to the history of the automobile. International in scope, the collection includes an estimated 200,000 trade catalogues, newspapers and magazine advertisements, operators' manuals, showroom sales albums, dealer data books, corporate annual reports, periodical articles, books, and promotional toys and scale models. The collection documents hundreds of American firms, many existing for fleeting periods of time. European firms represented include Daimler, Benz, Porsche, Fiat, Renault, Rolls Royce, and Bentley. Manufacturers from Asia, India, and Russia are also represented in the collection. Once cataloged, this collection will become the largest and broadest collection related to auto history available to scholars at a single institution, supporting scholarship in globalization studies, business history, technological history and cultural history.
---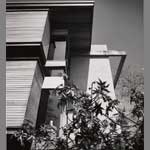 J. Paul Getty Trust, on behalf of the Getty Research Institute
Open Plan, Open Access: Increasing Researcher Access to Modern Architectural Records
$154,600
For this project, staff will process the papers of architects Ray Kappe and William Krisel, both of whom sought to achieve the Modernist goal of creating housing that is well designed yet affordable. Incorporating project files, drawings, photographs, models and ephemera, these archives reflect the development of modern open–plan residential architecture in the second half of the twentieth century, especially in Southern California. Taken together, the collections will provide a comprehensive resource for the many researchers interested in how modern architecture became popular among broader layers of the population in the United States in general and Southern California in particular after WWII. The Kappe and Krisel archives will be especially interesting to scholars wishing to study the history of the industrialization of housing construction, an important theoretical issue from the 1930s onward, as well as to scholars engaged in interdisciplinary studies of urban planning and social history. The finding aid for the Ray Kappe papers is now online. At left: Kappe residence (Pacific Palisades, Calif.), 1968.  Ray Kappe, architect; Julius Shulman, photographer. The Getty Research Institute, Los Angeles. (c) J. Paul Getty Trust.
---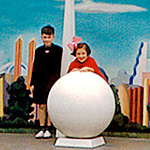 Northeast Historic Film
Moving Images 1938-1940: Amateur Filmmakers Record the New York World's Fair and Its Period
$186,900
This project is a collaboration among NHF, the Queens Museum of Art, and the George Eastman House International Museum of Photography and Film. Collections to be cataloged relate to the New York World's Fair (1939–1940) and amateur filmmaking during that era. Materials include original 16mm and 8mm film reels produced by members of the Amateur Cinema League (ACL). Architect Stephen F. Voorhees, who served as ACL president and vice president of the New York World's Fair, wrote, "The New York World's Fair depends upon your camera and your eye to tell other generations that here, in 1939, men and women of good will from all over the earth had the courage to set up a tribute to the ways of peace and the hope of perfection." (ACL Movie Makers, June 1939) The Robert Decker Collection at Northeast Historic Film is Kodachrome color footage. The Queens Museum of Art holds the 8mm and 16mm film of Ritabelle Shore and others. The George Eastman House holds both black and white and Kodachrome film from personal collections shot in New York City including Times Square, Jones Beach, as well as the World's Fair. Image credit: Robert Decker Collection, Eastman Kodak Building, New York World's Fair, 1939. Frame enlargement from 16 mm. film.
---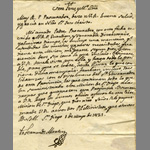 San Diego History Center (formerly the San Diego Historical Society)
Enhancing Access to the History of San Diego and the Border Region
$162,100
The aim of this project is to create finding aids for 133 archival collections relating to economic, social, and cultural aspects of greater San Diego. Together, these materials constitute a comprehensive portrait of the history and evolution of America's ninth largest city and the surrounding region, including Baja California. Highlights include materials relating to: Spanish– and Mexican–era land grants; the Democratic party 1849–1917; 19th and 20th century filibustering expeditions into Mexico; Robert Bliss, who participated in a Mexican War–era 2000 mile march from Council Bluffs Iowa to San Diego 1846–1847; the E.W. Morse papers, documenting his involvement in railroads, aqueduct projects, and mining; the Women's Christian Temperance Union 1866–1960; Richard Stephens' railroad surveys and other civil engineering projects in Baja California 1885–1915; Edward Fletcher's water supply projects 1895–1920; anthropologist E.H. Davis' work on Indians in San Diego, Baja California, and portions of the southwest 1902–1942; artist Alice Klauber, who was chair of the Art Department of San Diego's 1915 Panama–California Exposition; Charlotte Baker, San Diego's first female physician, noted suffragist, and organizer of the local YWCA; the Women's International League for Peace and Freedom 1922–1985; WWII–era mayor Harley Knox; the Trask Family and their relationship with 21 Chinese engineers detailed to a San Diego aircraft plant during WWII; and activist Mario Garcia's involvement with the Chicano movement, the Black Student Union, and other groups 1959–1976. For news and further information, see the project website, the project finding aids on the Online Archive of California, or follow SDHC on Facebook or Twitter.
---
Smithsonian Institution, on behalf of the Freer Gallery of Art and Arthur M. Sackler Gallery
Islamic Arts of the Book at the Smithsonian: Providing for Research Across Disciplines
$82,500
This project will create records for extremely rare illustrated manuscripts from the Islamic world. Comprising 1,200 manuscripts and folios of paintings and calligraphy, the collections include Korans from the late eighth to the late nineteenth centuries, but are especially celebrated for illustrated literary works from Iran. These works include Balami's Tarikhnama (ca. 1300), probably the earliest extant illustrated world history from the Islamic world, and one of two extant copies in the world of the Divan (collected works) of Sultan Husayn Jalayir (1402), containing the earliest examples of ink drawings from West Asia. The Freer and Sackler also hold the largest repositories in the United States of illustrated texts and individual paintings of the Shahnama (Book of kings) by Firdawsi (d. 1020), the Khamsa (Quintet) by Nizami (d.1209) and the Haft Awrang (Seven thrones) by the fifteenth century poet Jami (d. 1492). These rare texts offer a wealth of opportunities for literary and interdisciplinary research. Staff will produce museum-quality records that will also be compatible with description standards used by libraries.
---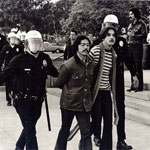 Stanford University
Documenting Mexican American & Latino Civil Rights:
Records of the Mexican American Legal Defense and Educational Fund & CA Rural Legal Assistance
$349,300
This project focuses on two collections: the records of The Mexican American Legal Defense and Education Fund (MALDEF), one of the most influential organizations working to protect the civil rights of Mexican Americans and Latinos in the United States; and the records of the California Rural Legal Assistance (CRLA), a legal advocacy organization for the rural poor in California, particularly Mexican American migrant workers. Staff will describe MALDEF materials dating from 1984 to 2002, including administrative records, special project files, media, and litigation case files focusing on issues such as employment discrimination, education rights, reproductive rights, and voting rights. The CRLA collection spans from 1966 to 2004 and contains administrative records, project files, press releases, clippings, and case files. At left: Activists being arrested at Chicano Moratorium demonstration, Los Angeles 1971.
---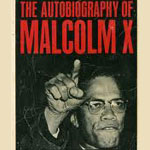 Syracuse University
Grove Press and a New American Morality
$143,100
This project will describe the records of avant-garde publisher Grove Press from the years 1953 to 1985. The New York–based Grove published a list of titles, authors, and subjects that was international in scope. Subjects and genres represented in the collection range from Victorian erotica and literary modernism to post–colonial Latin America and Africa. Grove's impressive author list included William Burroughs (America), Samuel Beckett (England), Jean Genet (France), Bertolt Brecht (Germany), Frantz Fanon (Martinique), Kenzaburo Oe (Japan), and Pablo Neruda (Chile). Materials include 2500 print titles, manuscript drafts, correspondence, and photographs, as well as editorial, film, and publicity files for Grove and for its landmark literary magazine The Evergreen Review. There are extensive legal records relating to the obscenity trials sparked by the publication of Lady Chatterly's Lover and Tropic of Cancer. During the early months of this project, archivists have made an important discovery: a page from a 1964 letter from Malcom X to Alex Haley which had long been thought missing.
---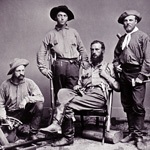 University of California at Berkeley, University of California Museum of Paleontology
Cataloging Hidden Archives of the University of California Museum of Paleontology
$236,200
This project will catalogue the UCMP archives which document paleontological and geologic fieldwork in more than 80 countries and the historical and sociological contexts within which this work was done. The collections to be cataloged for this project reflect the lives of prominent western pioneers, such as Annie Alexander, Joseph LeConte, J.C. Merriam, and John Muir, and have a bearing on the history of higher education, natural resources, public policy and public administration, and the establishment of many western National Parks, State Parks and National Forests. Materials include detailed field notes and annotated papers and maps made by more than 300 scientists and students, some of which represent localities that are now lost or destroyed. In addition, project staff will describe thousands of original drawings, newspaper clippings, and photographic documentation of specimens and field sites in a wide variety of formats (lantern slides, glass photo plates, large format negatives, 35 mm slides, negatives and prints). At left: A Geological Survey of California field party, 1864; from the UCMP archives.
---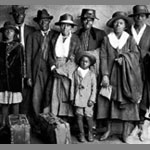 University of Chicago, on behalf of the Black Metropolis Research Consortium
The "Color Curtain" Processing Project: Unveiling the Archives of Chicago's Black Metropolis
$499,500
This collaborative project focuses on 150 Chicago-area collections that were identified as having high scholarly research value during the Black Metropolis Research Consortium's recent survey of unprocessed and inaccessible archival collections documenting African American history and culture. The included materials address political, cultural, social, spiritual and economic aspects of African Americans' lives throughout the history of Chicago. They document the founding of the city, the great African American migration from the southern United States into the Midwest, Chicago public housing history, and the 2008 election of US President Barack Obama. The collections are especially strong in the areas of public housing and public programs; civil rights, social justice, and community activism; the Black Arts Movement; and unions and labor movement history. Collections of note include the Chicago Housing Authority Records, the Illinois Labor History Society Records, the Woodlawn Organization Records, and the Chicago Urban League Records.
---
University of Nebraska–Lincoln
Major Railroad Archival Collections
$208,500
This collaborative project between the University of Nebraska-Lincoln and the Nebraska State Historical Society focuses on major railroad archival collections dating from the 19th and 20th centuries. Materials include : the Union Pacific Railroad Collection, the Chicago Burlington and Quincy (CB&Q) Railroad–Lines West Collection, the Charles Kennedy Railroad Collection, and the Val Kuska Collection, which documents the CB&Q Railroad Company's efforts to attract settlers and improve agricultural practices in Nebraska, Colorado, Wyoming, Montana, South Dakota, Oklahoma, and Texas. Document types represented in these collections are corporate and legal documents, field books, maps, drawings, advertising posters, scrapbooks, time tables, and several thousand photographs. These collections will be of interest to scholars of history, technology, ecology, labor relations, agricultural economics, geography and other disciplines.
---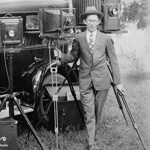 University of North Carolina at Chapel Hill
The Pruitt and Shanks Photographic Collection: The Life of a Southern Region in 140,000 Images
$78,400
This project will make available to scholars a very large collection of photographic negatives produced by two studio/commercial photographers in Columbus (Lowndes County), Mississippi, and the surrounding area from the late 1920s to the 1970s. There are about 142,000 images, both studio portraits and images of events, scenes, and people taken outside the studio. In addition to negatives, the collection includes about 800 digital scans and about 1,000 prints made from the negatives. Taken together, these images offer an unparalleled look at a particular place in the South from the mid-twentieth century. Scholars will be able to use this huge collection of images to test their assumptions about Southern culture and societal relations and to develop new perspectives and more highly nuanced ones. At left: O. N. Pruitt.
---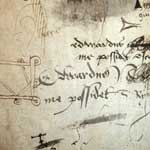 University of Pennsylvania
Promoting Research through Rare Book Cataloging Partnerships
$490,700
This project will provide online catalog records for 33,500 titles in the Penn Libraries' Rare Book & Manuscript Library Culture Class Collection. It will rely heavily on contributions from students from relevant disciplines who, together with project catalogers, will develop new techniques to create dynamic, constantly evolving bibliographic records that will serve as initial points of discovery for scholars and also present results of new research. The Culture Class Collection contains a remarkable wealth of materials documenting European and American print culture, in its widest sense, from the early Renaissance through the end of the 19th century. Highlights include 470 incunabula, a 1528 edition of Homer owned by King Henry VIII and signed by his son, the future King Edward VI (at left), thousands of Dutch proclamations, numerous pamphlets from the French Revolution, and over 500 early editions of Aristotle. Volumes frequently contain significant copy-specific information such as evidence of censorship, marks of ownership, and marginalia documenting readers' responses to the texts. Online access to the collection will not only demonstrate how titles have been used and received since their publication, but will also promote and assure their continued use by the modern scholarly community. As part of their effort to solicit feedback from scholars, project catalogers are posting select images from the collection on Flickr.
---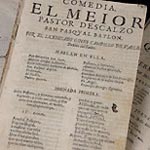 The University of Texas at Austin, Harry Ransom Center
Revealing Texas Collections of Comedias Sueltas
$137,100
This collaboration between the Harry Ransom Center and Texas A&M University Libraries will catalog Spanish plays from the late seventeenth through the nineteenth centuries. Originally published in small pamphlet form, many of these were subsequently bound together into volumes, making individual play titles challenging to find. The Ransom Center owns 14,000 sueltas, only a portion of which are cataloged in any way. Texas A&M University holds approximately 600 additional sueltas. The UT collection has been described as "one of the major collections of Spanish dramatic literature in suelta form in North America" and will be cataloged in MARC, making this large body of work available to scholars for the first time through both institutional catalogs, WorldCat, and a shared database. (M.V. Boyer, The Texas Collection of Comedias Sueltas: A Descriptive Bibliography, Boston: 1978, xxi.).
---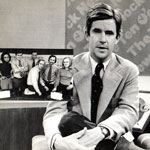 WGBH Educational Foundation
Exposing Unknown Boston Local TV News Collections
$311,000
The Boston Local TV News project is a collaboration of four institutions and their local tv news collections– the Boston Public Library (BPL), Northeast Historic Film (NHF), WGBH, and Cambridge Community Television (CCTV). The project will create a shared catalog of 40 years of Boston television news from the collections of the 4 partners. Catalogs for the news film collections of the BPL and NHF, dating from the early 1960 to the 1980s will be created using the existing catalogs from WGBH, CCTV and other sources as appropriate. Local news broadcasts spanning these years reflect the issues and concerns of many communities across the nation: politics both local and national, poverty, antiwar protests, affirmative action, women's rights, anti-apartheid activity, environmental awakening, changes in health care, and new medical advances. Local sports coverage spotlights the thoughts and reactions of players, coaches and fans and the vibrancy of the community spirit during periods of wins and losses.The Boston Local TV News project is a collaboration of four institutions and their local tv news collectionsß; Project staff will create a shared catalog of 40 years of Boston news history, including materials from the collections of the BPL and NHF dating from the early 1960 to the 1980s. Local news broadcasts spanning these years reflect the issues and concerns of many communities across the nation: politics both local and national, poverty, antiwar protests, affirmative action, women's rights, anti-apartheid activity, environmental awakening, changes in health care, and new medical advances. Local sports coverage spotlights the thoughts and reactions of players, coaches and fans. At left: The Ten O'Clock News, circa 1978-1979, WGBH Media Library and Archives collection. For more, visit the project blog, read the project press release (PDF), and check out coverage of the project from the Boston Globe (July 2011).
---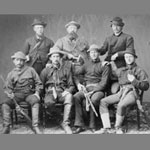 Yale University, Yale Peabody Museum of Natural History
DNA to Dinosaurs: The Globalization of Science in America and the Development of a University Natural History Museum
$409,300
This project will catalog archival materials and special collections that document the early history of science at Yale and in North America. Exemplary materials include : correspondence, notes, and sketches from Benjamin Silliman (Yale's first natural history professor) and James D. Dana (Yale's first professor of Geology); field notes, maps, glass negatives, and photographs from Yale Anthropology Professors Irving (Ben) Rouse, Michael Coe, T. Mitchell Prudden, and William K. Simpson; log books, fields notes, correspondence and original illustrations documenting the pioneering explorations of the western North Atlantic, Caribbean, tropical Pacific and Seychelles by Addison E. Verrill, F.H. Bradley, S.C. Ball, Henry P. Bingham, Willard D. Hartman and C. L. Remington; archives of Othniel Charles Marsh, encompassing field notes, diaries, annotated print maps, sketch maps of fossil localities, drawings, and related items produced by Marsh and colleagues from 1867 to 1899. Other collections include those of early American naturalists: paintings and sculptures by Arthur Lakes; oil paintings of South American birds by Francis Lee Jaques; and sketches, line drawings and paintings by James Perry Wilson and Rudolph Zallinger. At left: O. C. Marsh and his field party of 1872. Marsh, the first Professor of Paleontology in the United States and Yale undergraduate students explore the American West in search of vertebrate fossils.