> See 2008 Projects | 2009 Projects | 2010 Projects | 2011 Projects | 2012 Projects | 2013 Projects | 2014 Projects
The following twenty-two projects were selected from among 100 proposals submitted in 2012. Award recipients will create web-accessible records according to standards that will enable the federation of their local cataloging entries into larger groups of related records, enabling the broadest possible exposure to the scholarly community.
---
Alabama Folklife Association, Inc.
Sacred, Secular, and Sewn with Soul: Discovering Alabama's Folk Culture
$165,900
Located in the basement of the Alabama State Council on the Arts, private homes, and offices, Alabama's Folklife Collections include field recordings, slides, photographs, film, video, digital files, reel-to-reel tapes, cassettes, and ephemera that document music, foodways, and material culture. Recorded in churches, community centers, occupational sites, public facilities, and homes, these performances, interviews, and other items represent over thirty years of research across the state of Alabama. Sacred Harp singing, blues, old-time fiddle, and African American spirituals are just a few of the musical genres recorded. Traditions in quilting and basket-making are also documented in photographs, slides, and audio recordings. The audiences to be served by these collections include historians, folklorists, ethnomusicologists, filmmakers, cultural geographers, producers, educators, and students.
---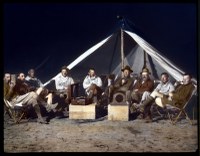 American Museum of Natural History
Expeditionary Field Work at the American Museum of Natural History
$320,400
Scientific expeditions and field work are the foundation for resource gathering by natural science museums worldwide; artifacts and specimens collected by AMNH researchers in the field form the core of American Museum of Natural History's scientific research collections. The Lumholtz Expeditions to Mexico, 1890-98; the Jesup North Pacific Expedition, 1897-1902; the Vernay Hopwood Chindwin Expedition to Burma, 1934-35; the Whitney South Sea Expedition, 1921-37; the Archbold New Guinea, 1933-64; and the Central Asiatic Expeditions, 1921-30, are a few of the most prominent. Scientists, artists, photographers, and field assistants give valuable context to the objects in the scientific collections in their observations about the biology, cultural traditions and ecological conditions of the specimens and artifacts. Their notes and sketches, diaries, journals, specimen books, photographs, recorded sound, and moving images, are held in each of the AMNH departmental archives. The records also provide an essential social history of the people traveling in the field. Describing these archival records will enrich the experiences of all who use the AMNH object collections for research in the disciplines of systematic biology, ecology, cultural anthropology, and the history of science, as well as those who prepare exhibitions and educational programs for the millions of visitors to the Museum and its websites.
---
Brooklyn Historical Society
City, Borough, Neighborhood, Home: Mapping Brooklyn's Twentieth-Century Urban Identity
$170,400
This project will describe maps and archival materials that document Brooklyn's development from an independent city in the 19th century, through its consolidation with New York City, into one the largest and most diverse urban centers in America during the 20th century. The majority of maps and documents were created by local entities-government, neighborhood associations, preservation organizations, and businesses-and are rare or unique to BHS. An initial sampling of the maps revealed political, topographical, transit, utility, and property data that show the physical, ethnic, and institutional transformation of Brooklyn thought the 20th century. Records of the Corporate Counsel of Brooklyn include its "street openings" files and other matters brought by and against the City of Brooklyn to 1898 and after, as a borough of New York City. These documents track the expansion of Brooklyn's street grid and infrastructure block-by-block, lawsuit-by-lawsuit, and record civil servant grievances, tax and property disputes, injury and breach of contract claims, and some criminal matters. BHS's collections show Brooklyn becoming a deeply intertwined part of NYC while forging its own internationally recognized identity, placing Brooklyn as a center of scholarship and debate about urban history. Its maps convey important lessons about urban redevelopment, public-private partnerships, immigration, and community building.
---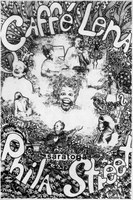 Caffè Lena, Inc.
Uncovering the American Folksong Revival: Coffeehouse Culture and The Caffè Lena Collection
$86,900
The aim of this project is to arrange, describe, and catalog four significant hidden collections that together contain a documentary record of the 20th century American folksong revival movement. Caffè Lena is America's oldest continuously running folk music coffeehouse. The complete Caffè Lena archives comprises 700 hours of field recordings and audio recordings of performances; 150 audiotaped interviews with major folk, country, blues and theater figures; four boxes of Caffè Lena nonprofit paperwork; six boxes of founder Lena Spencer's original papers and her personal collection of 20 Performer Files; the Lively Lucys Coffeehouse Collection with two boxes revealing an important student-run coffeehouse created with Lena Spencer; and 6,000 photographs taken at Caffè Lena between 1960 and 1968 from the Joe Alper Photo Collection LLC in both negative and print formats. Documented subjects in New York State include the civil rights movement; New York architectural history; prominent folk and jazz festivals; urban expansion; and the careers of influential performers Bob Dylan, Pete Seeger, Dr. Bernice Johnson Reagon, and Emmylou Harris. Also included are the personal papers and letters of Lena Spencer relating to the Industrial Workers of the World, the inaugural visit of Robert Kennedy Jr. to Massachusetts, postwar Italian American cultural history, and the New Left era.
---
College of Charleston
The William A. Rosenthall Judaica Collection
$192,300
The William A. Rosenthall Judaica Collection is an extraordinary compilation of printed material and artwork that traces the portrayal of Jews by scholars, artists, laypersons, and even antisemites from the 16th to the 21st centuries. The collection includes rare books, fine art, postcards, illustrated journals, greeting cards, pamphlets, broadsides, ephemera, newspapers, cartoons, caricatures, etchings, lithographs, chromolithographs, watercolors, medallions, stamps, textiles, and more. Materials are in English, German, French, Spanish, Portuguese, Hebrew, Yiddish, and other languages. The Rosenthall Collection documents the lives, history, religious ceremonies, dress, and customs of the Jewish people. Synagogues are a particular focus, including variant images, different printings, alternate views of interiors and exteriors, maps, and panoramas of sanctuaries from around the globe. Many imprints depict European synagogues that were destroyed between 1938 and 1945. These iconographic materials, as well as illustrations and photographs of Jewish ghettos, costumes, cemeteries, folk and religious life, are grouped by subject and location and stored in approximately 90 portfolios. The collection also contains Jewish caricatures, postage stamps, New Year cards, portraits of individuals, and clippings from Jewish journals and publications.
---
Columbia University
Documenting Advocacy: Human Rights Collections in the Center for Human Rights Documentation and Research
$242,500
This twenty-eight month project will make accessible to scholars materials from three collections at the Columbia's Center for Human Rights Documentation and Research: Lawyers' Committee for Civil Rights Under Law Southern Africa Project (LCCR),1971-1994; Physicians for Human Rights (PHR), 1982-2011; and Human Rights First (HRF), 1978- 2003. These collections contain a broad range of material dating from the 1980s through the early 2000s, covering these U.S. organizations' formation and early history, day-to-day operations, missions, meetings, interactions with other NGOs and governments, participation in conferences, and research projects. Some files also contain interviews and correspondence with victims of human rights violations. Topics are diverse, ranging from women's rights in China to refugees seeking U.S. asylum to the formation of the International Criminal Court. HRF places emphasis on issues in the Middle East and Latin America, while PHR contains extensive files on missions to the Philippines, South Korea, Turkey, the former Yugoslavia, Cambodia, and Iraqi Kurdistan. However, both collections contain significant material on all regions of the world. LCCR contains material used by the Committee to carry out and advocate for their work throughout Southern Africa, with the highest concentration of material relating to South Africa and Namibia. Because of their large size and variety of information they contain, these collections have tremendous research potential for scholars and current human rights activists, particularly those interested in how human rights organizations form and develop over time, and what programs and strategies have been most effective.
---
Columbia University
American View Books
$75,500
American View Books in the Avery Classics Collection provide pictorial documentation of cities and towns throughout the United States. The collection is comprised of 4,800 items-broadly termed "books"-published in a variety of formats, including printed books, photographic albums, and novelties. Together, these items present an illustrated history of the American built environment from the mid-nineteenth century to the twentieth century, a history told through images of buildings, streetscapes, monuments, and park lands. Intended as souvenir books for tourists, view books were often produced by local organizations like Chambers of Commerce to create a visual keepsake of a town or to commemorate major events including world's fairs and natural disasters. Because of this, many of the books have an ephemeral quality, with paperback bindings or accordion-style paper fold-outs. The view books feature all types of photomechanical processes, such as albumen prints, chromolithographs, photolithographs, photogravures, photographs, and engravings. Novelty formats include stereograph cards, collapsible peep shows, and decks of playing cards. Taken as a group, the view books contain hundreds of thousands of images as well as detailed texts describing the growth of local industries, the construction of major buildings, the development of transportation networks, and the characteristics of regional architectural styles.
---
David C. Driskell Center, University of Maryland College Park
David C. Driskell Archive Project
$251,700
Professor David C. Driskell is one of the most well-known scholars in the field of African American art. He served on the faculty and as chair of the department of art at UMCP as well as Fisk and Howard Universities. As curator of the 1976 exhibition entitled "Two Centuries of Black American Art" at the Los Angeles County Museum of Art (LACMA), Driskell revealed the depth and breadth of African American artistic creativity, offered an alternative narrative to mainstream histories of American art, and helped establish the study of African American art as a legitimate and distinct field of study. In 2001, UMCP established the David C. Driskell Center (DCDC) to preserve the heritage of African American art and culture. DCDC's collections include Driskell's own archives of more than 50,000 objects, which document: his roles as educator, appraiser, and advisor to art collectors; the LACMA exhibition; and his correspondence with artists such as Romare Bearden, Elizabeth Catlett, Aaron Douglas, Jacob Lawrence, and Georgia O'Keeffe.
---
Detroit Public Library Friends Foundation, Inc.
Coleman A. Young Mayoral Papers
$87,400
The Coleman A. Young Mayoral Papers consist of 1,175 boxes of documents from Young's twenty years serving five consecutive terms as mayor of Detroit. The bulk of the documents pertain to communications from city of Detroit departments, the federal government, and a wide array of groups, organizations, and citizens from Detroit and Michigan. Young was active in the Democratic party, serving as vice-chairman of the Democratic National Committee from 1977-1981. In 1980, he led the Democratic Conference of Mayors and became chairman of the Democratic Convention Platform Committee. A polarizing figure, primarily along racial lines, Young inspired passionate devotion among supporters and fierce opposition among detractors. His mayoral papers will provide important insights to researchers into the racial, social, economic and political dynamics of a major metropolitan area and a seminal figure of urban political history during the second half of the twentieth century.
---
Harvard University
Private Practices, Public Health: Privacy-Aware Processing to Maximize Access to Health Collections
$202,900
This project will catalog personal and professional papers of seven leaders in the field of Public Health. Collections are held by the Alan Mason Chesney Medical Archives of the Johns Hopkins Medical Institutions (Hopkins) and the Center for the History of Medicine, Francis A. Countway Library of Medicine (Countway). Included are papers of Barbara Starfield, known for her work on primary care and health policy (Hopkins); Arnold Relman, former editor of the New England Journal of Medicine who has written on the economic, ethical, legal, and social aspects of health care (Countway); Frank Polk, early leading AIDS researcher (Hopkins); Stephen Lagakos, known for his AIDS research and research linking poor water conditions to public health problems (Countway); E. V. McCollum, who discovered vitamins A and D (Hopkins); William and Miriam Pauls Hardy, audiologists who pioneered the screening of children for hearing loss (Hopkins); and Erich Lindemann, specialist in social and disaster psychiatry and community mental health (Countway). Collections document the interactions of leaders in public health with colleagues worldwide. Collections include correspondence, research data, teaching materials, student notebooks, biographical material, manuscripts, reprints, publications, photographs, sound recordings, electronic records, and material culture. The project includes a wide variety of media, including textual documents, still and moving images, audio, electronic records, and material culture objects.
---
Jewish Theological Seminary of America
Jewish Ethnomusicology from the East: The Archives of Johanna Spector
$175,300
The collection of Dr. Johanna Spector (1915-2008) contains primary source materials related to dwindling Jewish communities in Africa, the Middle East, and Asia. Spector was a professor of Ethnomusicology at The Jewish Theological Seminary (1962-1985) as well as a world-renowned ethnomusicologist, author of several books and articles, prolific lecturer, and producer of four documentary films. Her archive sheds light on the cultural treasures of the nearly extinct Jewish communities of India, Yemen, Azerbaijan, Egypt, Armenia, and the Samaritan people. It is a window into the life of these communities in situ before their dispersal out of their native lands. The collection consists of 120 linear feet of musical notation transcriptions, drafts of lectures, research notes, 2,000 photographs, 2,000 slides, 950 reels of film taken during her travels, papers relating to her films, rough cuts of her four documentaries, 1,000 audio field recordings, and a number of musical instruments that she collected in her travels. The Spector Archives date from the mid-20th century and span a half-century of significant Jewish migrations. This collection, once discoverable, will attract a wide range of scholars and students of ethnography, history, anthropology, and music. It offers a fascinating exploration of non-Western Jewish religious and communal traditions, which developed and persisted over 2,000 years and which are uniquely documented in this archive.
---
Johns Hopkins University
The Roland Park Company Archives and the Martin L. Millspaugh Archives
$71,900
The Roland Park Company Archives consist of the corporate records of the Roland Park Company, documenting an early suburban development that has enjoyed regional, national, and international influence. The collection contains a wide variety of informational and format types, including blueprints, architectural drawings, ledgers and other financial records, photographs and photograph albums, and correspondence from some of the most influential designers, planners, and technical experts of the twentieth century, who worked on other developments and trained a new generation of professionals after Roland Park. The collection dates from circa 1891 through 1962 (the life of the corporation). The Martin L. Millspaugh Archives (1950-2010) consist of 50 cubic feet of print and electronic records chronicling Millspaugh's central role in the development of the Inner Harbor, an urban planning project of international impact. Both collections richly document the history of urban planning and community development, two subjects of high current scholarly interest. These records create important links between community development and broader historical and societal trends. The collections will serve as a unique and multifaceted way to examine the historical context of land planning and real estate development in Baltimore and beyond.
---
Kentucky Historical Society Foundation, Inc.
The Churchill Weavers Collection-40,000 Textiles Uncovered
$142,700
This archive of three-dimensional objects represents all hand-woven products made by Churchill Weavers from 1922 to 2007. Once considered America's largest and finest hand-weaving studio, Churchill Weavers was founded in the rural Appalachian town of Berea, KY. As a record of production, Churchill Weavers kept a sample of almost every hand-woven creation made in their 85-year history. The fabric archive contains an estimated 40,000 fabric pieces in the form of swatches, yardage, finished and unfinished products, salesmen samples, and color blankets. These samples represent all Churchill Weavers production lines: scarves, baby blankets, couch throws, coverlets, household fabrics, ready-to-wear clothing, handbags, and men's neckties. Specific weaving information, color ways, and design records accompany samples on attached product labels, paper notes, and tags. The collection includes unusual experimental fabrics that were not sold to the public, such as 1960s "space cloth" from a Churchill Weavers and NASA partnership to produce space-suit lining material for Mercury mission astronauts; and samples of 1970s and 1980s fiber art from the company's work with American textile artist Gerhardt Knodel. Topics include : Appalachian weaving styles incorporated with modern tastes, fashion and artistry in hand-woven textile design and creation, economic impact on Appalachian region, and fiber science and experimentation.
---
The Martha's Vineyard Museum, Inc.
Martha's Vineyard Archives Project
$293,900
Situated on a busy coastal seaway, Martha's Vineyard has played an important part in American and world history since the 1600s. The Martha's Vineyard Museum's (MVM) archival collections reflect the strong connections between the Island and the world. Colonial period collections record the activities and interactions of the English and the Wampanoag, as well as trade and political interactions with the other colonies and with Europe. These themes continue after independence, when the Vineyard thrived as a maritime center. The collections contain British maritime maps, whaling logbooks, whaling account books, maritime charts, diaries, a large collection of ships' papers and documents, and rare customs records. Other maritime holdings relate to coastal shipping and shipbuilding. The Island's commercial fishery dates back to the 1700s. The archives contain accounting records, images, and 20th-century oral history interviews related to that trade. In the mid-19th century, the Vineyard became a religious and vacation resort. The collections contain artwork, documents, oral histories, and an extensive photographic collection from this period. These images are particularly significant because they show the diversity of peoples on the Vineyard throughout its history, including African-American, Portuguese, and Brazilian peoples.
---
Montana Historical Society
Lee Metcalf Photograph and Film Collections
$91,400
The Lee Metcalf Photograph and Film Collections document the life and work of Senator Lee Metcalf. The materials, dating from 1915-1978, illustrate the career of one of Montana's most renowned political figures. During his career, Metcalf served as state representative, assistant Attorney General, associate justice on the Montana Supreme Court, U.S. Representative and, for over two decades, U.S. Senator. Metcalf had many interests, chief of which was protecting the nation's natural resources. He was an early proponent of pollution control, supported research on the harmful effects of pesticides and strip mining, promoted the regulation of timber cutting, and supported alternative energy development. Metcalf also supported rural cooperatives, public power projects, and assistance to independent agriculture and mine workers. He advocated using government resources to redress social injustices, including proposing and working for legislation on Social Security, Medicare, unemployment, and veterans' benefits; aid to libraries, schools and small businesses; minimum wage laws; work safety laws; job training programs; consumer protection; and the return of control over their own lives to Native Americans.
---
Museum of the City of New York and the Queens Museum of Art
Discovering the Future: The New York World's Fairs Collections of 1939 and 1964 at the Museum of the City of New York and the Queens Museum of Art
$129,700
MCNY and QMA together hold around 12,000 items (approximately 367 boxes and 450 oversize/irregular objects) documenting the New York World's Fairs of 1939 and 1964, including books, pamphlets, printed ephemera, rare architectural blueprints, original artworks, film and audio recordings, photographic prints and negatives, architectural models, textiles, and realia. The varied formats and subjects of these materials present scholars with a uniquely holistic perspective on events that shaped the physical and cultural landscape of the city, even as their impact was felt around the globe. Increasing public access to the collections is extremely timely; with the 75th and 50th anniversaries of the Fairs in 2014, both museums anticipate heightened research interest in these materials. The museums steward many architectural plans and original design renderings from the Fairs, as well as official and unofficial photographs and home movies of the Fairs during construction and after they opened to the public. Realia is another important component of the two collections, and includes Fair-themed jewelry, scarves, buttons, plates, and other memorabilia. QMA holds photographs, documents, and ephemera related to Salvador Dali's 1939 Dream of Venus pavilion, as well as the entire Photography as Fine Art exhibit from the 1964 Kodak Pavilion. QMA is also home to The Panorama of the City of New York, a 1:10,000-scale architectural model commissioned by Robert Moses for the 1964 Fair.
---
ONE National Gay and Lesbian Archives, University of Southern California
Out West: The LGBTQ Community Archive Cataloging Project
$203,200
Out West features 89 collections from the ONE National Gay and Lesbian Archives of USC Libraries and 22 collections from the GLBT Historical Society in San Francisco. These collections preserve the history of struggle for LGBT civil rights and give a comprehensive view of U.S. LGBT activists, artists, and organizations over a 50-year period. Ranging from records of the Asian/Pacific Lesbians and Gays, the Blue Max Motorcycle Club, the Community United Against Violence, and the Gay Men's Chorus to artifacts documenting the life of Harvey Milk and the papers of pioneering activists José Sarria and Hank Wilson, novelist Patricia Nell Warren, and the Woman's Building art center-founded in 1973 by Judy Chicago-these collections capture myriad facets of the pre- and post-Stonewall LGBT experience. Revealing the hidden origins of LGBT social equality movements in the 1940s and 1950s, collections at each archive focus on L.A.- and San Francisco-based people and organizations with national impact on LGBT civil rights. Collections at ONE and GLBTHS complement one another, tracing similar organizations and showing how "going West" to California enabled diverse LGBT identities and modes of communal expression. Archival materials include papers, records, manuscripts, photographs, research, and ephemera-from the suit worn by Harvey Milk when he was assassinated to early gay wedding photos, matchbooks from 1950s gay bars, and memorabilia from José Sarria's 1961 campaign for SF city supervisor.
---
San Diego Air & Space Museum
Increasing Access to Our Aerospace Heritage
$119,700
For over 50 years, the San Diego Air & Space Museum (SDASM) has preserved the aviation heritage of Southern California, with a unique collection documenting the area's aerospace history. SDASM was the first aero-themed museum to be accredited by the American Association of Museums, and only the twelfth institution in California to be awarded Smithsonian Affiliate status. In 2007, SDASM was designated by the California State Legislature as the official Air & Space Museum and Education Center of California. Each year, over 225,000 guests visit SDASM on-site and an additional 195,000 visit virtually, yet few of these guests know of the depth and breadth of the Museum's historical and unique archival collections. The Museum's Library & Archives houses the third largest collection of aviation-related research material in the United States. The Museum's archival collections include one-of-a-kind corporate records of significant San Diego-based aerospace companies, such as Pacific Southwest Airlines, Ryan Aeronautical, and Consolidated Aircraft Corporation; personal records from a number of important aerospace pioneers, including T. Claude Ryan and Reuben H. Fleet; and records from famous aviators such as Jacqueline Cochran, Charles Lindbergh, and Richard E. Byrd. Increasing access to Our Aerospace Heritage will elevate public awareness of these historically important yet currently underexposed collections by cataloging, indexing, carefully describing, and preparing them for future digitization.
---
Stanford University
Documenting Climate Change: The Papers of Stephen H. Schneider
$114,400
Stephen H. Schneider (1945–2010) was the Lane Professor for Interdisciplinary Environmental Studies, Professor of Biology, Professor of Civil and Environmental Engineering, and a Senior Fellow in the Woods Institute for the Environment at Stanford. Internationally recognized for research, policy analysis and outreach in climate change, Schneider focused on climate change science, integrated assessment of ecological and economic impacts of human-induced climate change, and identifying viable climate policies and technological solutions. As one of the world's preeminent communicators of complex science, he consulted with eight U.S. administrations and numerous national and international agencies. Dr. Schneider was actively involved with the Intergovernmental Panel on Climate Change (IPCC), an initiative of the United Nations Environment Program and the World Meteorological Organization. After decades of work, Dr. Schneider, along with four generations of IPCC authors, received a collective Nobel Peace Prize for their joint efforts in 2007. Professor Schneider's papers consist of Climatic Change editorial records; research files; teaching files; administrative records; correspondence; computer files/email; and audiovisual material. Well documented is the history, content, and implications of climate change science. It is a treasure trove for those interested in understanding and addressing climate change.
---
University of California at Santa Barbara
Foreign and Ethnic 78s in the UC Santa Barbara Sound Archives
$239,600
This project will catalog a portion of one of the largest and most diverse collections of historical sound recordings in the United States, focusing on recordings from Iberia, France, and Latin America. The 18,000 discs to be cataloged are from Argentina, Brazil, Cuba, France, Mexico, Peru, Portugal, and Spain and date from 1900 to 1960, the bulk of which are from 1900 to 1940. The majority of the discs are from the Bruce Bastin/Interstate Music collection, the Edouard Pecourt collection, as well as smaller collections such as the Roberto Eyzaguirre collection of Peruvian 78rpms. No other public archive in the U.S. has a similar quantity of European and Latin American recordings of popular, vernacular, and ethnic recordings from the first decades of the recording industry. These key resources are important to an increasingly global and interdisciplinary scholarly community where historical recordings are used in the study of a variety of humanistic disciplines.
---
United States Holocaust Memorial Museum
Oral History Cataloging Project
$103,300
The United States Holocaust Memorial Museum's Oral History Collection holds more than 12,500 interviews comprising almost 24,000 hours of testimony with Holocaust survivors and victims of Nazi persecution as well as witnesses, collaborators, perpetrators, liberators, rescuers, and members of prosecution. Approximately 25% of the interviews were produced by the USHMM. In addition to its self produced testimonies, the USHMM serves as a repository for more than 9,700 interviews conducted by 130 institutions, organizations, and groups, as well as 441 individual testimonies conducted by friends or family members of survivors. Contributing organizations have entrusted the USHMM to preserve these interviews for future generations and to make them accessible. Every year, the USHMM takes in several hundred testimonies from outside sources. The focus of this grant are the 1,450 interviews with non-Jewish bystanders, collaborators, and perpetrators recorded by the Museum since 1996. This collection offers an additional dimension to traditional Holocaust survivor testimony and is an invaluable primary resource for Holocaust education and for combating Holocaust denial and anti-Semitism today.
---
University of Pennsylvania
Uncovering Philadelphia's Past: A Regional Solution to Revealing Hidden Collections
$249,800
Philadelphia Area Consortium of Special Collections Libraries (PACSCL) will process 46 high research value collections totaling 1,539 linear feet from 16 area institutions. These collections document the Greater Philadelphia region's development as an industrial, commercial, and cultural center during the nineteenth and twentieth centuries. Based at the University of Pennsylvania Library, the project will build on the regional finding aids database created in an earlier Hidden Collections project, increasing its value to researchers. The PACSCL Hidden Collections project has been revised to focus tightly on historical collections that document the development of Greater Philadelphia-Philadelphia, its adjacent counties, and its web of connections in the Delaware and Lehigh Valleys-as one of the country's preeminent industrial, commercial, and cultural centers during the nineteenth and twentieth centuries. The collections range from manufacturing and transportation to education, and from social services to the arts, but have in common a focus on a single metropolitan area and together show the complexity and interconnections of life in the region.