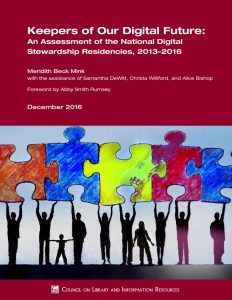 In September 2015, the Institute of Museum and Library Services (IMLS) awarded a grant to CLIR to assess the impact of the early National Digital Stewardship Residency (NDSR) programs, a series of grant-funded training initiatives designed to build professional capacity for digital stewardship in the US.
CLIR's assessment took a broad view of the first four NDSR programs:
In December 2016, CLIR published Keepers of Our Digital Future, a report summarizing the study's findings and listing recommendations for future iterations of this program. This report was the focus of a community-organized symposium in April 2017 and informed the development of the NDSR Handbook and Toolkit, published in late 2017.
In 2018, CLIR conducted a follow-up study of recent, geographically distributed cohorts of NDSR residents. The results of the study were published in October 2018, as Supplementary Assessment of the National Digital Stewardship Residencies, 2016–2018.
In 2018 and 2019, NDSR Art commissioned independent assessments of the first and second cohorts of its program. In 2019, an assessment was undertaken to evaluate the curricular aspects of the National Digital Stewardship Residency in Art Information and the values of its changes between program years, and to identify strengths and weaknesses for future application of the NDSR model of cohort-based introductory fieldwork.
Meridith Beck Mink is the lead researcher for CLIR's assessment of the NDSR programs.
Assessment Instruments
Survey questions and interview protocols used for this project are available as appendices within the original report and within the subsequent supplementary paper.



This project was made possible in part by the Institute of Museum and Library Services through grant RE-00-15-0107-15.