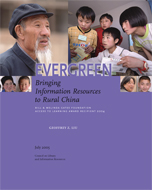 ISBN 978-1-932326-19-2
CLIR pub130
The online version of this report is available FREE in PDF format and can be obtained by clicking on one of the PDF links below. Please allow time for download to your computer.
ENGLISH LANGUAGE VERSION:   PDF file >>
CHINESE LANGUAGE VERSION:   PDF file >>
The China Evergreen Rural Library Service (CERLS) received the 2004 Bill & Melinda Gates Access to Learning Award for placing computers in rural public high schools in China as a way of responding to the need for information among students, teachers, and communities in remote areas where poverty and illiteracy are widespread.