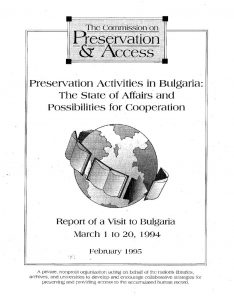 pub51. Preservation Activities in Bulgaria: The State of Affairs and Possibilities for Cooperation
Jordan, Sonja (2/95, 12 pp.) ISBN 1-887334-36-X $10.00.
Traces the literary history of Bulgaria and the state of its preservation activities. Concludes with general observations and a list of future directions compiled by Bulgarian libraries.
This publication is now out-of-stock and can not be ordered.