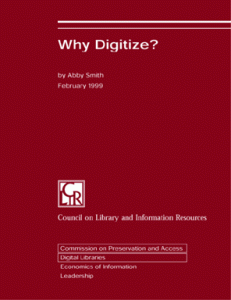 pub80. Why Digitize?
Smith, Abby (2/99, 13pp)
ISBN 1-887334-65-3
This paper was written in response to discussions of digitization at meetings of the National Humanities Alliance (NHA). NHA asked CLIR to evaluate the experiences of cultural institutions with digitization projects to date and to summarize what has been learned about the advantages and disadvantages of digitizing culturally significant materials. As one might expect from the early years of growth of a popular yet experimental technology, the lessons learned vary greatly from one institution to another. It is risky to generalize, but CLIR has been actively engaged in fostering the development of digital technologies for libraries, and we feel it is important to provide an early assessment of the impacts of new technologies on traditional library roles.
What we have found is that digitization often raises expectations of benefits, cost reductions, and efficiencies that can be illusory and, if not viewed realistically, have the potential to put at risk the collections and service libraries have provided for decades. One such false expectation-that digital conversion has already or will shortly replace microfilming as the preferred medium for preservation reformatting-could result in irreversible losses of information. This paper seeks not to raise false alarms, but to encourage every professional responsible for some aspect of cultural custody to assess this new technology with a hopefulness tempered by patience and informed by experience.
This publication is now out-of-stock and can not be ordered.