Innovative Use of Information Technology by Colleges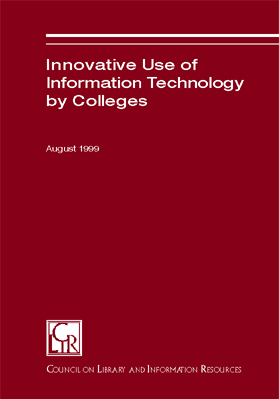 August 1999
Copyright 1999 by the Council on Library and Information Resources. No part of this publication may be reproduced or transcribed in any form without permission of the publisher. Requests for reproduction should be submitted to the Director of Communications at the Council on Library and Information Resources.
Part I: Conference Presentations
Part II: Case Studies
Appendix: Conference Participants
---
Introduction
The Council on Library and Information Resources' (CLIR's) College Libraries Committee began its project of studying innovative uses of technology on college campuses in the spring of 1998. The president of CLIR and the chair of the College Libraries Committee wrote letters to heads of libraries of colleges and mid-sized universities in the United States to ask if they had used technology in a way that significantly enhanced teaching and learning on their campuses. The letter encouraged applications from librarians who were proud of their accomplishments and willing to host a study team for a site visit.
Forty-one libraries from all regions of the country applied. The College Libraries Committee and the CLIR staff selected nine campuses that offered an interesting view of how innovation could be applied. These institutions were not necessarily chosen for their state-of-the-art technology. Rather, they were chosen because their accomplishments would generate ideas that would stimulate and inspire other institutions to make changes on their campuses.
The site visits were conducted between September 1998 and January 1999. Draft versions of the case studies were completed in January. A two-day conference was planned for March at the Belmont Center in Maryland to discuss the environment that is most conducive to organizational change. The case studies, distributed to participants weeks before the conference, were to serve as a point of departure for a broader discussion of change that is transforming colleges and mid-sized universities.
CLIR invited 27 individuals to attend, including college presidents, library directors, faculty, professional association representatives, government employees, and technology experts. Representatives from each of the nine case study sites were present to discuss which features of the programs they studied had been most successful.
CLIR invited four speakers to provide additional perspective on the case studies and to generate discussion. William Haden, president of West Virginia Wesleyan College, opened the conference by noting that with rapid developments in information technology, colleges today face new pressures to remain relevant, competitive, and effective. These pressures will force colleges to change, and the library, in collaboration with faculty and information technology staff, will be at the heart of that change.
Haden's introduction was followed by two presentations on making change in higher education. Susan Jurow stressed the importance of understanding the process of change and what it takes for individuals to engage in projects to bring about change. Barbara Hill shared the strategies that were successful in a program, cosponsored by the American Council on Education and The W. K. Kellogg Foundation, to help colleges and universities succeed with comprehensive change.
Brian Hawkins prepared participants for the wide-ranging discussion with his observations on the transformation of higher education.
The presentations are provided in part one of this report, as are summaries of the ensuing discussion and recommendations for follow-up activities. The case studies appear in part two of this report.
Deanna Marcum