A Collaborative Approach to Collection Storage:
The Five-College Library Depository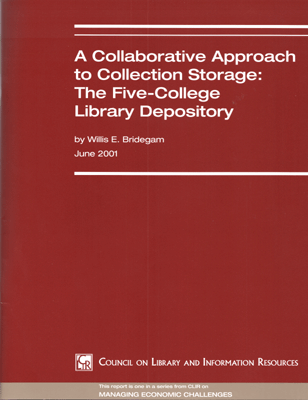 by Willis E. Bridegam
June 2001
Copyright 2001 by the Council on Library and Information Resources. No part of this publication may be reproduced or transcribed in any form without permission of the publisher. Requests for reproduction should be submitted to the Director of Communications at the Council on Library and Information Resources.
ALTERNATIVES TO OPEN-SHELF STORAGE OF LIBRARY MATERIALS
Microforms
Electronic Publishing
CONTINUING NET GROWTH OF PAPER COLLECTIONS
Compact Shelving in the Campus Library: An Intermediate Step
OFF-SITE STORAGE CONSIDERATIONS
Browsing
Economics of Off-Site Storage
The Decision to Create an Off-Site Storage Center
THE ESTABLISHMENT OF THE AMHERST COLLEGE LIBRARY DEPOSITORY
Selecting Materials for the Depository
Book Transfers
Archives and Special Collections Transfers
Key Depository Decisions
Moving the Collections
Staffing
Use of the Depository Collection
THE PROPOSAL FOR A FIVE-COLLEGE LIBRARY DEPOSITORY
Outside Interest in Participation
Preliminary Cost Estimates
Storage Options Available to the Five Colleges

Deaccessioning Duplicate Volumes from all but one Library
Renting Commercial Storage Space
Buying Storage from Another Library
Building a New Facility

Approval in Principle
ANTICIPATED IMPLEMENTATION AND OPERATION
FIVE-COLLEGE COLLECTIONS MANAGEMENT COMMITTEE
ACADEMIC DEPARTMENT REACTIONS TO THE PROPOSED DEPOSITORY
Physics
African Studies
Slavic Studies
Philosophy
Fine Arts
Biology, Chemistry, and Biochemistry
Economics
English and Romance Languages
Geology
A NATIONAL TREND TOWARD ACADEMIC DEPOSITORY LIBRARIES
Examples of Academic Depository Libraries
Unusual Approaches
Planned Storage Facility
---
About the Author
Willis E. Bridegam has been the Librarian of Amherst College and a member of the Five College Librarians Council since 1975. He served as the Chair of CLIR's College Committee from 1997-2000, and is currently a member of CLIR's Committee on Preservation. He was a member of the Association of College and Research Libraries (ACRL) Outcomes Assessment Task Force and chaired the ACRL College Libraries Section Committee on Standards that developed and published new outcomes-based "Standards for College Libraries" in 2000. A member of the Oberlin Group Founding Committee, he promoted the idea of sharing information and ideas among liberal arts college librarians. He helped to establish the ACRL Excellence in Library Awards program and served on its committee. Earlier, he served as a member of the Choice Editorial Board, the Editorial Board of College and Research Libraries, and the OCLC Association of College and University Libraries (ACCUL) Advisory Board .
Acknowledgments
The author is grateful to Tom Gerety, President of Amherst College, for granting a study leave that provided time to write this paper. Special thanks are due to my daughter, Martha Bridegam, and my wife, Nathalie Bridegam, for editorial assistance; as well as to Lorna Peterson, Five College Coordinator, and members of the Five College Librarians Council: Gai Carpenter, Margo Crist, Christopher Loring, and Susan Perry, for reviewing the manuscript. Finally, the author would like to thank Daria D'Arienzo, Head of the Amherst College Library Archives and Special Collections Department, for supplying information and photographs from the Amherst College Archives and to John Kunhardt, the Amherst College Library Media Coordinator, for photographs of the Amherst College Library Depository.
Preface
Managing collections is at the heart of the library's responsibilities. When librarians acquire materials to support current research and teaching programs, they also expect to preserve those materials for future use. In carrying out the dual responsibilities of preserving and providing access to information, nearly all academic libraries are confronting space problems, despite the promise of electronic technologies to ease the situation. Traditional solutions to the problem, such as expanding the library building or constructing more compact shelving, have become less viable as construction costs escalate and institutions of higher education strain under ever-tighter budgets.
The creation of off-site storage facilities has eased the situation for many institutions; some have even decided to create joint repositories with other institutions. The Five College Library Depository, however, has boldly taken the idea a step further. In collaborating on storage, members of the Five Colleges, Inc. (Amherst College, Hampshire College, Mount Holyoke College, Smith College, and the University of Massachusetts at Amherst) have agreed to deaccession duplicate copies and adopt joint ownership of the remaining collection. In effect, they have agreed to organize their collections as a single library to serve the consortium. Although a history of collaboration among the members created the basis for the high level of trust needed to move the project forward, the effort could be successful only after gaining the trust and cooperation of the faculty and staff of each institution.
In his report, Will Bridegam offers a valuable case study in the advantages and disadvantages of depository libraries, their economics, and the practical and political issues associated with their creation. As director of the library at Amherst College, he played a key role in establishing the initial offsite storage facility, as well as in broadening its service to the Five Colleges. As libraries change in response to budgetary constraints as well as developments in information technology, the Five College Library Depository model suggests new possibilities for collection management and ways for libraries to reframe their service missions. The questions facing all academic librariesto what extent can we provide access to materials that we do not own, and which materials must we preserve for future generations­­are examined in this report.
Deanna Marcum
President