Washington, DC, October 23, 2013-The Council on Library and Information Resources (CLIR) has appointed Rita Van Duinen to the newly created position of Curriculum and Research Strategist. Van Duinen will be responsible for coordinating the planning, design, and delivery of online and face-to-face education and training across CLIR's programs. She will join the CLIR staff November 1.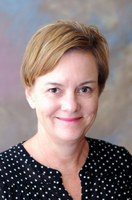 Van Duinen has served since 2010 as curriculum manager and teaching faculty member in the Library and Information Technology Program at Central Carolina Community College. In that capacity, she has overseen instruction of online library and information technology courses, and evaluated and revised course content as needed to ensure that learning objectives are met. Before joining the staff of Central Carolina Community College, she was project management librarian for the Carolina Digital Library and Archives at the University of North Carolina at Chapel Hill. She holds an MSLS degree from the University of North Carolina at Chapel Hill and a BA in Russian Language and Literature from the University of Oregon.
In her new position, Van Duinen will work principally on the CLIR/DLF Postdoctoral Fellowship Program and the DuraSpace/DLF E-Science Institute, but she will also advise on the selection and implementation of education and training tools in the service of other CLIR programs, and help develop workshops and other educational programs related to the missions of CLIR and DLF.
"Rita's appointment as curriculum and research strategist represents a new, critically important enhancement to our support of higher education," said CLIR President Chuck Henry. "Rita's acumen, expertise, and strategic planning experience will be employed to enrich our postdoctoral program through the development of educational modules, new courses (including MOOCs), and other means of training enhancements that benefit the cohort of data curation fellows but as importantly will deliver cutting-edge research, best practices, and valuable insight to libraries and research intensive centers."
"I am thrilled to be a part of the CLIR team and look forward to promoting the organization's mission and goals through my work," said Van Duinen. "As curriculum and research strategist I am committed to providing quality services while building productive collaborations with professionals in the field as well as with my colleagues at CLIR. In this capacity I hope to make significant contributions to the evolution of CLIR and the DLF."
"Rita brings great energy and a creative perspective," said DLF Director Rachel Frick. "I am looking forward to working with her as we develop new opportunities for DLF to support our community."
CLIR is an independent, nonprofit organization that forges strategies to enhance research, teaching, and learning environments in collaboration with libraries, cultural institutions, and communities of higher learning. It aims to promote forward-looking collaborative solutions that transcend disciplinary, institutional, professional, and geographic boundaries in support of the public good.