Washington, DC, October 30, 2013- Molly Corbett Broad, president of the American Council on Education (ACE) and former president of the University of North Carolina, has been appointed to the Committee on Coherence at Scale for Higher Education.
Sponsored by the Council on Library and Information Resources and Vanderbilt University, the Committee on Coherence at Scale for Higher Education was formed in 2012 to examine emerging national-scale digital projects and their potential to help transform higher education in terms of scholarly productivity, teaching, cost-efficiency, and sustainability. The committee comprises college and university presidents and provosts, deans, university librarians, and association heads.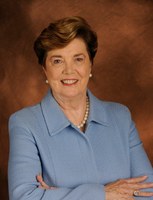 Broad is the first woman to lead ACE since its founding in 1918. She came to ACE from the University of North Carolina (UNC), where she served as president from 1997-2006. Prior to her tenure at UNC, she held a number of administrative and executive positions at the California State University System, Arizona's three-campus university system, and Syracuse University.
Broad joins three other new members appointed to the committee since its inaugural meeting in March 2013. They are Dan Cohen, executive director of the Digital Public Library of America; Scott Waugh, executive vice chancellor and provost of the University of California, Los Angeles; and Jere Morehead, president of the University of Georgia. A complete list of members is available at https://www.clir.org/initiatives-partnerships/coherenceatscale.
"We are delighted at the appointment of Molly Broad, an astute and respected national leader," said CLIR President Chuck Henry. "Her background and depth of experience complement the appointments earlier this year of Jere Morehead, Scott Waugh, and Dan Cohen. Collectively, their longstanding dedication to improving higher education  and seasoned insight will be invaluable to the Committee on Coherence as we begin to build a new digital environment for research and teaching," said Henry.
"The Committee on Coherence has made great strides since its first meeting six months ago," said Vanderbilt Provost Richard McCarty. "With the addition of these new members, we have increased the breadth and depth of talented people working on these important issues.  Colleges and universities are grappling with the complexities and costs of access to information in support of teaching and research. The ongoing work of the committee has the potential to have a significant positive impact on the work of scholars and the annual budgets."
The Council on Library and Information Resources (CLIR) is an independent, nonprofit organization that forges strategies to enhance research, teaching, and learning environments in collaboration with libraries, cultural institutions, and communities of higher learning.
Vanderbilt University is a private research university and medical center consistently ranked in the top 20 by U.S. News & World Report.  Vanderbilt offers undergraduate programs in the liberal arts and sciences, engineering, music, education and human development, as well as a full range of graduate and professional degrees to its nearly 13,000 students. Located in Nashville, Tenn., Vanderbilt is the largest private employer in Middle Tennessee and the second largest private employer based in the state.