Number 117 • May/June 2017
ISSN 1944-7639 (online version)
Contents
CLIR Names 2017-2019 Postdoctoral Fellows
CLIR Receives Mellon Grants for Operations, Data Curation Fellowships
Leading Change Institute 2017: Snapshots and Reflections
Register Now for 2017 DLF Forum and Affiliated Events!
Reminder: Recordings at Risk Application Deadline is July 31
CLIR 2015-2016 Annual Report Now Available

---
CLIR Names 2017-2019 Postdoctoral Fellows
CLIR has named its new cohort of 12 postdoctoral fellows for 2017. The cohort includes five recipients of CLIR/DLF Postdoctoral Fellowships in Data Curation for Latin American and Caribbean Studies and seven recipients of CLIR Postdoctoral Fellowships in Academic Libraries.
Fellowships are awarded to scholars who received a PhD degree within the last five years in the humanities, social sciences, or sciences. This year is the first time a postdoctoral fellow will be hosted outside of North America at the Chinese University of Hong Kong. Seventeen fellows from the previous cohort are spending a second year at their host institutions.
The CLIR/DLF Postdoctoral Fellowships in Data Curation for Latin American and Caribbean Studies were launched this year with funding from The Andrew W. Mellon Foundation, which has also supported fellowships in medieval studies, early modern studies, and visual studies.
The postdoctoral fellows will begin their program at an orientation seminar at Bryn Mawr College from July 23 to 29, 2017. The seminar will introduce fellows to issues facing twenty-first-century libraries and provide an opportunity for them to meet others in their cohort to share experiences and information. Portions of the seminar are devoted to discussing data curation and management, as well as digital humanities.
CLIR administers the fellowship program in collaboration with academic and other kinds of partnering institutions as a means of preparing a new generation of knowledgeable and highly skilled scholarly professionals. Information on the fellowships is available at https://www.clir.org/fellowships/postdoc.
Hannah Alpert-Abrams
PhD Comparative Literature, University of Texas at Austin
Host: University of Texas at Austin
Crystal Felima
PhD Anthropology, University of Florida
Host: University of Florida
Jeanine Finn
PhD Information Studies, University of Texas at Austin
Host: Claremont Colleges
Alex Galarza
PhD History, Michigan State University
Host: Haverford College
Lorena Gauthereau
PhD English, Rice University
Host: University of Houston
Eric Kaltman
PhD Computer Science, University of California, Santa Cruz
Host: Carnegie Mellon University
Jessica Linker
PhD History, University of Connecticut
Host: Bryn Mawr College
Mario H. Ramirez
PhD Information Studies, University of California, Los Angeles
Host: Indiana University
Emma Slayton
PhD Archaeology, University of Leiden
Host: Carnegie Mellon University
Yun Tai
PhD Sociology, Emory University
Host: Chinese University of Hong Kong
Neil Weijer
PhD Medieval History, Johns Hopkins University
Host: Johns Hopkins University
H. Alexander Wermer-Colan
PhD English, The Graduate Center, City University of New York
Host: Temple University
---
CLIR Receives Mellon Grants for Operations, Data Curation Fellowships
CLIR has received two new grants from The Andrew W. Mellon Foundation. The first is a 24-month, $1.5 million grant to support CLIR's general operations. The second awards $981,000 to support a new round of Postdoctoral Fellowships in Data Curation for Latin American and Caribbean Studies.
The operational grant provides funds for core administrative and management staff that support the full spectrum of CLIR's programmatic activity.
"The generosity and imagination of The Andrew W. Mellon Foundation have been crucial to CLIR and DLF's work on the future of libraries and other cultural heritage organizations, as well as the ways these organizations can support the talented people who serve their missions," said CLIR Board Chair Kathleen Fitzpatrick. "We are grateful for their continuing partnership."
The Postdoctoral Fellowships in Data Curation for Latin American and Caribbean Studies will augment and extend CLIR's efforts to establish sound data management in the field by building a professional cohort of knowledgeable specialists. Complementing the first round of fellowships in Latin American and Caribbean Studies (announced in previous story), the new grant will fund a second cohort of five fellows for two years at U.S. or Canadian institutions with strong programs in Latin American and Caribbean Studies, starting in July 2018.
Latin American and Caribbean Studies incorporate modes of inquiry from numerous fields within the humanities and social sciences, including history, sociology, art, archaeology, literature, political science, geography, gender studies, and economics. The fellowships are designed to support international partnerships in the service of cross-disciplinary humanities research and in building greater capacity for digitizing original materials, for sharing related digital data, and for developing humanities computing.
"These new scholar-practitioners, and the international connections among host and partnering institutions that our program promises to strengthen, will help develop sustainable approaches to research data management that transcend institutional, national, and disciplinary boundaries," said Principal Investigator and CLIR Senior Program Officer Alice Bishop
The CLIR/DLF Postdoctoral Fellowships in Data Curation for Latin American and Caribbean Studies will be integrated into CLIR's Postdoctoral Fellowship Program, which trains and establishes cohorts of professionals with subject expertise who possess a more expansive understanding of digital information and its integral role in research and teaching.
"This grant makes possible a second cohort of experts in data curation for Latin American and Caribbean Studies, a vibrant discipline of significant sweep and import," said CLIR President Charles Henry. "Combined with the experience, acumen, and insight of the first team of postdoctoral fellows, these technically astute scholars will further enrich and sustain best practices to preserve, migrate, and repurpose data essential to the vitality of this academic field."
CLIR launched its Postdoctoral Fellowship Program in 2004. To date, it has educated and placed 165 fellows at 72 host institutions across the United States, Canada, and Hong Kong.
CLIR will post fellowship openings in October 2017 at https://www.clir.org/fellowships/postdoc. The candidate application deadline will be December 29, 2017, and awards will be announced in June 2018.
---
Leading Change Institute 2017: Snapshots and Reflections
This year's Leading Change Institute (LCI) wrapped up on June 16. Over six days, participants heard perspectives on the national higher education landscape, explored topics ranging from entrepreneurship to leading change through collaboration and creativity, and ultimately crafted proposals and plans of action for projects at their home institutions. Participant Joshua Kim wrote a thoughtful summary of his experience, "4 Privileges of Participating in the Leading Change Institute."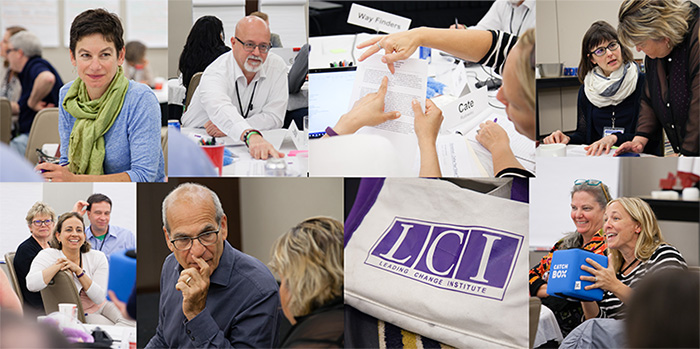 Photos by Doug Sanford
---
Register Now for 2017 DLF Forum and Affiliated Events!
Early-bird registration for the 2017 DLF Forum, Liberal Arts/HBCUs Pre-Conference, and NDSA's Digital Preservation 2017 is open now through September 18. Early registration will not only save you money, it will also guarantee you a spot, as previous Forums have sold out well in advance.
The 2017 DLF Forum will be held Oct. 23–25, 2017, in Pittsburgh, PA. The program will be posted by early August.  Rasheedah Phillips, Esq., will open the Forum with a keynote talk on community-driven documentation, cultural memory and conceptions of time, and the potential of digital libraries to support and be shaped by marginalized people's work to imagine alternate futures. Phillips is managing attorney for the housing unit at Community Legal Services of Philadelphia and creative director of The Afrofuturist Affair, an arts-based grassroots organization which she founded in 2011.
Eira Tansey will open Digital Preservation 2017 (Oct. 25–26) with a talk that will explore the relationship between environmental policy and the preservation of records, and what implications this has for the future of climate justice. Tansey is the digital archivist/records manager at the University of Cincinnati, where she is responsible for institutional records management, developing digital preservation policies, and working with born-digital archives.
Preceding the DLF Forum on Oct. 22 will be the Liberal Arts/HBCUs Pre-Conference, which will be structured as an unconference (loosely structured and entirely participant-driven).
---
Reminder: Recordings at Risk Application Deadline is July 31
CLIR is accepting applications for the second call of the Recordings at Risk program. The program supports digital reformatting projects that involve audio and audiovisual time-based media (audio/film/video). The primary focus is on analog-to-digital reformatting, though digital media formats are not necessarily disallowed (digital audio tape, for example, is highly at risk and eligible). Applicant institutions must be able to find a qualified external service provider that can perform technically competent and cost-effective digital formatting for the specified format(s). More information about the program and a link to the online application form are available here.
---
CLIR 2015–2016 Annual Report Now Available
CLIR's 2015–2016 Annual Report celebrates its sixtieth anniversary with a message from CLIR President Charles Henry, an overview of historic milestones, and a summary of current programs.