Washington, DC, February 22, 2018—The Council on Library and Information Resources (CLIR) today announced the appointment of Kevin FitzGerald as Verner Clapp Distinguished Research Fellow. In this role, FitzGerald will conduct research on making the cycle of academic knowledge—its creation, discovery, publication, accessibility, preservation, and reuse—more cost effective and coherently managed, while facilitating greater scholarly productivity and learning capacity.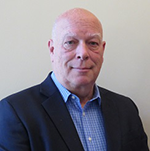 As fellow, FitzGerald will have two primary areas of research. First, he will document and analyze current and emerging digital projects that promote a federated, sustainable, global knowledge environment to preserve and make accessible data and artifacts representative of our cultural heritage. Second, he will oversee research on business models for the long-term sustainability and scaling of this global digital knowledge environment, including initial costs and eventual return on investments. In addition, FitzGerald will solicit institutional and corporate interest in the project.
The Verner Clapp Distinguished Research Fellowship is named after the first president of CLIR's predecessor organization, the Council on Library Resources. Clapp was passionate about collaboration and facilitating stronger alignment at a national scale of library and university interests to mitigate resource redundancy, costly duplication, and the prevailing fragmentation of U.S. institutions of higher education.
FitzGerald has been actively involved in CLIR's efforts to promote the wide adoption and sustainability of Coherence at Scale efforts. He recently retired from the University of North Carolina system, where he served as senior vice president and chief of staff. Previously he served as vice dean for finance and administration and chief of staff at the University of North Carolina School of Medicine. An adjunct faculty member at the University of North Carolina School of Government, he was the founding director of the Center for Public Technology. He has also held senior public executive positions with the state of North Carolina and Forsyth County Government. FitzGerald has an MPA from the University of North Carolina at Chapel Hill and baccalaureate degrees in religious studies from the College of the Holy Cross and canon law from Saint Paul University.
The Council on Library and Information Resources is an independent, nonprofit organization that forges strategies to enhance research, teaching, and learning environments in collaboration with libraries, cultural institutions, and communities of higher learning.