Number 127  January/February 2019
ISSN 1944-7639 (online version)
Contents
Report Explores Academic Library's Role in Supporting 3D/VR for Research and Teaching
CLIR Appoints Carol A. Mandel Distinguished Presidential Fellow
DLF Director Bethany Nowviskie Leaves CLIR
Envisioning a Truly Global Library
CLIR Issues is produced in electronic format only. To receive the newsletter, please sign up at https://www.clir.org/pubs/issues/signup. Content is not copyrighted and can be freely distributed.

Follow us on Twitter @CLIRNews, @CLIRHC, @CLIRRaR @CLIRDLF
Like us on Facebook @CLIRNews
CLIR is Moving!
In March, CLIR will leave Washington, DC—its home for 62 years—and move across the Potomac to Virginia. Please update your records with our new address: 2221 South Clark Street, Arlington, VA 22202.
Report Explores Academic Library's Role in Supporting 3D/VR for Research and Teaching
A new CLIR report, 3D/VR in the Academic Library: Emerging Practices and Trends, examines the use of three-dimensional (3D) and virtual reality (VR) technologies in research and teaching, and the library's vital role in supporting this work.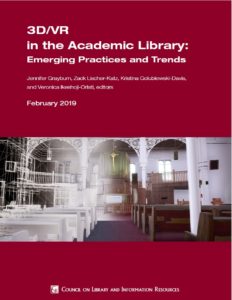 3D modeling, 3D capture techniques, and VR enable faculty and students to engage with highly detailed 3D data—from cultural heritage artifacts to scientific simulations—in new ways. A professor can take students on an immersive field trip to Stonehenge, changing the lighting to simulate various phases of solar events. A biochemistry researcher may explore complex protein structures with students, or a chemical engineer may simulate the movement of fluids in various porous rock materials.
"As 3D and VR projects scale up and move outside of the specialist disciplines where they have existed for decades, questions arise concerning skills development, interdisciplinary collaboration, publication, sustainability, preservation, and reuse," notes the report. Many academic libraries are taking the lead in supporting these projects because they are already centers for collaboration, instruction, research, and collection preservation. Libraries are providing training opportunities, hiring staff to provide services in support of research projects, and working to create a community-wide framework for preservation. Supporting these technologies furthers the library's mission to provide constituencies access to scholarly information in all forms and formats.
The volume grew out of an interdisciplinary conference, 3D/VR Creation and Curation in Higher Education: A Colloquium to Explore Standards and Best Practices, held in March 2018 at the University of Oklahoma. Organized by the volume's editors Jennifer Grayburn, Zack Lischer-Katz, Kristina Golubiewski-Davis, and Veronica Ikeshoji-Orlati—then CLIR postdoctoral fellows working in academic libraries—the colloquium aimed to "identify points of tension and gaps in existing practices and knowledge to foster common understanding for the librarians and digital curators tasked with supporting and managing these new data types." The conference and publication were funded by the Alfred P. Sloan Foundation through a CLIR microgrant, with institutional support from the University of Oklahoma Libraries, Temple University Libraries, and University of California Santa Cruz University Library.
The volume seeks to prompt greater awareness for library professionals as they develop programs that use 3D and VR technologies and work to integrate changing scholarly demands and conventions with existing library services and policies. Eight chapters contributed by experts in a variety of fields cover 3D content creation, VR visualization and analysis, 3D/VR-based educational deployment, and 3D/VR data curation, providing a snapshot of professional objectives and workflows that have developed around 3D/VR. Together, the chapters highlight three critical approaches for librarians and digital curators to consider as they use 3D/VR to support their communities: (1) treat the academic outputs that use 3D/VR as scholarly products; (2) build a 3D/VR scholarly community to support knowledge exchange across a range of stakeholder groups; and (3) develop technical tools, training, and infrastructure to support a 3D/VR research ecosystem.
The report is available at https://www.clir.org/pubs-reports-pub176/.
CLIR Appoints Carol A. Mandel Distinguished Presidential Fellow
CLIR has appointed Carol A. Mandel Distinguished Presidential Fellow. Mandel is dean emerita of New York University (NYU) Libraries and currently serves on the CLIR Board.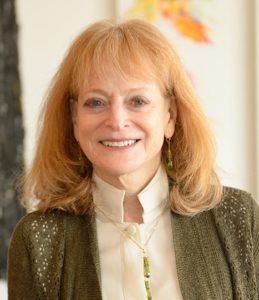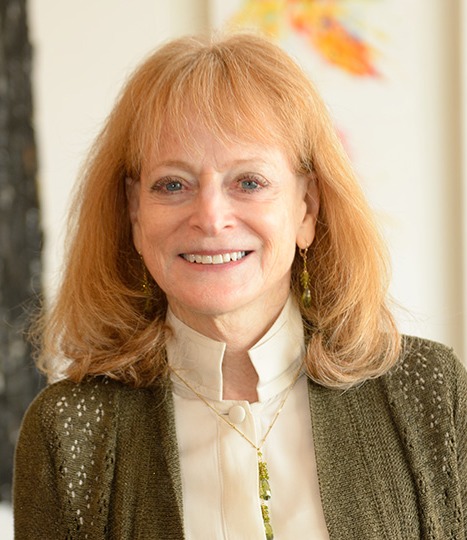 Mandel will systematically consider the societal and institutional frameworks that can expand scalable, sustainable approaches to preserving various types of digital content. Building on extensive work already done in the preservation community, she will frame and articulate issues and facilitate structured conversations to map potential sources of initiative and resources in different sectors.
"As we confront the challenges of cultural heritage preservation in our digital age, the societal and institutional frameworks we have been operating under to capture and preserve documentary evidence for the future no longer match the nature and scale of the task," said Mandel. "We have an outstanding digital preservation community continually expanding their work and expertise. My goal is to find ways to leverage that work to preserve the most content possible."
"CLIR has a distinguished history in promoting the preservation of our cultural heritage across many media," said CLIR president Charles Henry. "Carol Mandel's research, focusing on preserving digital content, will provide insight and acumen integral to help guide and manage our collective response to this uniquely complex and urgent challenge."
As dean of the NYU Division of Libraries from 1999 to 2018, Mandel oversaw the university's libraries in New York, Abu Dhabi, and Shanghai; along with Campus Media Services and the NYU Press. Her work has focused on the reconceptualization and redesign of infrastructures, services, and partnerships to achieve the research library's core mission in a digital multimedia age. Throughout her career, she has held leadership positions in organizations shaping new modes of collaboration and services, including serving as president of the Association of Research Libraries and chair of the boards of DLF and ArchivesSpace. Mandel was a member of the landmark 1996 Task Force on Digital Archiving convened by CLIR and RLG and of LC's NDIIPP Advisory Board and has continued to work toward expanding digital preservation capacities. At NYU, she led the formation of a strong digital preservation program, which has included early and continuing work on web archiving, repository development, and ground-breaking work in audiovisual media preservation.
DLF Director Bethany Nowviskie Leaves CLIR
Digital Library Federation (DLF) Director Bethany Nowviskie is leaving CLIR to serve as Dean of Libraries at James Madison University starting July 1, 2019. She will also join the tenured faculty of JMU's Department of English. Over the coming months, Nowviskie will serve as senior advisor to DLF to ensure a smooth transition of her responsibilities, and has additionally been appointed a CLIR Distinguished Presidential Fellow.
"It has been a great honor to serve DLF's passionate and dedicated community over the past four years," Nowviskie said, "and to guide a period in which we expanded both our mission and the vital perspectives present in our membership."
Under the auspices of its board of directors, CLIR will initiate a review of DLF to plan for the next iteration of the Federation, building on its strengths and assuring its continuity into the next decade. The review will involve the DLF advisory committee, CLIR Board, staff, and members of the DLF community. "As DLF approaches its 25th anniversary, we want to be sure that its programs and projects remain strong and strategically vital," said CLIR Board Chairman Christopher Celenza.
Joanne Kossuth, founding director of 1Mountain Road consultancy, will lead the review that will conclude in early 2020. "1MountainRoad is excited to embark on this journey to the future with the DLF and CLIR communities," said Kossuth. "The committed membership provides many opportunities for collaboration, expanded communities of practice, and innovation."
Over the next few months, meetings will be held with DLF working groups and advisory boards to understand current activities, identify areas for growth, and explore ideas for future innovation. Meetings with staff and engagement in new planning activities for the Forum will focus on strengthening DLF as a CLIR program and as an international forum for collaboration and innovation. Working with CLIR leadership, strategic partnerships and participation will be reviewed, including the potential for a senior advisory committee on the review. At the conclusion of these meetings the feedback will be incorporated into planning for the next organizational steps and the 2020 Forum.
Since Nowviskie's appointment to DLF in 2015, she has worked energetically to expand, diversify, and engage the DLF community, fostering connections to liberal arts colleges, museums, archives, historically black colleges and universities, and civic data groups. "The contributions of DLF will continue to be integral to its communities of practice and to the evolution of digital technologies as a public good," said CLIR President Charles Henry. "As CLIR's mission and responsibilities expand to a global scale, DLF's portfolio will similarly broaden, seeking new opportunities attendant on an increasingly complex and interdependent world digital environment."
More details of the review and its findings and recommendations will be published in the coming months.
Envisioning a Truly Global Library
On February 27, CLIR president Charles Henry spoke with Radio New Zealand on the interaction of culture and technology, and "a future where texts, images, videos, and audio are all translated into multiple languages: a future of worldwide, online, open source library access." Henry is in New Zealand to help celebrate the centenary of Wellington's Alexander Turnbull Library.
"Currently around the world, there are probably about 20 or 25 large digital library projects," says Henry. "Advances in digital architecture and building platforms will allow these projects to interconnect … inexpensively and efficiently, and it is possible that within the next 10 years we will see a global digital library." Conversations with staff at several of these large digital library projects indicate a will to work together. The idea will be further explored at three summit meetings to be held over the next several months.
Listen to the full interview here.
"Five Years of Listening"
A new blog series, "Five Years of Listening," focuses on the evolution of CLIR's Digitizing Hidden Collections program and what we have learned. Five posts by CLIR director of global strategic initiatives and former senior program officer Nicole Kang Ferraiolo focus on topics such as the importance of listening to the community, promoting openness, and encouraging more equitable partnerships. Forthcoming posts will discuss inclusive grantmaking and next steps for the program.
"Grant guidelines often appear static and immutable, but if you zoom out and look across funding cycles, they become living documents that evolve in response to the changing needs of the communities they serve," said Ferraiolo. "With this series, I wanted to document the most important changes we've made to CLIR's Digitizing Hidden Collections program over its first five cycles, reflect on how we got there, and consider the larger implications of ethics, community, and the responsibilities of grantmakers."
Staff Changes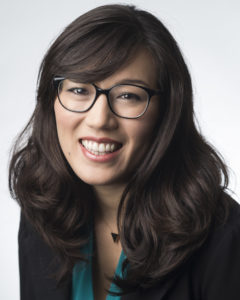 Nicole Kang Ferraiolo has been promoted to director of global strategic initiatives. She will help CLIR identify strategic opportunities and develop implementation plans, focusing on information resources in relation to climate change, human rights, and other global challenges. She previously led CLIR's grantmaking programs, including Digitizing Hidden Collections and Recordings at Risk, and will continue to serve these initiatives in an advisory capacity; she will also continue her involvement with CLIR's Mellon Dissertation Fellowships. In her new role, she will draw on her experience at CLIR, as well as her earlier work in the International Office of French Guiana's Ministry of Education, and her work at Columbia University, where she managed programs on international history and global strategy.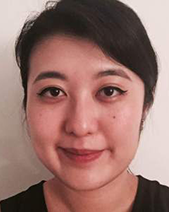 DLF assistant director Katherine Kim has left CLIR to pursue a writing residency in Barcelona, Spain. Kim, who joined the staff in 2016, had been primarily responsible for assisting the DLF director in budgeting, strategic planning, development and management of staffing and events, and in representing DLF to working groups, CLIR/DLF affiliates, and the wider community.