A new CLIR report presents recommendations from a symposium focused on equitable practices for enhancing engagement with librarians, archivists, and other cultural heritage professionals in Latin America and the Caribbean. Capacity Assessment of Latin American and Caribbean Partners: A Symposium about Open Access, Technological Needs, and Institutional Sustainability was organized in April 2020 by CLIR Postdoctoral Fellows in Data Curation for Latin American and Caribbean Studies Hadassah St. Hubert, Jennifer Isasi, Nicté Fuller Medina and Margie Montañez.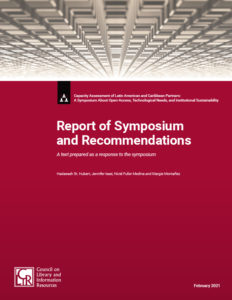 The fellows, who are also the report's authors, write that the symposium "centered the voices of a group of institutions in Latin America and the Caribbean by providing a forum for these stakeholders to share strategies and identify common areas of need." Based on the discussions, the authors set forth recommendations for Latin American and Caribbean institutions considering a digitization project in partnership with US-based institutions. They also outline a set of questions for funders, libraries, archives, and others based in the United States, Canada, and European nations to consider when evaluating grant proposals for digital projects, or when considering post-custodial archival work with institutions in Latin America and the Caribbean.
The report is available in five languages: English, French, Haitian Creole, Portuguese, and Spanish. The symposium was supported by a grant from CLIR. The grant program is made possible by funding from The Andrew W. Mellon Foundation.
CLIR's Postdoctoral Fellowship Program offers recent PhD graduates the chance to develop research tools, resources, and services while exploring new career opportunities. The Postdoctoral Fellowships in Data Curation for Latin American and Caribbean Studies, a program track that ran from 2017 to 2020, supported international partnerships in the service of cross-disciplinary research and in building greater capacity for digitizing original materials, sharing related digital data, and developing humanities computing.