Open, reproducible, and reliable research is critical for the scientific process. Although sharing data, code, documentation, and workflows associated with papers encourages scholars to turn a more careful eye to their work, many challenges remain. Please join CLIR for a free webinar about relevant projects, approaches, and practices that advance research sharing for reproducibility and reuse, and an exchange of ideas and discussion of current standards, challenges, and opportunities.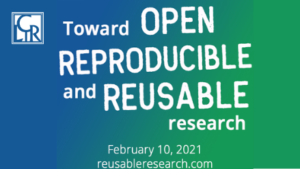 Toward Open, Reproducible and Reusable Research
Feb 10, 2021, 1 PM ET
Registration and Schedule: http://reusableresearch.com/
Hosted by 2018 CLIR Postdoctoral Fellows, Qian Zhang, University of Waterloo, and Ana Trisovic, Harvard University. 
Guests Speakers
This event is made possible with the support of the Council on Library and Information Resources (CLIR) and with the support of the Alfred P. Sloan Foundation.