Number 142  July/August 2021
ISSN 1944-7639 (online version)
Contents
Setting Intentions for the Work Ahead
DLF Forum Program and Registration Go Live Early September
Submit Your Proposal for New Publication Series
Recordings at Risk Cycle 9 Opens September 27
Staff Updates
CLIR Issues is produced in electronic format only. To receive the newsletter, please sign up at https://www.clir.org/pubs/issues/signup. Content is not copyrighted and can be freely distributed.
Setting Intentions for the Work Ahead
—Jennifer Ferretti
Throughout my first months as DLF senior program officer at CLIR, I've been asked about my vision for DLF. During this period, I've focused on study and knowledge gathering, which I believe honors past work and helps to provide a better understanding of the communities we serve, how we've served them, and what the future might ask of us. This has been very much about listening and learning from folks within and outside CLIR/DLF, which allows space for themes and patterns to make themselves visible. 
So far my knowledge gathering has focused on: 
CLIR's historical information

Current and past programs

Hearing directly from working group leaders and participants

Past grant proposal narratives

DLF Forum and affiliated events feedback
Understanding what we do helps to reveal what we're not doing. 
I'm coming into this role with my own work experience as a digital libraries practitioner, and with my personal identities and needs, at a time when we're (hopefully) near coming out of a recession-inducing pandemic that has disproportionately impacted people who identify as Black, Indigenous, or People of Color. 
Considering the racial, financial, political, environmental, and equity issues we've seen come to light over the past year and a half particularly, how do we acknowledge and approach these issues while building community and trust? What does it mean to approach multiple crises from the perspective of community first?
Reading through last year's Forum feedback, it was clear that the programming and structure, while maybe not as ideal as being in person, made space for these questions and more. As my study so far (and personal experience) of CLIR/DLF has revealed, the Forum has transformed from a primarily tech conference to one "deeply invested in the social implications of library technology." As Ruha Benjamin says, talking about the politics of technology doesn't make it political. Technology is inherently political and those politics don't just impact users of technology, but also fellow colleagues. 
Our guiding focus for the 2020 Forum was "building community while apart." Thanks to sponsors and members, we were able to welcome over 2,000 participants from all 50 states and more than 30 countries from all over the world free of charge. Roughly 40% of feedback survey respondents were joining Forum or affiliated events for the first time. This information is exciting because it illustrates the need and desire to come together. Like you, we're taking lessons learned from this time where we've had to redesign, rethink, stop, and start work. We look forward to another year of virtual events and, then, to 2022 when we can convene in person. I'm excited to welcome folks to my city of Baltimore, Maryland, at that time. 
As always, we'd love to hear from you, our community. Please don't hesitate to reach out: info@diglib.org. 
DLF Forum Program and Registration Go Live Early September
Registration for the DLF 2021 Forum and the Forum program will be live in early September. DLF's signature event for digital library, archives, and museum practitioners from member institutions and beyond, the Forum will be held Nov. 1-3. Following the Forum on Nov. 4 will be NDSA's Digital Preservation 2021: Embracing Digitality. Learn@DLF, a dedicated workshop series for digging into tools, techniques, workflows, and concepts, will be held Nov. 8-10. All events will be virtual. Stay up to date for the program announcement and registration by subscribing to the DLF Forum newsletter, and by following @CLIRDLF.
Sponsorship opportunities are now available for the 2021 DLF Forum and NDSA's Digital Preservation. As a sponsor, you will have the opportunity to engage online with thousands of decision makers in the fields of libraries, digitization, and preservation. Pick from five sponsorship levels, or contact info@clir.org to create your ideal sponsorship package.
Submit Your Proposal for New Publication Series
There's still time to submit your proposal to CLIR's new publication series! We invite submissions on topics reflecting current concerns in the information and cultural heritage community and offer a stipend of $2,500 for successful proposals.
Modeled on CLIR's "burgundy reports," named for their cover color, the new series welcomes ideas on topics relating to established areas of CLIR publication—digital libraries, preservation, emerging technologies, and trends in information use. CLIR also encourages topics in the information field(s) relating to social and racial justice, labor, intersectionality, accessibility, sustainability, building and maintaining community, working with sensitive materials and marginalized groups, decolonizing the field(s), and the climate crisis.
Reports will be limited in length to 50 pages and will include executive summaries and visual elements. All reports will be released in electronic form only and will be freely available on CLIR's website.
Proposals are due September 27, 2021. An editorial committee will review submissions, and decisions will be announced in December 2021. Projects will begin no earlier than January 1, 2022, and complete drafts must be submitted to CLIR by December 10, 2022. More information, including the CFP, link to the application form, and FAQ is available at https://www.clir.org/new-publication-opportunity/.
Recordings at Risk Cycle 9 Opens September 27
CLIR will open its next application period for Recordings at Risk on September 27. The program will award grants of between $10,000 and $50,000 to support the preservation through digital reformatting of fragile or obsolete audio, audiovisual, and other time-based media that is unique and of high scholarly value. We encourage those interested to review materials from the previous grant cycle on the applicant resources page. The Cycle 9 handbook and application instructions will be posted online September 27. CLIR's grants team will host an informational webinar for applicants on Wednesday, October 6, from 2:00–3:00 pm ET;  register here. Want to stay up-to-date on news from Recordings at Risk and Digitizing Hidden Collections? Follow @CLIRgrants on Twitter and sign up for the Grants & Programs newsletter.
Staff Updates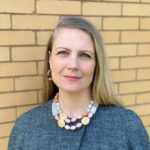 Louisa Kwasigroch has been named managing director for CLIR. In this new role, she will oversee the scholarship, leadership, and preservation programs, providing direction and support in areas related to program administration as well as program staff performance and professional development. Louisa previously served as director of outreach and engagement and, more recently, as DLF interim director.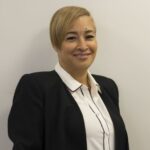 Diane Ramirez has been named administrative services manager. Another new role for CLIR, this builds on Diane's previous responsibilities as office manager. While continuing to work in a variety of areas related to accounting, she will now also work more closely with the scholarship, leadership, and preservation program team to provide administrative support, particularly for meetings and events.