Number 144  November/December 2021
ISSN 1944-7639 (online version)
Contents
Five Projects Selected for New Publication Series
Join Us for HBCU Library Alliance Tour Podcast
DLF Forum and Affiliated Events Focus on Sustaining the Community
Apply Now for Leading Change Institute
2020-2021 Annual Report Now Available
CLIR Issues is produced in electronic format only. To receive the newsletter, please sign up at https://www.clir.org/pubs/issues/signup. Content is not copyrighted and can be freely distributed.
Five Projects Selected for New Publication Series
Five projects have been awarded funding in the inaugural call for CLIR's new "Pocket Burgundy" publication series. The series, which derives its name from the deep red covers of CLIR's traditional research reports, will focus on pieces of 20 to 50 pages addressing current topics in the information and cultural heritage community.
A review committee selected the following five proposals out of twenty-seven received:
The Chinese Archive: A Pocket Manual
Matthew Wong Foreman, Northwestern University
Yasser Ali Nasser, University of Chicago
A Green New Deal for Archives
Eira Tansey, University of Cincinnati
Remotely Useful: Practical Lessons for Northern Community Archiving
Morgen Mills, Memorial University
Mark David Turner, Memorial University/Nunatsiavut Government and OKâlaKatiget Society
The Story of the Modern Seed Library: A Historical Analysis of Seed Libraries, their Evolution Through the Ages, and Their Current Impact on Community, Culture, and Connection
Jennifer K. Embree, Binghamton University
Neyda V. Gilman, Binghamton University
Values-Forward Praxis: Data Science, Machine Learning, and Artificial Intelligence in Cultural Heritage Organizations
Thomas Padilla, Center for Research Libraries
Elizabeth Lorang, University of Nebraska­–Lincoln
Rebecca Dikow, Smithsonian Institution
Jefferson Bailey, Internet Archive
Ryan Cordell, University of Illinois at Urbana Champaign
Harish Maringanti, University of Utah
Each project will receive a $2,500 subvention. Reports will be completed by December 2022 and will be published in the second and third quarters of 2023. Publications will be made available free of charge on CLIR's website.
Join Us for HBCU Library Alliance Tour Podcast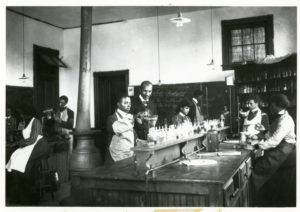 Buckle up for season three of Material Memory, launching in March, which will take listeners on a tour of libraries at six Historically Black Colleges and Universities! CLIR program officer and season host Sharon Burney will talk with library and archives leaders about the people, collections, and institutions that make the HBCU libraries among the world's greatest treasures.
We'll travel from the Inner Harbor of Baltimore, Maryland, to the "Queen City" of Charlotte, North Carolina; from the champion trees of Columbia, South Carolina, to the magnolias of Lorman, Mississippi; and from the bayous of New Orleans, Louisiana to the rolling hills of Nashville, Tennessee. We will consider the impact of HBCU library collections on society both locally and abroad. How do we tell the story of Black history from the archives? What are the roles of cultural heritage institutions in the preservation of Black culture? What are the challenges these institutions face? And where do we go from here?
In the season's opening episode, Burney will be in conversation with Sandra Phoenix, executive director of the HBCU Library Alliance, and its board chair, Monika Rhue, on the work of the Alliance and its aim "to transform for tomorrow while preserving the past."
Subscribe and follow Material Memory now, wherever you get your podcasts, so you don't miss an episode. In the meantime, you can catch up on earlier seasons focusing on the climate crisis and on preserving indigenous languages. Show notes, transcripts, and speaker bios are all available on the website, material-memory.clir.org.
DLF Forum and Affiliated Events Focus on Sustaining the Community
The 2021 DLF Forum and affiliated events took place virtually for the second year, featuring presentations, panels, lightning talks, and workshops that drew more than 1,400 attendees.
The Forum kicked off Nov. 1 with a keynote conversation between Stacey Patton, journalist and professor at Howard University, and Nikole Hannah-Jones, Knight Chair in Race and Journalism at Howard University, Pulitzer-prize winning New York Times journalist, and creator of the 1619 Project. The conversation, "1619 to 2021: A Black Journalist Turns the Light of Truth on the History of American Race," explored what it means to be Black women journalists doing the archival work of reclaiming artifacts and stories on American race relations. The session, filmed and produced by WHUT/Howard Television, can be viewed here.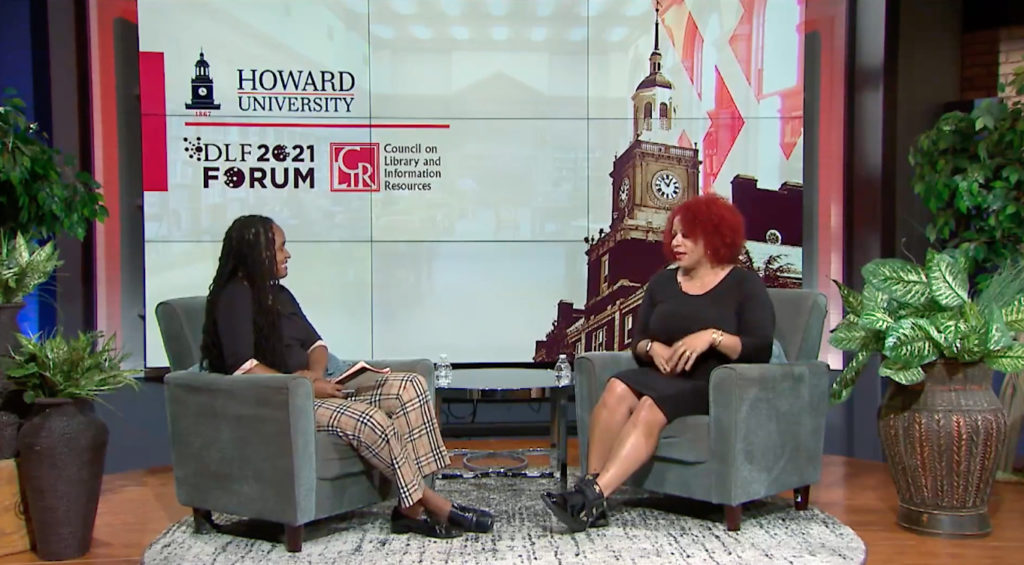 Three days of Forum programming followed, organized around the idea of sustaining the community. Feminist healing coach, writer, and librarian Nisha Mody concluded the Forum on Nov. 3 with her keynote, "Showing Up: Caring for Each Other During Messy Times."
NDSA's Digital Preservation 2021: Embracing Digitality took place Nov. 4. Tonia Sutherland, assistant professor in the Library and Information Sciences program at the University of Hawaiʻi at Mānoa, gave the keynote talk, "After the Archives: On Living and Dying in Digital Culture."
Learn@DLF was held for its fourth year Nov. 8-10 and featured hands-on workshop sessions where attendees could gain experience with new tools and resources, exchange ideas, and develop and share expertise with fellow community members.
Ten community journalists were accepted to participate in this year's Forum—attendees from various backgrounds who were given stipends to share their voices and experiences on the DLF blog. Watch for their reflections in the coming weeks on the DLF blog.
Event sponsors this year included AVP, DCE, Quartex, Ubiquity Press, DuraCloud, and Digital Bedrock.
Recordings of most of 2021's Forum and DigiPres sessions, including Nisha Mody's and Tonia Sutherland's keynotes, will be made publicly available this winter. Subscribe to CLIR/DLF's YouTube channel and the low-traffic DLF Forum newsletter for updates.
Next year's in-person DLF Forum, Learn@DLF, NDSA Digital Preservation, and the Digitizing Hidden Collections Symposium will take place Oct. 9–13, 2022, in Baltimore, Maryland.
Apply Now for Leading Change Institute
Applications are now being accepted for the 2022 Leading Change Institute (LCI), to be held July 10–15 in Washington DC. Cosponsored by CLIR and EDUCAUSE, LCI is designed for leaders in higher education—including CIOs, librarians, information technology professionals, and administrators—who are interested in working collaboratively to promote and initiate change on critical issues affecting the academy.
Since 2000, the Institute has taken on critical issues in higher education, such as new sources of competition, use of technology in teaching and learning, distance learning, changing modes of scholarly communications, and the increasing focus on the student experience. Institute fellows, together with the deans and other thought leaders from the community, contemplate the impact of these issues and discuss effective approaches to leading during change. Speakers from a wide range of disciplines then bring real-life issues being faced in their institutions and the Institute fellows are challenged to devise and propose solutions.
Applications are due by January 10, 2022. Visit the program website for more information about the Institute and its curriculum, and for links to apply.
2020-2021 Annual Report Now Available
See highlights from CLIR's fiscal year July 1, 2020–June 30, 2021, in our just-released annual report.