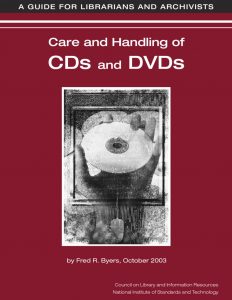 pub121. Care and Handling of CDs and DVDs: A Guide for Librarians and Archivists
by Fred R. Byers
(10/03, 48 pp.) $15 (print)
ISBN 1-932326-04-9
This report describes in nontechnical language the various types of CDs and DVDs now in use, how they are made, and how they work. It then distills current industry knowledge about disc longevity, conditions that affect life expectancy, and how to care for optical media. The guide is amply illustrated and includes a glossary and bibliography.
The guide's author, Fred R. Byers, is a technical staff member in the Convergent Information Systems Division of the Information Technology Laboratory at NIST.
The guide was written for use by librarians and archivists; however, it will be equally useful to any business or individual wishing to safeguard CD or DVD collections.
Print copies of this title are no longer available.