E-Journal Archiving Metes and Bounds: A Survey of the Landscape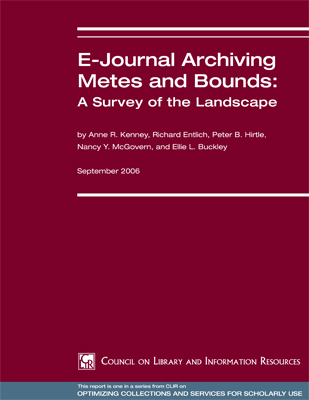 Copyright 2006 by the Council on Library and Information Resources. No part of this publication may be reproduced or transcribed in any form without permission of the publishers. Requests for reproduction or other uses or questions pertaining to permissions should be submitted in writing to the Director of Communications at the Council on Library and Information Resources.
Why is E-Journal Archiving Such a Concern?

The Shift to Electronic Publishing
User Preferences for Online Journals
Library Response
A Gathering Momentum
Library Directors' Concerns

Sense of Urgency Resource Commitment and Competing Priorities Need for Collective Response

Cornell Survey of 12 E-Journal Archiving Initiatives
General Characteristics
Assessing E-Journal Archiving Programs
Indicator 1: Mission and Mandate

The Role of Legal Deposit in E-Journal Archiving
The Role of Open Access Research Repositories in E-Journal Archiving
Indicator 2: Rights and ResponsibilitiesIndicator 3: Content Coverage
Indicator 4: Minimal Services
Short List of Minimal Services
Indicator 5: Access Rights
"Current Access" versus "Archiving"
"Dark Archive" versus "Light Archive"
Trigger Events
Indicator 6: Organizational Viability
Sources of Funding
Stakeholder Buy-in
Indicator 7: NetworkGetting and Keeping InformedPromising E-Journal Archiving Programs Not Included in this Report
Recommendations: Academic Libraries and Organizations
Recommendations: Publishers
Recommendations: E-Journal Archiving Programs
APPENDIX 1: Survey on E-Journal Archiving Programs
APPENDIX 2: Profiles of the 12 E-Journal Archiving Initiatives
APPENDIX 3: Publishers Included in Each Archiving Program (Except NLA PANDORA)
APPENDIX 4: Multiprogram Publishers
---
About the Authors
Anne R. Kenney is senior associate university librarian for public services and assessment at Cornell University Library. For more than 15 years, she has led research focusing on digital imaging and digital preservation. She is the coauthor of the award-winning Moving Theory into Practice: Digital Imaging for Libraries and Archives (Research Libraries Group 2000) and Digital Imaging for Libraries and Archives (1996), as well as of numerous articles and reports. Ms. Kenney is a fellow and past president of the Society of American Archivists. She has served on the RLG/OCLC Working Group on the Attributes of a Trusted Digital Repository and on the National Science Foundation/European Union Working Group on Digital Preservation. Ms. Kenney currently serves on the Portico Advisory Board.
Richard Entlich is digital projects librarian in the Research and Assessment Services Division of Cornell University Library. He began work with electronic publishing in 1990 as project manager for Cornell's part in the Chemistry Online Retrieval Experiment (CORE), one of the earliest attempts to test the feasibility of online access to scholarly journals. He has subsequently played a role in several other scholarly e-publishing initiatives, including Core Historical Literature of Agriculture, Making of America I, TEEAL (The Essential Electronic Agricultural Library), Prism (Preservation, Reliability, Interoperability, Security, Metadata), and KMODDL (Kinematic Models for Design Digital Library). Richard is a lecturer in Cornell's Digital Preservation Management Workshop and coauthored the associated online tutorial. He also writes regularly on digital preservation topics for RLG DigiNews.
Peter B. Hirtle is the technology strategist for the Cornell University Library's Public Services and Assessment Division. He also serves as the intellectual property officer for the Cornell University Library and is the bibliographer for United States and General History. Previously, Mr. Hirtle served as director of the Cornell Institute for Digital Collections, where he explored the use of emerging technologies to expand access to cultural and scientific sources through the development and management of distinctive digital collections. He also served as the associate editor of D-Lib Magazine. He is a fellow and past president of the Society of American Archivists, and chairs its Working Group on Intellectual Property. He is currently a member of the Copyright Office's Section 108 Study Group and is a contributing author to the LibraryLaw.com blog.
Nancy Y. McGovern is the digital preservation officer for the Inter-University Consortium for Political and Social Research (ICPSR) at the University of Michigan. Until August 2006, she was the director of research and assessment services and digital preservation officer at Cornell University Library. She is a codeveloper of and a principal instructor for Cornell's Digital Preservation Management workshop series and tutorial. While at Cornell, she coedited RLG DigiNews. She serves on the Technical Policy Committee of the LOCKSS Alliance and is a member of the RLG/NARA Digital Archive Certification Task Force. She has focused on digital preservation research and practice since 1986 when she joined the staff of the Center for Electronic Records at the U.S. National Archives. She is completing her Ph.D. on a technology responsiveness model for digital preservation at University College London.
Ellie Buckley is a digital research specialist for Research and Assessment Services at Cornell University Library. Her current focus is digital preservation and information science. She comes from a medical science background and has experience with developing evidence-based health care initiatives on the Web and telemedicine research projects.
Acknowledgments
We would like to thank both the Council on Library and Information Resources (CLIR) and the Association of Research Libraries for the opportunity to conduct this study. Nancy Davenport, former president of CLIR, made the initial contact with us. She, along with Karla Hahn and Carol Mandel, helped shape the project's parameters. We especially value the support and critical review provided by Ann Okerson through all phases of our work. Kathlin Smith provided excellent editorial and design help. Thanks also go to The Andrew W. Mellon Foundation, which provided financial support.
Many individuals gave generously of their time throughout this project. We are particularly grateful to the counsel of the library directors and senior managers from across North America who shared their thoughts and concerns about e-journal archiving with us. They included Joe Branin, Jane Bryan, Sam Demas, Ray English, Lee Hisle, Wendy Lougee, Catherine Murray-Rust, Kathy Perry, Louis Pitschmann, Sarah Pritchard, Mara Saule, Martha Sites, Sarah Thomas, Leslie Weir, Betsy Wilson, and Karin Wittenborg.
Representatives from the 12 e-journal archiving programs surveyed in this study not only completed a lengthy survey form but also participated in phone discussions and patiently answered our questions throughout the course of the investigation. They included:
CISTI Csi: Beverly Brown, Lucie Molgat, Daping Tan
LOCKSS Alliance and CLOCKSS: Vicky Reich, David S. H. Rosenthal, Michael A. Keller
Koninklijke Bibliotheek e-Depot: Erik Oltmans
Kooperativer Aufbau eines Langzeitarchivs digitaler Informationen/Die Deutsche Bibliothek (kopal/DDB): Thomas Wollschläger, Tobias Steinke
Los Alamos National Laboratory Research Library: Richard Luce, Miriam Blake
National Library of Australia's PANDORA: Margaret Phillips, Gerard Clifton, Paul Koerbin, Chris Foster, Julie Whiting
OCLC Electronic Collections Online: Tim Martin
OhioLINK Electronic Journal Center: Tom Sanville, Thomas Dowling, Anita Cook
Ontario Scholars Portal: Leslie Weir, Alan Darnell, Peter Clinton
Portico: Eileen Fenton, Evan Owens
PubMed Central: David J. Lipman, James Ostell, Betsy Humphreys, Ed Sequeira
We would also like to acknowledge the help and advice of our colleagues at Cornell University Library, especially William Kara, William Kehoe, Linda Miller, Kornelia Tancheva, Sarah Thomas, and Scott Wicks. Finally, thanks goes to those who offered suggestions throughout the project or reviewed the final draft, including Robin Dale, Eileen Fenton, Bernie Reilly, and Roger Schonfeld.
Anne R. Kenney
Richard Entlich
Peter B. Hirtle
Nancy Y. McGovern
Ellie L. Buckley