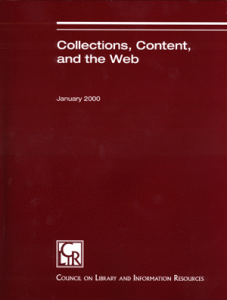 pub88. Collections, Content, and the Web
(2/00, 74pp) $20
ISBN 1-887334-73-4
Collections, Content, and the Web explores how the World Wide Web is affecting collections-based institutions. The report is based on a conference organized by CLIR and the Chicago Historical Society in October 1999, with financial support from the Institute for Museum and Library Services.
Although libraries and museums share few professional organizations or other structures that regularly bring them together for substantive purposes, they share a fundamental purpose: to collect physical things to make recorded knowledge and aesthetic experience accessible to their patrons. But when art and research objects go from real to virtual, how does the relationship between an object and its viewer or user change? Who uses museum and library Web sites, and what do they seek?
The report includes the papers distributed at the conference and summaries of the discussions they provoked. It also summarizes a survey of institutional Web sites that was conducted to gather preliminary data about museum and library Web site design and use.
Print copies of this publication are no longer available for ordering.