Number 97 • January/February 2014
ISSN 1944-7639 (online version)
Contents
CLIR Publishes Participatory Design in Academic Libraries: New Reports and Findings
Leading Change Institute 2014 Participants Named
Planning to Submit a Hidden Collections Proposal? Join us for a Webinar
CLIR/DLF Announces E-Research Peer Networking and Mentoring Group
Staff Updates
We invite you to check out our weekly blog series, "Re: Thinking," which features perspectives from a variety of contributors on topics relating to the emerging digital environment, research, and higher education. In the latest, Steven Heslip, director of user experience at Johns Hopkins University, blogs on the value of the participatory design experience for his institution.
CLIR Issues is produced in electronic format only. To receive the newsletter electronically, please sign up at https://www.clir.org/pubs/issues/signup.html. Content is not copyrighted and can be freely distributed.
---
CLIR Publishes Participatory Design in Academic Libraries: New
Reports and Findings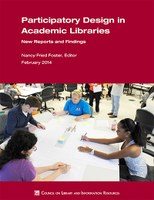 A new volume from CLIR looks at how staff at eight academic libraries gained new insight about how students and faculty work, and how the staff are using these findings to improve library technologies, space, and services.
The volume, Participatory Design in Academic Libraries: New Reports and Findings, presents findings drawn from a relatively new approach to understanding library user behavior. The approach is based on techniques used in anthropological and ethnographic observation. The report's editor, Nancy Fried Foster, led several participatory design workshops for CLIR from 2007 to 2013.
Rapid advances in technology have profoundly affected how teaching, learning, and research are done, so Foster believes that it is more important than ever to understand how students and faculty work. "Library spaces, technologies, and services that are built with broad participation work better and are more responsive to the work practices and needs of real people," she says.
"Participatory design begins with the belief that relying on precedent—on the way things have always been done—no longer serves us as well in these times of rapid and even disruptive change," writes Foster in her introduction. "It used to make sense to build an academic library that looked and worked like other, older academic libraries. To imitate older academic libraries now would be to build a library that is obsolete even before it opened."
The report is based on a series of presentations at the second CLIR Seminar on Participatory Design of Academic Libraries, held at the University of Rochester's River Campus June 5-7, 2013. Chapters focus on projects at the University of Colorado, Boulder; Colby College; University of Connecticut; Columbia University; Rush University Medical Center; Purdue University; Northwestern University; and the University of Rochester. David Lindahl, of the University of Missouri-Kansas City, provided the keynote.
The report is available in PDF format only at https://www.clir.org/pubs/reports/pub161. It is the second of two volumes published by CLIR that focus on participatory design. The first, Participatory Design in Academic Libraries: Methods, Findings, and Implementations, was published in October 2012.
---
Leading Change Institute 2014 Participants Named
The following individuals have been selected for participation in the 2014 Leading Change Institute. The Institute, sponsored by CLIR and EDUCAUSE, will be held June 1–6, in Washington, DC.
Andrea Beesing, Cornell University
Char Booth, Claremont Colleges
Debra Bucher, Vassar College
Michael Chapple, University of Notre Dame
Allan Chen, Menlo College
Jama Coartney, University of Virginia
Margaret Cohen, Boston College
Joseph Combs, Vanderbilt University
Niranjan Davray, Kenyon College
Emily Decker, Atlanta University Center, Robert W. Woodruff Library
Barbara DeFelice, Dartmouth College
Caleb Derven, University of Limerick
Laura Farwell Blake, Harvard University
Lisa Forrest, Hamilton College
Jennifer Green, University of Michigan
Beverly Guiry, Boston University
Joel Herndon, Duke University, Perkins Library
Curtis Hillegas, Princeton University
Patricia Hswe, The Pennsylvania State University
Teppo Jouttenus, Massachusetts Institute of Technology / edX
Barbara Knauff, Dartmouth College
Elisa Lanzi, Smith College
Catherine Lavallee-Welch, University of Wisconsin-La Crosse
Joseph Mancini, Montgomery County Community College
Meris Mandernach, The Ohio State University
Timothy McGeary, University of North Carolina at Chapel Hill
Sue Mehrer, Cambridge University Library
Laura Morse, Harvard University
Colleen Nagy, Case Western Reserve University
Brian Rossmann, Montana State University
Joseph Salem, The University of Akron
Michael Satut, Northwestern University
Joseph Shelley, University of Washington Bothell
Jeffrey Stanton, Syracuse University
Jeff Steely, Baylor University
Mark Sullivan, SUNY Geneseo
Laurie Sutch, University of Michigan
Michael Thompson, University of Southern Queensland
Frances Yarger, University of Pittsburgh
Maurice York, North Carolina State University
---
Planning to Submit a Hidden Collections Proposal?
CLIR will host a Q & A webinar for those who plan to apply for a Cataloging Hidden Special Collections and Archives grant. The webinar will be held Wednesday, March 12, from 2–3 pm Eastern time. Registration is not required; the webinar can accommodate up to 100 participants on a first-come, first-served basis. The meeting room will open at 1:45 pm at http://clir.adobeconnect.com/hiddencollections-qa2014/.
The deadline for applications to this year's program is March 21.
Interested parties are encouraged to send questions to hiddencollections@clir.org prior to the webinar.
CLIR/DLF Announces E-Research Peer Networking and Mentoring Group

CLIR/DLF is offering a new opportunity for E-Science Institute (ESI) alumni: the first annual E-Research Peer Networking and Mentoring Group course.
The course will help ESI alumni refine the strategic agendas that they began to develop at ESI and assist them in taking the next steps. A select group of consultants will work with participants to assess each institution's strategic agenda and offer suggestions about planning and implementing research data management services.
The course will begin with a series of virtual meetings for sharing progress on e-science strategic agendas. Participants will continue to refine their agendas as the course progresses and will receive a personalized consultation with a faculty member and a CLIR/DLF data curation postdoctoral fellow. Teams will have the opportunity to work together on ways to integrate research data management into each institution's services.
The course will culminate with an in-person meeting on October 26, 2014, where peer groups will have the opportunity to further discuss challenges and solutions to common e-research issues.
Participants will be encouraged to continue engagement with the community during the course and to maintain regular meetings and contact after the course ends. CLIR/DLF will support the community of practice that emerges as a result of the networking group.
The E-Research Peer Network and Mentoring Group will launch with a webinar on March 12, 2014. The fee for the course is $5,000 per institution with up to three participants.
Registration will be open until March 11, 2014. Save $500 by registering by March 4. More information.
---
Staff Updates
Congratulations to CLIR staff members Christa Williford, Amy Lucko, and Rachel Frick.
Christa Williford has been named director of research and assessment at CLIR. In this newly created position, she will be responsible for pursuing research opportunities related to CLIR's mission and for designing and implementing documentation and assessment strategies for the organization.
Amy Lucko has been named director of program data and statistics. She will have primary responsibility for the collection and administration of data gathered across CLIR's programs and initiatives, and for designing and managing program applications and databases.
Rachel Frick, director of the DLF program, will now also serve as the internal lead for CLIR's Postdoctoral Fellowship program. In this expanded role, she will be positioned to help the growing number of data curation fellows better connect with practitioners in the DLF community, and to give fellows the opportunity to participate in new efforts, such as the ESI Peer Networking and Mentorship program.
---