Number 96 • November/December 2013
ISSN 1944-7639 (online version)
Contents
CLIR Announces 2013 Hidden Collections Awards, 2014 Funding Cycle
CLIR and LC Publish Report on America's Endangered Silent-Film Heritage
2013 DLF Forum Draws Record Attendance
CLIR Publishes Research Data Management: Principles, Practices, and Prospects
Committee on Coherence at Scale for Higher Education Launches Website
Apply Now for Postdoctoral Fellowship Program
We invite you to check out our weekly blog series, "Re: Thinking," which features perspectives from a variety of contributors on topics relating to the emerging digital environment, research, and higher education. In the latest, David Pierce, author of The Survival of American Silent Feature Films: 1912-1929, blogs on the questions that prompted his research.
CLIR Issues is produced in electronic format only. To receive the newsletter electronically, please sign up at https://www.clir.org/pubs/issues/signup.html. Content is not copyrighted and can be freely distributed.
Follow us on Twitter @CLIRNews, @CLIRHC, @CLIRDLF
---
CLIR Announces 2013 Hidden Collections Recipients, 2014 Funding Cycle
CLIR announces the following recipients of the 2013 Cataloging Hidden Special Collections and Archives awards:
Amherst College
Samuel French Theatre Archives
$144,300
Bok Tower Gardens
Cataloging the Vertical Files of the Anton Brees Carillon Library
$219,700
California Academy of Sciences
Frontier Science: Providing Access to the Early Scientific History of the American West in the Collections of the California Academy of Sciences
$50,600
Columbia University
Makino Collection Film Ephemera and Rare Book Project
$380,500
Dayton Society of Natural History
The Lichliter Site Project: A Model for Revealing Hidden Archaeological Collections
$91,000
Erie Canal Museum
Canal Society of New York State Collection
$71,100
George Eastman House
Documenting Their Films: Hidden Collections of Four Independent Filmmakers
$155,900
The George Washington University
D.C. Africana Archives Project (DCAAP)
$495,900
Hagley Museum and Library
The David Sarnoff Collection Processing Project
$291,500
Kansas City Public Library
The Kansas City Stockyards Collection
$101,000
La MaMa Experimental Theatre Club
Cataloging La MaMa's Pushcart Years: A Unique History of the Off-Off Broadway Theatre Movement
$135,100
Lehigh University
Bridge and Building Forensics: Civil Engineering Archives at Lehigh University
$93,700
Maine State Museum
An American Mirror: Early Photograph Collections at the Maine State Museum
$145,600
The Newberry Library
Printing Specimens (1605-present) at the Newberry Library
$216,100
Princeton University
Princeton University Library's Latin American Ephemera Project
$199,800
San Diego Museum of Man
Cataloging Hidden Collections: San Diego Museum of Man's Archaeology, Archival and Photographic Collections
$240,500
Union College
Grass Roots Activism and the American Wilderness: Pioneers in the Twentieth Century Adirondack Park Conservation Movement
$164,600
University at Albany, SUNY
Building New Access Tools for the National Death Penalty Archive
$119,900
University at Buffalo, SUNY
Processing the Editorial and Business Records of Eleven Little Literary Magazine Archives in the Poetry Collection
$150,600
University of North Texas
Post-War Industry and Development of the Southwest Metroplex
$163,400
University of Washington Libraries
Discovering Modern China: University of Washington and University of British Columbia Collections
$183,500
Yellowstone Park Foundation
Using a Team Approach to Expose Yellowstone's Hidden Collections
$106,000
Two of this year's projects feature partnerships between U.S. and Canadian institutions, the first such to be supported through this program. The Erie Canal Museum will collaborate with the Canadian Canal Society as well as the Canal Society of New York State on the project
Canal Society of New York State Collection
; the University of Washington is partnering with the University of British Columbia on the project
Discovering Modern China: University of Washington and University of British Columbia Collections
. More detail on this year's funded projects can be found at:
https://www.clir.org/hiddencollections/awards/for-2013
.
CLIR will issue a request for proposals for the next Hidden Collections funding cycle in early January 2014.
Created in 2008 and supported by ongoing funding from The Andrew W. Mellon Foundation, the Cataloging Hidden Special Collections and Archives awards program supports the identification and cataloging of special collections and archives of high scholarly value that are difficult or impossible to locate. Award recipients create Web-accessible records according to standards that allow the federation of their local cataloging entries into larger groups of related records, enabling the broadest possible exposure to the scholarly community.
A registry of hidden collections and archives, based on information supplied by applicants, is available at https://www.clir.org/hiddencollections/registry.
---
CLIR and LC Publish Report on America's Endangered Silent-Film Heritage
Martin Scorsese's "Hugo" and Michael Hazanavicius' "The Artist" were cinematic tributes to the bygone era of silent films. Moviegoers, however, may not realize that 70 percent of feature-length silent films made in America have been completely lost to time and neglect.
CLIR, in partnership with the Library of Congress, has published The Survival of American Silent Feature Films: 1912-1929, the first comprehensive survey of American feature films that survived the silent era of motion pictures. Nearly 11,000 silent feature films of American origin were released from 1912 through 1929, but until now there had been no systematic study of how many of these films still exist and where surviving elements are located in the world's leading film archives and private collections.
The study reveals some startling facts about America's endangered silent-film heritage. Only 14 percent—about 1,575—of the feature films produced and distributed domestically from 1912-1929 exist in their original format. Five percent of those that survived in their original 35 mm format are incomplete. Eleven percent of the films that are complete only exist as foreign versions or in lower-quality formats.
"The Library of Congress can now authoritatively report that the loss of American silent-era feature films constitutes an alarming and irretrievable loss to our nation's cultural record," said Librarian of Congress James H. Billington. "We have lost most of the creative record from the era that brought American movies to the pinnacle of world cinematic achievement in the 20th century."
"This report is invaluable because the artistry of silent film is essential to our culture," said Martin Scorsese, film-preservation advocate and director of "Hugo," a loving tribute to silent film. "Any time a silent picture by some miracle turns up, it reminds us of the treasures we've already lost. It also gives us hope that others may be discovered. The research presented in this report serves as a road map to finding silent films we once thought were gone forever and encourages creative partnerships between archives and the film industry to save silent cinema."
Commissioned by the National Film Preservation Board, the study was written by historian-archivist David Pierce. It is one of several congressionally mandated studies of the nation's cinematic and recorded sound patrimony. As part of the research for the study, Pierce prepared an inventory database of information on archival, commercial, and private holdings—who has custody of the films, how complete they are, the films' formats and where the best surviving copies can be found. The report concludes that the existence of the database will allow the repatriation of lost American movies. Films initially thought lost have been found—and subsequently repatriated—in Australia, New Zealand, France, and many other countries.
The vulnerability of nitrate film stock to fire and deterioration and the industry's practice of neglecting or destroying prints and negatives has contributed to the loss to the nation's film heritage. Among some of the notable films considered lost in their complete form are Lon Chaney's "London After Midnight" (1927); "The Patriot" (1928); "Cleopatra" (1917); "The Great Gatsby" (1926), and all four of Clara Bow's feature films produced in 1928, including "Ladies of the Mob." Only five of Will Rogers' 16 silent features survived and 85 percent of features made by Tom Mix—Hollywood's first cowboy star—are lost.
The report makes several recommendations:
Develop a nationally coordinated program to repatriate U.S. feature films from foreign archives.
Collaborate with studios and rights-holders to acquire archival master film elements on unique titles.
Encourage coordination among American archives and collectors to identify and preserve silent films that currently survive in lower-quality formats.
Develop a campaign to document unidentified titles. The Library of Congress has sponsored annual workshops to identify unknown and lesser-known titles.
Create an audience and appreciation for silent feature films through exhibition and screenings.
The report is available in print, and as a free download at www.clir.org/pubs/reports/pub158.
---
2013 DLF Forum Draws Record Attendance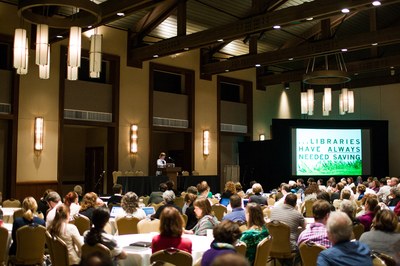 The 2013 Digital Library Federation (DLF) Forum, held Nov. 3-6 in Austin, brought a record 360 people together for three days of high-energy and wide-ranging discussions.
An invitational seminar on liberal arts colleges and digital scholarship on Nov. 3 preceded the Forum's formal opening. Carrie Ramp of Bucknell University reflects on the discussion in her blog; Kelcy Shepherd of Amherst College and Laurie Allen of Haverford College offer their perspectives on the session in their event report.
David Lankes kicked off the Forum the following day with his keynote presentation, "The Mortal in the Portal: Why Almost Everything You Learned in Library School is Wrong." This and several other sessions, including Char Booth's compelling closing presentation, were livestreamed, and can be accessed at https://www.diglib.org/?page_id=5244/
The Forum's twitter feed (#dlfforum) and brief reports contributed by several participants offer good perspective on what attendees took away from the experience. Myrna Morales of Simmons College, a 2013 ARL/DLF Underrepresented Groups Fellow, commented on Lankes' address in "Is a Building Just a Building?" Eugenia Kim of Emerson College, also an Underrepresented Groups Fellow, addressed diversity and digital initiatives in "The Quandry of the Library Cake." Jill Emery of Portland State University and a 2013 ERL+DLF Cross-Pollinator, contributed her observations in "Listening to the Buzz: A Cross-Pollinator's Take-Away from the DLF Forum 2013." These and other posts can be read at http://www.diglib.org/forums/2013forum/. Several participants contributed to community notes, which can be accessed by clicking on the session link at http://www.diglib.org/forums/2013forum/schedule/, and scrolling to the bottom of the session description to the Google doc link.
DLF is eager to continue the many good conversations begun at the Forum. If you have anything to share about the Forum, please email it to info@diglib.org.
The 2014 DLF Forum will take place October 27-29 in Atlanta at the Georgia Tech Conference Center.
---
CLIR Publishes Research Data Management: Principles, Practices, and Prospects
In November, CLIR published Research Data Management: Principles, Practices, and Prospects. The report examines how research institutions are responding to data management requirements of the National Science Foundation, National Institutes of Health, and other federal agencies. It also considers what role, if any, academic libraries and the library and information science profession should have in supporting researchers' data management needs.
University of North Texas (UNT) Library Director Martin Halbert opens the report with an overview of the DataRes Project, a two-year investigation of data management practices conducted at UNT with colleagues Spencer D. C. Keralis, Shannon Stark, and William E. Moen. His introduction is followed by a series of papers that were presented at the DataRes Symposium that UNT organized in December 2012.
"Research data management is one of the most important new strategic issues facing research universities," notes Halbert. "Academic libraries now must decide what stance they will take toward this increasingly prominent category of institutional research content. Academic leaders must now begin to make prioritization decisions regarding the preservation of research data, or these important intellectual assets will continue to be gravely at risk."
"The thing that really surprised me from this research was how very few universities have policies governing research data management," said DataRes researcher Keralis, who is also director for digital scholarship and research associate professor with UNT Library's Digital Scholarship Co-operative. "At the close of the project it seems there's a great reluctance to engage with this issue at an institutional level, and that's going to have to change if these federal mandates continue."
Additional papers in the volume are contributed by Kiyomi Deards, of the University of Nebraska-Lincoln, who provides an overview of data management services at four land-grant research universities. Chris Jordan and colleagues from the Texas Advanced Computing Center summarize several national-scale cyberinfrastructure projects for data management and discuss the relationship of national and regional responses to data management requirements. Anthropologists Lori Jahnke and Andrew Asher examine research ethics and the problems of data sharing.
The volume includes a copy of "The Denton Declaration: An Open Data Manifesto," written in May 2012 by a group of technologists and librarians, scholars and researchers, university administrators, and other stakeholders who gathered at UNT to discuss and articulate best practices and emerging trends in research data management.
"The DataRes report comes at a critical moment in the data management conversation," said Rachel Frick, director of CLIR's Digital Library Federation program. "I hope our community will use this report to inform and evaluate its work."
The report is available as a PDF download free of charge at https://www.clir.org/pubs/reports/pub160.
---
Committee on Coherence at Scale for Higher Education Launches Website

The Committee on Coherence at Scale for Higher Education has launched a website to provide updates on the committee's work and research findings as they emerge. The site includes FactSheets, a CLIR/DLF publication series whose goal is to communicate basic facts about large-scale, multi-partner initiatives evolving across library and IT communities in higher education. The series is intended to help administrators, practitioners, and funders understand the landscape and how these initiatives relate to one another, as well as the features that distinguish the projects.
CLIR and Vanderbilt University formed the Committee on Coherence at Scale for Higher Education in 2012 to examine emerging national-scale digital projects and their potential to help transform higher education in terms of scholarly productivity, teaching, cost-efficiency, and sustainability. The committee comprises college and university presidents and provosts, deans, university librarians, and association heads.
---
Apply Now for Postdoctoral Fellowship Program
CLIR is currently accepting applications for:
The CLIR Postdoctoral Fellowship Program offers recent Ph.D. graduates the chance to help develop research tools, resources, and services while exploring new career opportunities. CLIR Postdoctoral Fellows work on projects that forge and strengthen connections among library collections, educational technologies, and current research.
The application deadline is December 27, 2013.
---