Number 125  September/October 2018
ISSN 1944-7639 (online version)
Contents
Technologies of Surveillance Group Releases Ethics in Research Use of Library Patron Data
CLIR Publishes Supplemental Assessment of NDSR, 2016–2018
Wanted: Conversation Partners for Authenticity Project
Apply Now for:
—Leading Change Institute (LCI)
—Mellon Fellowships for Dissertation Research in Original Sources
CLIR Issues is produced in electronic format only. To receive the newsletter, please sign up at https://www.clir.org/pubs/issues/signup. Content is not copyrighted and can be freely distributed.

Follow us on Twitter @CLIRNews, @CLIRHC, @CLIRRaR @CLIRDLF
Like us on Facebook @CLIRNews
Technologies of Surveillance Group Releases Ethics in Research Use of Library Patron Data
Academic libraries, like the colleges and universities that house them, are under perennial pressure to demonstrate their value and impact. To this end, most libraries routinely keep metrics on patron use of collections, services, and facilities, but the growth in use of learning analytics has created significant new demand for data collection and analysis. This trend has led to concerns about patron privacy and the potential breach of professional ethics.
Energized by a 2017 DLF Forum working group discussion on higher education's growing investment in products and systems that can track and correlate user behavior through data and technology, Yasmeen Shorish and Shea Swauger formed the DLF Technologies of Surveillance Working Group. In an inaugural blog post, they wrote "A library's adoption and participation in these systems is not without ethical concerns, and there could be consequences in terms of patron privacy that directly contradict some of the tenets laid out in our Professional Code of Ethics, such as the right to confidentiality and the prioritization of patrons, colleagues, and institutions over private interests."
Earlier this month, the working group's Professional Research Ethics subgroup published Ethics in Research Use of Library Patron Data Glossary and Explainer, which is introduced in this brief video by Dorothea Salo, who led the effort.
More information about the DLF Technologies of Surveillance Working group is available at https://wiki.diglib.org/Technologies_of_Surveillance
CLIR Publishes Supplemental Assessment of NDSR, 2016–2018
CLIR has released an assessment of three recent National Digital Stewardship Residency (NDSR) initiatives focusing on public media, art, and biodiversity.
NDSR programs, first established in 2013, place graduates of master's programs in information science and related fields at cultural heritage organizations to pursue projects related to the collection, selection, management, preservation, and accessibility of digital material. The report, which builds on an assessment of earlier cohorts published in 2016, focuses on three programs:
AAPB NDSR, funded by an IMLS grant to WGBH on behalf of the American Archive of Public Broadcasting, a collaboration between the WGBH Education Foundation and the Library of Congress
NDSR Art, funded through an IMLS grant to the Philadelphia Museum of Art in partnership with the Art Libraries Society of North America (ARLIS/NA)
NDSR Foundations to Actions, funded by an IMLS grant to Harvard University on behalf of the Biodiversity Heritage Library (BHL).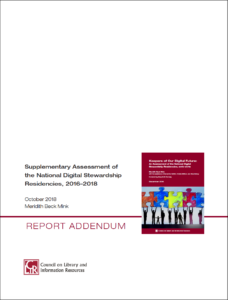 The three programs are distinctive in that they placed residents in host organizations across the country, marking a departure from the regionally based programs in New York, Boston, and Washington, DC, which were the subject of CLIR's earlier study.
Report author Meridith Mink highlights the successes and challenges of the distributed cohorts, based on feedback from the assessment participants. "Most participants in the distributed cohorts were satisfied with their NDSR experience and echoed much of the feedback provided by earlier regional cohort members about the successes and challenges of the programs," she notes. "Physical distance between residents and between host organizations apparently did not introduce significant new challenges." In fact, because virtual work environments are increasingly common, providing NDSR residents with virtual work experience was seen as a clear advantage of the distributed model. Program leaders made sure to incorporate opportunities for face-to-face interaction among their residents through an initial immersion week, conference attendance, and a capstone event.
Since CLIR's original assessment, NDSR community members have made progress toward developing a national governance and support structure for NDSR. Best practices and guidelines for the operation of an NDSR program have been published, as have documents relating to sustainability strategies and a coordinated national model. But challenges remain, including branding and raising awareness of the NDSR program. Specific recommendations include bolstering the current website to highlight more visibly the outcomes of individual NDSR projects, creating an alumni directory, and engaging alumni as mentors and advisors to new residents.
Supplementary Assessment of the National Digital Stewardship Residencies, 2016–2018, by Meridith Beck Mink, is available at https://www.clir.org/pubs/reports/pub173/.
DLF Forum Roundup
Some 800 people gathered at the M Resort in Henderson, Nevada last week to participate in the 2018 DLF Forum and affiliated events, exploring issues from library-based pedagogy to metadata analysis, advocacy, systems migration, and 3-D data preservation. In the hours between Anasuya Sengupta's inspiring opening keynote to the Forum's reflective closing plenary, participants attended more than 55 panels, 10 working group sessions, and numerous informal social events. The wide-ranging presentations and discussions at the various Forum sessions are documented in community notes, available at bit.ly/DLFforum2018.
Biennially, DLF gives a Community/Capacity Award to an individual, project, or organization to recognize exceptional community-minded efforts to build collective capacity in digital libraries and allied fields. From a field of 13 nominees, this year's winner was announced at the Forum's opening plenary: Documenting the Now, a project that develops tools and builds community practices that support the ethical collection, use, and preservation of social media content.
Within hours of the Forum's closing plenary, Digital Preservation 2018 kicked off with the announcement of 2018 NDSA annual Innovation Award recipients. The awards highlight and commend creative individuals, projects, organizations, educators, and future stewards demonstrating originality and excellence in their contributions to the field of digital preservation. This year's winners are George Edward McCain (individual award), Texas Digital Library (organizational award), UC Guidelines for Born-Digital Archival Description (project award), Heather Moulaison Sandy (educator award), and Raven Bishop (future steward award).
Following the awards, Snowden Becker presented the event's keynote, "To See Ourselves as Others See Us: On Archives, Visibility, and Value." The keynote, as well as the opening plenary and closing plenaries, can be viewed at https://forum2018.diglib.org/livestream-recordings/. Digital Preservation 2018 is the annual conference of the National Digital Stewardship Alliance, which DLF hosts. This was the third NDSA/DigiPres event to be held in conjunction with the DLF Forum.
A new feature this year was Learn@DLF workshop day, held just prior to the Forum. Learn@DLF offered a variety of hands-on sessions on topics ranging from the elements of persuasion to algorithmic awareness as a form of information literacy. Simultaneous, full-day workshops were offered by Civic Switchboard and by the Library Publishing Coalition and the Educopia Institute in collaboration with DLF. The Data Curation Network likewise held a two-day workshop immediately following the Forum.
Mark your calendars now for the 2019 DLF Forum, Learn@DLF workshops, and Digital Preservation 2019, to be held October 13-17 in Tampa, Florida!
Jodi Reeves Eyre Appointed Program Officer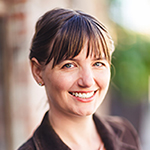 Jodi Reeves Eyre will join CLIR's staff as Program Officer for the Postdoctoral Fellowship Program on November 1. She will be responsible for coordinating all data management, web, and educational activities in collaboration with other program staff and consultants.
Jodi has a Ph.D. in archaeology from the University of Exeter and was a CLIR/DLF Fellow in Data Curation for the Sciences and Social Sciences at Arizona State University from 2013 to 2015. For the past five years, she has focused on the preservation of cultural heritage by leading digital curation projects, consulting on digitization programs, and developing curricula for students and professionals.
Wanted: Conversation Partners for Authenticity Project
DLF has partnered with the HBCU Library Alliance to launch a three-year "Authenticity Project." This fellowship program, generously supported by an IMLS grant, will provide mentoring, learning, and leadership opportunities for 45 early- to mid-career librarians from historically black colleges and universities, as well as meaningful frameworks for conversation and collaboration among dozens of additional participants from both organizations, between 2019 and 2021.
DLF is currently seeking volunteers working in digital libraries to serve as Authenticity Project conversation partners in the program's inaugural year. Volunteers who are matched with a fellow will support their learning through quarterly discussions on provided topics, receive access to a supportive community of peers, and will be granted small annual stipends in acknowledgment of their time and commitment to the program.
Learn more about the Authenticity Project at https://www.diglib.org/announcing-the-authenticity-project/.  To be a conversation partner, apply here by Nov. 16. Questions may be directed to Becca Quon, bquon@clir.org.
The application period for Authenticity Project Fellows will open later this week.
Apply Now for:
Leading Change Institute (LCI) (deadline Jan. 18, 2019)
Mellon Fellowships for Dissertation Research in Original Sources (deadline Dec. 4, 2018)