Number 95 • September/October 2013
ISSN 1944-7639 (online version)
Contents
CLIR Publishes Born Digital: Guidance for Donors, Dealers, and Archival Repositories
Providing for the Future of International and Area Studies Librarianship
Livestream the DLF Forum
Molly Corbett Broad Appointed to Committee on Coherence at Scale for Higher Education
Rita Van Duinen Appointed Curriculum and Research Strategist
CLIR Awarded Grants for Open Access Study, Early Modern Studies Fellowships
Register Now for 2013-2014 E-Science Institute
Forthcoming From CLIR
We invite you to check out our weekly blog series, "Re: Thinking," which features perspectives from a variety of contributors on topics relating to the emerging digital environment, research, and higher education. In the latest, Bethany Nowviskie blogs on bringing technical conversations into more open, inclusive humanities discourse—the topic of next week's Speaking in Code summit organized by the Scholars' Lab at the University of Virginia Library and funded by the National Endowment for the Humanities.
CLIR Issues is produced in electronic format only. To receive the newsletter electronically, please sign up at https://www.clir.org/pubs/issues/signup.html. Content is not copyrighted and can be freely distributed.
Follow us on Twitter @CLIRNews, @CLIRHC, @CLIRDLF
---
CLIR Publishes Born Digital: Guidance for Donors, Dealers, and Archival Repositories
The Council on Library and Information Resources (CLIR) has published Born Digital: Guidance for Donors, Dealers, and Archival Repositories. The report offers recommendations to help ensure the physical and intellectual well-being of born-digital materials transferred from donors to archival repositories.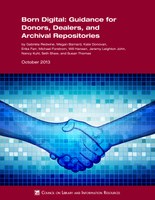 Ten archivists and curators from institutions in the United States and United Kingdom collaborated on the report. The lead author, Gabriela Redwine, is digital archivist at the Beinecke Rare Book and Manuscript Library at Yale University. Additional authors are Megan Barnard, of the Harry Ransom Center; Kate Donovan, of the Tamiment Library & Robert F. Wagner Labor Archives at New York University; Erika Farr, of the Manuscript, Archives, and Rare Book Library at Emory University; Michael Forstrom and Nancy Kuhl, of the Beinecke Rare Book and Manuscript Library at Yale University; Will Hansen, of Duke University's David M. Rubenstein Rare Book & Manuscript Library; Jeremy Leighton John, of the Department of Digital Scholarship at the British Library; Seth Shaw, of Clayton State University, and Susan Thomas, of the Bodleian Library's Western Manuscripts Department.
The report is presented in four sections, each of which provides an overview of a key area of concern: initial collection review, privacy and intellectual property, key stages in acquiring digital materials, and post-acquisition review by the repository. Each section concludes with two lists of recommendations: one for donors and dealers, and a second for repository staff. Appendixes provide more specific information about how to prepare for staffing activities, as well as a list of resources and ready-to-use checklists that incorporate recommendations from throughout the report.
First made public as a draft online with MediaCommons Press, the report has benefited from a period of open public review. The MediaCommons version will remain open for comment at http://mcpress.media-commons.org/borndigital.
The report is available as a PDF download free of charge at https://www.clir.org/pubs/reports/pub159.
---
Providing for the Future of International and Area Studies Librarianship
by Christa Williford
One of the more encouraging trends in today's age of shrinking budgets is a consistently strong emphasis on the value of collecting global resources for academic libraries. Faculty, administrators, and librarians recognize the importance of exposing students to as wide a variety of geographies, cultures, and languages as possible to prepare them to inhabit an increasingly "globalized" world. The work of international and area studies departments, in partnership with international and area studies librarians, remains vital to giving students this global perspective.
How to build and maintain global collections that serve the changing needs and expectations of contemporary scholars has long been a topic of public discussion and debate. But the urgency of such discussions has never been greater. Without some sort of large-scale coherent approach to curating and making accessible our global collections, we risk losing the richness and depth our academic libraries offer to students and scholars.
This week, I will bring this sense of urgency with me to a special event hosted by Indiana University Libraries. Titled "Collaboration, Advocacy, and Recruitment," the two-day workshop will engage academic library specialists and those interested in supporting their work in shaping an agenda for the future of international and area studies librarianship.
Academic libraries have made some progress in each of the areas the workshop will address—in collaborating with other institutions for greater efficiency, in forging closer ties among international and area studies disciplines for mutual benefit, and in devising strategies for more effective recruitment and training for library specialists who can work in these domains. Despite such promising beginnings, however, much remains to be done.
Challenges Ahead
Several factors affect the future of international and area studies librarianship, not the least of which are changing levels of interest and investment in the related disciplines. Shifts in political climate influence how we view the cultures and histories of other parts of the world, and our capacity to build collections and services will remain vulnerable to such changes. Our own recent history has sparked greater emphasis on Middle Eastern Studies in North American institutions than in the past, for example. At the same time, some research libraries have fewer resources for Slavic and Eastern European Studies than were available during the Cold War.
Meanwhile, greater interest in transnational, transcultural, and interdisciplinary studies has complicated, and perhaps unnecessarily obfuscated, our understanding of how area and international studies librarians serve our curricula. Columbia's James Neal, who has been deeply engaged in debates over the future of international and area studies librarianship for some time, reminds us that "it's important to retain within libraries our commitment to build collections of foreign language materials from the countries around the world," regardless of whether our researchers take national, regional, or global perspectives.
The gradual blurring of disciplinary boundaries means that scholars in international and area studies have increasingly difficult choices to make when they are challenged to master diverse theoretical and methodological approaches, to read original sources and scholarship in multiple languages, and to trace the transfer of ideas across multiple geographic and cultural contexts. In much the same fashion, it is increasingly difficult for academic library leaders to foresee what collection development strategies or professional skills might best support these scholars' research, teaching, and learning. Finding talented library staff with appropriate qualifications in research, pedagogy, languages, and the fundamentals of library and information science has never been easy. Rapid changes in discovery and analytical tools make the search still more daunting: the diversity of skills required to meet an ever wider array of needs is too much for any one individual, or often the staff at any one institution, to develop and maintain. Add to these challenges research libraries' current budgetary pressures, the tendency for disciplinary specialists to compete with one another for resources, and growing expectations for easy, reliable access to digital as well as analog content, and the prospect of satisfying the needs of tomorrow's researchers in international and area studies seems uncertain, even at our best-funded academic libraries.
If we are committed to helping students become citizens of the world, international and area studies collections and research support must remain vital to our curricula. Yet our approaches to building these collections and supporting the research in these domains will have to change. Sharing responsibility for international and area studies collections across institutions, as Cornell and Columbia Universities have done through their 2CUL initiative, is one way to minimize duplication of resources as well as harness expertise for the benefit of the greatest number of researchers. Providing high-quality continuing education for subject specialists, dual degree programs for those seeking careers as international and area studies librarians, and fellowships such as CLIR's own Postdoctoral Fellowship in Academic Libraries, are other examples of ways to build capacity for the future of international and area studies librarianship. Yet these strategies will not be enough. Meeting the formidable challenges we face will require bold and creative thinking, or completely re-thinking the way we do this work.
Questions of Roles and Collaboration
I have many questions for my fellow workshop participants this week. Some are general; for example, which of the many roles that area and international studies librarians typically play on their campuses (e.g., curating collections, building digital resources, cataloging and description, providing one-on-one research support, classroom teaching) do they feel are most important to fulfill locally? What roles might be shared with other institutions, consortia, or external partners? Which skills do they feel are best learnt through formal education, and which are best acquired on the job? I hope that the answers to these questions will help staff at CLIR make good choices in mentoring our fellows with an interest in international and area studies librarianship.
Other questions are more specific; for example, are there opportunities to involve area and international studies librarians in improving research training and support for graduate students? We have seen through our work on the Mellon Fellowships for Dissertation Research in Original Sources that students embarking upon major research projects around the world are often ill-prepared for such work, uncertain about what levels of support their home institutions can provide, and afraid to ask for help. Area and international studies specialists are uniquely qualified to make a difference to many of these students, and they can use what they learn about the students' work to enhance the development of collections.
What about opportunities for closer collaboration between area and international studies specialists and those working in special collections and archives? Since these professionals serve many of the same researchers, it stands to reason they could find common interests and promote one another's work. Many recipients of our Cataloging Hidden Special Collections and Archives grants have had success in engaging faculty and students in their efforts to describe collections. Might their strategies translate to better engagement with the work of area and international studies librarians?
The digital revolution poses serious challenges for those responsible for academic collections of global materials. Exponential increases in publication rates; the promulgation of new modes of discovery, access, and analysis; and the widening breadth of technical skills required to cope with these changes all put pressure on international and area studies specialists to rethink how they work.
---
Livestream the DLF Forum
Can't attend the 2013 DLF Forum in Austin? Watch it live! Portions of the Forum will be livestreamed on Nov. 4 and Nov. 6, including keynote addresses by R. David Lankes and Char Booth. The livestream schedule and links are available at https://www.diglib.org/?page_id=5244/. You can also follow the conversation on Twitter, #DLFForum, and review the Community Notes Google docs by clicking on the link in the session description at http://www.diglib.org/forums/2013forum/.
---
Molly Corbett Broad Appointed to Committee on Coherence at Scale for Higher Education
Molly Corbett Broad, president of the American Council on Education (ACE) and former president of the University of North Carolina, has been appointed to the Committee on Coherence at Scale for Higher Education.
Sponsored by the Council on Library and Information Resources and Vanderbilt University, the Committee on Coherence at Scale for Higher Education was formed in 2012 to examine emerging national-scale digital projects and their potential to help transform higher education in terms of scholarly productivity, teaching, cost-efficiency, and sustainability. The committee comprises college and university presidents and provosts, deans, university librarians, and association heads.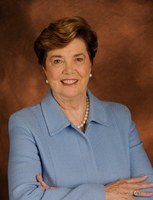 Broad is the first woman to lead ACE since its founding in 1918. She came to ACE from the University of North Carolina (UNC), where she served as president from 1997-2006. Prior to her tenure at UNC, she held a number of administrative and executive positions at the California State University System, Arizona's three-campus university system, and Syracuse University.
Broad joins three other new members appointed to the committee since its inaugural meeting in March 2013. They are Dan Cohen, executive director of the Digital Public Library of America; Scott Waugh, executive vice chancellor and provost of the University of California, Los Angeles; and Jere Morehead, president of the University of Georgia. A complete list of members is available at https://www.clir.org/initiatives-partnerships/coherenceatscale.
"We are delighted at the appointment of Molly Broad, an astute and respected national leader," said CLIR President Chuck Henry. "Her background and depth of experience complement the appointments earlier this year of Jere Morehead, Scott Waugh, and Dan Cohen. Collectively, their longstanding dedication to improving higher education and seasoned insight will be invaluable to the Committee on Coherence as we begin to build a new digital environment for research and teaching," said Henry.
"The Committee on Coherence has made great strides since its first meeting six months ago," said Vanderbilt Provost Richard McCarty. "With the addition of these new members, we have increased the breadth and depth of talented people working on these important issues. Colleges and universities are grappling with the complexities and costs of access to information in support of teaching and research. The ongoing work of the committee has the potential to have a significant positive impact on the work of scholars and the annual budgets."
---
Rita Van Duinen Appointed Curriculum and Research Strategist
CLIR has appointed Rita Van Duinen to the newly created position of Curriculum and Research Strategist. Van Duinen will be responsible for coordinating the planning, design, and delivery of online and face-to-face education and training across CLIR's programs. She will join the CLIR staff November 1.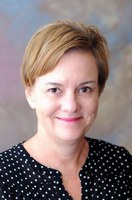 Van Duinen has served since 2010 as curriculum manager and teaching faculty member in the Library and Information Technology Program at Central Carolina Community College. In that capacity, she has overseen instruction of online library and information technology courses, and evaluated and revised course content as needed to ensure that learning objectives are met. Before joining the staff of Central Carolina Community College, she was project management librarian for the Carolina Digital Library and Archives at the University of North Carolina at Chapel Hill. She holds an MSLS degree from the University of North Carolina at Chapel Hill and a BA in Russian Language and Literature from the University of Oregon.
In her new position, Van Duinen will work principally on the CLIR/DLF Postdoctoral Fellowship Program and the DuraSpace/DLF E-Science Institute, but she will also advise on the selection and implementation of education and training tools in the service of other CLIR programs, and help develop workshops and other educational programs related to the missions of CLIR and DLF.
"Rita's appointment as curriculum and research strategist represents a new, critically important enhancement to our support of higher education," said CLIR President Chuck Henry. "Rita's acumen, expertise, and strategic planning experience will be employed to enrich our postdoctoral program through the development of educational modules, new courses (including MOOCs), and other means of training that benefit the cohort of data curation fellows, but as importantly will deliver cutting-edge research, best practices, and valuable insight to libraries and research intensive centers."
"I am thrilled to be a part of the CLIR team and look forward to promoting the organization's mission and goals through my work," said Van Duinen. "As curriculum and research strategist I am committed to providing quality services while building productive collaborations with professionals in the field as well as with my colleagues at CLIR. In this capacity I hope to make significant contributions to the evolution of CLIR and DLF."
"Rita brings great energy and a creative perspective," said DLF Director Rachel Frick. "I am looking forward to working with her as we develop new opportunities for DLF to support our community."
---
CLIR Awarded Grants for Open Access Study, Early Modern Studies Fellowships
♦ The Andrew W. Mellon Foundation has awarded the Council on Library and Information Resources (CLIR) $916,000 to support a program of Postdoctoral Fellowships in Data Curation for Early Modern Studies. The program will fund a cohort of five fellows for two years at five institutions of higher learning, starting in September 2014.
The fellowships are designed to help build the professional capacity needed for sound data management practice in Early Modern Studies. Fellows will be scholarly practitioners who not only understand the nature and processes of the disciplines broadly defined as the humanities, but also how research data are organized, transmitted, manipulated, reused, and sustained.
For this program, Early Modern Studies encompasses the historical period from about 1450 to 1800, focusing on humanistic research in literary studies, history, art and architectural history, philosophy, religion, music and other performing arts, languages and linguistics, and related fields of study.
"The Early Modern era is marked by an extraordinary complexity of human exploration, empire building, religious fluorescence, the rise of scientific methodology and empirical study, new economic models for commerce, widespread colonization, and a genuinely global exchange of culture," said CLIR President Chuck Henry. "This explosive complexity contributes to an astonishing variety of original sources and their digital surrogates. Without a sustainable cohort of experts who can instantiate and evolve standards, best practices, and new approaches to the curation, preservation, and ongoing utility of the data that are integral to new methodologies, current research will be impoverished and future research seriously compromised."
This program complements the CLIR/DLF Postdoctoral Fellowships in Data Curation for the Sciences and Social Sciences, launched in 2012 with support from the Alfred P. Sloan Foundation, and the Postdoctoral Fellowships in Data Curation for Medieval Studies, also initiated in 2012 with funding from The Andrew W. Mellon Foundation.
Currently, CLIR is accepting proposals from institutions interested in hosting Early Modern Studies Fellows. For more information, visit https://www.clir.org/fellowships/postdoc/hosts/dc-ems. CLIR will post fellowship openings in late November at https://www.clir.org/fellowships/postdoc. The application deadline for fellows will be December 27, 2013, and awards will be announced in June 2014.
♦ The Institute of Museum and Library Services (IMLS) has awarded the Council on Library and Information Resources (CLIR) a Laura Bush 21st Century Librarian Program grant of $164,243 to examine the federally mandated plans for open access and their implications for continuing education needs for libraries, museums, and other cultural heritage institutions.
In February 2013, the Office of Science and Technology Policy (OSTP) issued a memorandum directing the heads of executive departments and agencies to develop plans promoting open access to data and publications. While agencies have been instructed to coordinate their responses and associated plans to minimize burden and costs, there will inevitably be discrepancies across plans, communities of interest or practice, and agencies, as the needs, resources, and capacities vary.
"New government requirements for exposing and managing federally funded research data add urgency to the challenge of curating data," said CLIR President Chuck Henry. "That urgency is even more pronounced in the cultural heritage arena where distinctive needs must be identified and addressed. This timely grant ensures ample exploration of those needs with resulting guidelines that will help define the future of continuing education needs."
Under this one-year grant, CLIR will conduct research in three areas. Part 1 involves a highly structured content analysis of select federal agency plans for supporting open access to data and publications, identifying the commonalities and differences among the plans with emphasis on access to data. Part 2 takes the results of the content analysis and traces its implications for IMLS program areas and the cultural heritage institutions they serve. Part 3 identifies the gaps in current continuing education opportunities and approaches for cultural heritage professionals, assessing the readiness of the current professional workforce and identifying how best to address the needs and close the gaps in the immediate and longer term.
---
Register Now for 2013-2014 E-Science Institute
Space is still available for the next offering of the DuraSpace/DLF E-Science Institute, which will run December 2013 through April 2014. The E-Science Institute is designed to help academic and research libraries develop a strategic agenda for e-research support, with a particular focus on the sciences. The Institute consists of a series of interactive modules that take small teams of individuals from your institution through a dynamic learning process to strengthen and advance their strategy for supporting computational scientific research. The coursework begins with a series of exercises for teams to complete at their institutions, and culminates with an in-person workshop. Local institution assignments help staff establish a high level understanding of research support background needs and issues.
To register, visit http://duraspace.org/e-science-institute.
---
Research Data Management: Principles, Practice, and Prospects. This five-paper volume reports on the DataRes project, led by the University of North Texas (UNT) Libraries and UNT College of Information with funding from the Institute for Museum and Library Services. The project addresses the challenge of ensuring long-term preservation of and access to research data, and how the LIS profession can best respond to the need for better research data management in universities. November 2013.
The Survival of American Silent Feature Films: 1912-1929, by David Pierce. Copublished with the Library of Congress. This is the first systematic survey of how many of the films produced by U.S. film studios in the early twentieth century still exist and where the surviving film elements are located in film archives and private collections. December 2013.